Grilled steak sliced over colorful greens, sweet bell peppers, avocado, and thinly shaved red onion. This steak salad is perfectly highlighted with a healthy, flavorful chive yogurt dressing.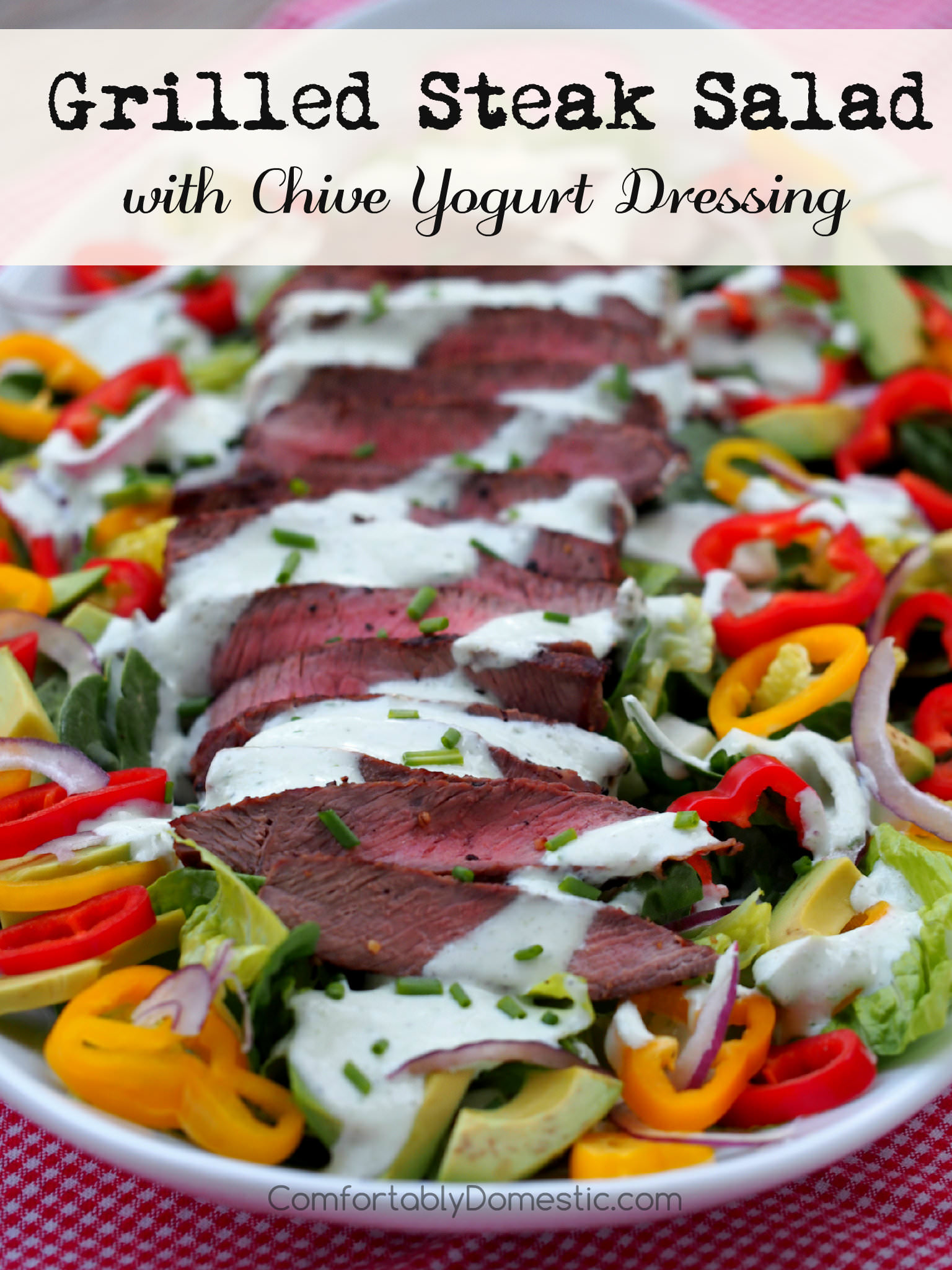 Living in a house full of men is all about compromise, especially when it comes to meal time. My fellas would happily eat red meat, preferably grilled oven an open flame, every night of the week. Seriously, I could serve a slab of beef on a plate, with no side dishes, and nobody would complain. When grilled steak is involved, my family fully subscribes to Queen Julia's view on salads:
"The only time to eat diet food is while waiting for the steak to cook." -Julia Child
While Julia and I agree on many things, I prefer to balance the meat with lots of fresh vegetables. Unless it's a special occasion, or Bacon Slayer & I are having an in-house date night, meals must be quick.
Fact: growing boys wait for no one when food is involved.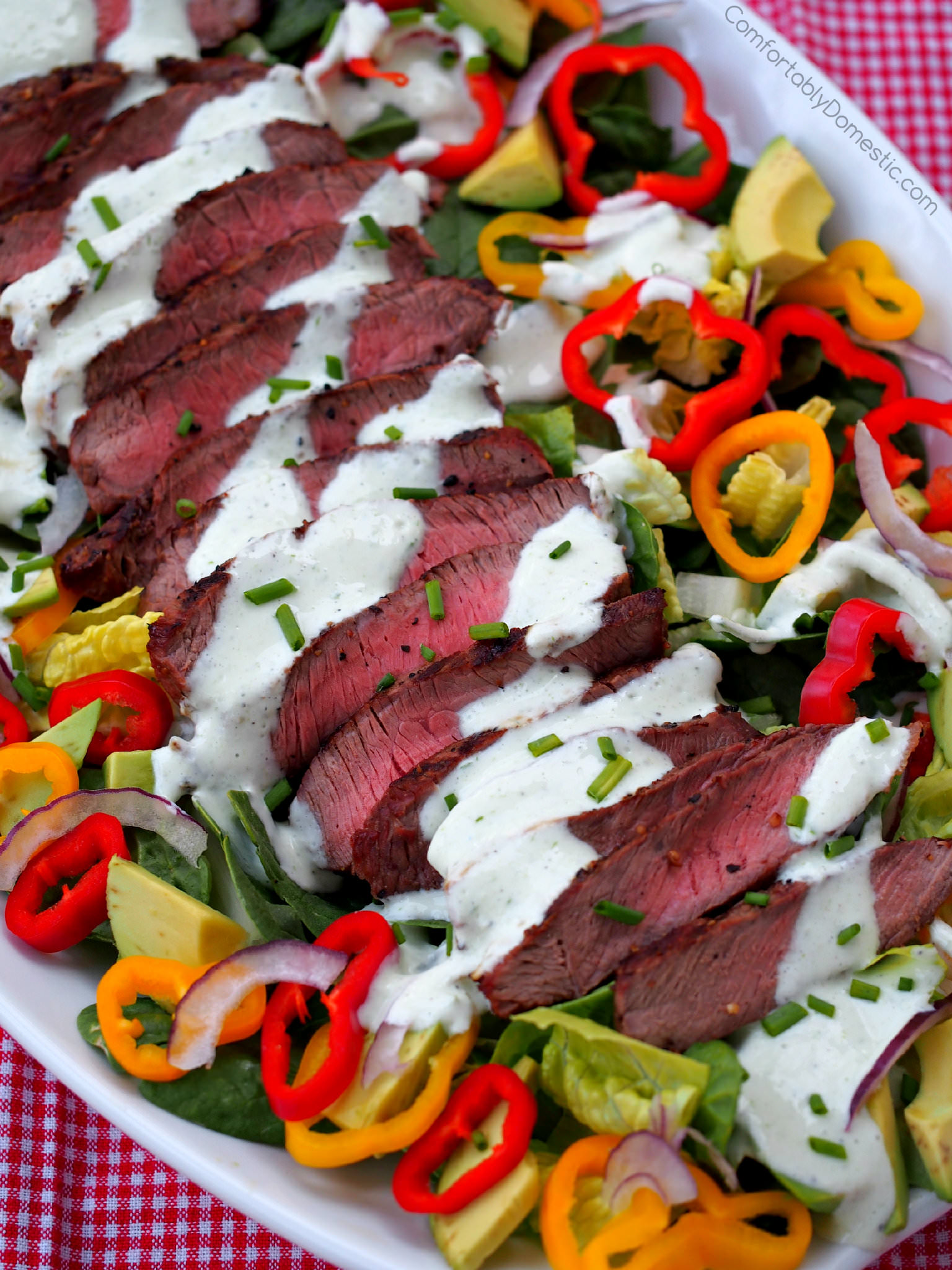 Grilled Steak Salad with Chive Yogurt Dressing is a crisp, chilled salad, with slightly wilted greens from the heat of the grilled meat.
A creamy, yet still light chive yogurt dressing made from fresh ingredients is the perfect compliment to the meal. The generous portion of beef is plenty enough to satisfy the men in my family, while the simple variety of vegetables and bright yogurt dressing satisfies my feminine nature.
Everyone leaves the table sated, and better yet, nobody feels guilty about having extra whipped cream on our lemon chess pie for dessert.
♥♥♥
Kirsten Kubert
Yields 4
Grilled Steak Salad with Chive Yogurt Dressing
Juicy grilled steak sliced over colorful greens, sweet bell peppers, avocado, and thinly shaved red onion, is perfectly highlighted with a healthy, flavorful chive yogurt dressing.
15 minPrep Time
10 minCook Time
25 minTotal Time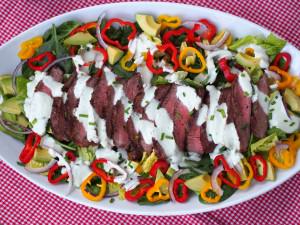 Ingredients
For the Dressing

1 C. plain yogurt
3 Tbs. (3 small) freshly squeezed lime juice
2 Tbs. milk
2 Tbs. (5 sprigs) chopped fresh chives
½ tsp. (1 clove) garlic, peeled and minced
¼ tsp. kosher salt
1/8 tsp. black pepper

For the Steak

1 ¼ lb. (20 oz.) boneless petite sirloin steak
1 tsp. kosher salt
¼ tsp. black pepper
¼ tsp. granulated garlic (not garlic powder)

For the Salad

3 C. baby spinach
3 C. (1 heart) chopped romaine lettuce hearts
1 C. (1 small) peeled avocado chunks
½ C. (2 mini) sweet red pepper rings
½ C. (2 mini) sweet yellow pepper rings
¼ C. (part of 1 small) thinly shaved red onion
Instructions
Prepare the dressing by placing the yogurt, fresh lime juice, milk, chives, garlic, salt, and pepper into the carafe of a blender. Blend on low speed until the dressing comes together and the chives are completely incorporated, giving the dressing a pleasant green hue. Transfer the dressing to a jar with a tight fitting lid and refrigerate until serving.
Combine the kosher salt, black pepper, and granulated garlic to create a rub for the steak. Sprinkle half of the seasoning mix over one side of the steak, pressing them into the flesh. Repeat with the remaining seasonings on the opposite side of the steak. Grill the steak over direct, medium heat to desired level of doneness. A one-half inch thick petit sirloin should cook approximately 4 to 5 minutes per side to achieve a medium pink center. Remove the steak from the grill and let rest for 7 to 10 minutes on a cutting board while preparing the salad.
Toss the baby spinach and chopped romaine lettuce together on a large platter. Scatter the sweet bell peppers, avocado, and shaved red onion over the greens. Slice the grilled sirloin thinly against the grain. Arrange the meat slices along the center of the salad.
Drizzle 2 to 3 tablespoons of chive yogurt dressing over the salad just prior to serving. Serve remaining dressing on the side.
Best enjoyed immediately.
7.6.4
141
http://comfortablydomestic.com/2015/05/steak-salad-chive-yogurt/
Comfortably Domestic - 2016
♥♥♥
I am honored to be a Dairy Ambassador for Milk Means More – United Dairy Industry of Michigan. I'm committed to developing recipes using Michigan dairy products. All opinions are my own. Milk Means More represents dedicated, hard working Michigan dairy farmers. They're passionate about providing fresh, wholesome milk, cheese, and yogurt to your family. Hug a farmer, y'all!
For dairy nutrition facts, community involvement partnerships, and great recipes, visit Milk Means More. Find them on Twitter, Facebook, YouTube and Pinterest.
♥♥♥