Light Sausage Gravy is every bit as creamy and dreamy as the full fat variety but with nearly half of the fat and calories. The lightened up version of this Southern classic is still pure comfort food!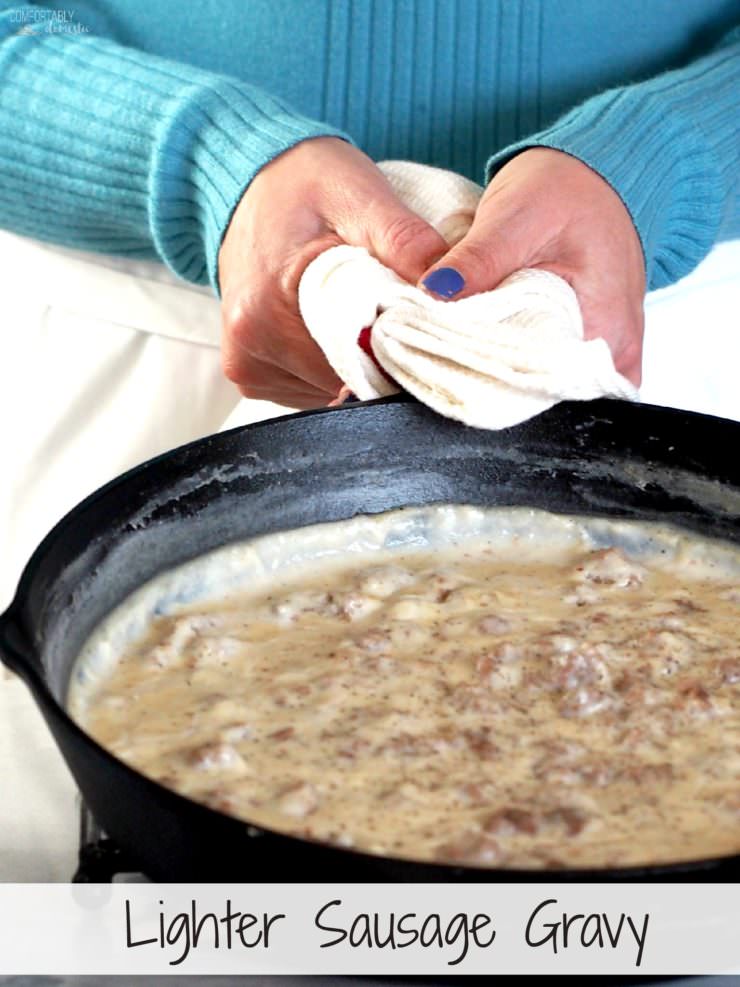 My hot hunk o' man may have grown up in Yankee territory, but Bacon Slayer is all about Southern comfort food. Although he's a lifelong athlete that eats well the majority of the time, he still likes to rub his belly and tell people that he "didn't get this body from eating salad." He thinks it's one of his best jokes, and it never fails to get a laugh. Of course, anyone who knows me for more than 5 minutes also knows that I have a fondness for baking All the Things so that fact only adds to the humor.  While I work hard to stay active and stick to the 80/20 rule of cooking healthy foods while still enjoying little indulgences like a well stocked cookie jar, sometimes some good old fashioned comfort food is in order.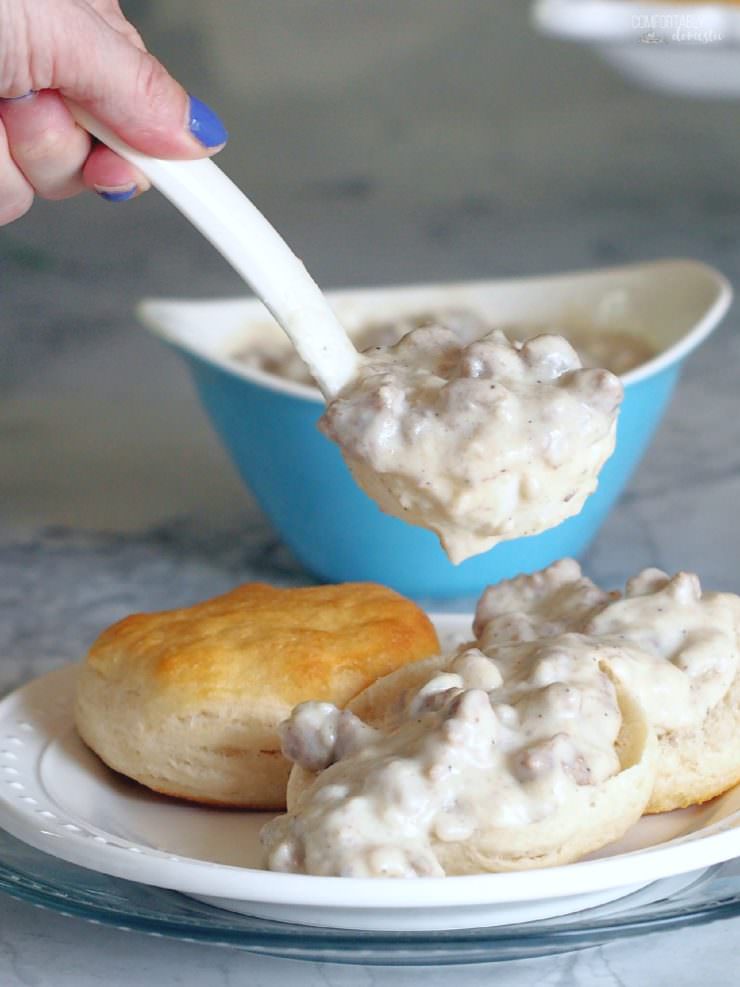 According to Bacon Slayer, it doesn't get much more comforting than biscuits and sausage gravy. If he had his way, we'd be brunching on biscuits and gravy every weekend. He's a true fan. What kind of wife would I be if I denied him his one true love? Well, his one true love after me, the Sons, and hockey. I'll be honest and say that for the longest time, the only time BS was able to scratch his biscuits and gravy itch was when we went out to breakfast because sausage gravy scared the bejeezes out of me.
I was seriously frightened at the thought of making the stuff because I just knew that sausage gravy was full of fat and probably had enough calories to fuel my body for an entire day. That is, if I survived it's tendency to behave in my stomach like a gut bomb that was counting down to detonation. Besides, it always looked so thick and gloppy on the plate. I used to loathe the stuff! Plus, I'm a Northern Girl. I didn't grow up fluent in gravy.
Don't hold back, Kirsten. Tell us how you really feel. 
Then my hard working, patient husband asked if maybe, just maybe, I would consider making biscuits and gravy for brunch sometime. He made a valid request because I'll take any excuse to make a big brunch and run with it. Brunch is my jam! Then he gave me a that doe-eyed look of sincerity that he sometimes does because he knows that I'm a sucker for his big mahogany eyes. Sigh. Of course I had to try to find a balance between his comfort food cravings and my caloric sensibilities.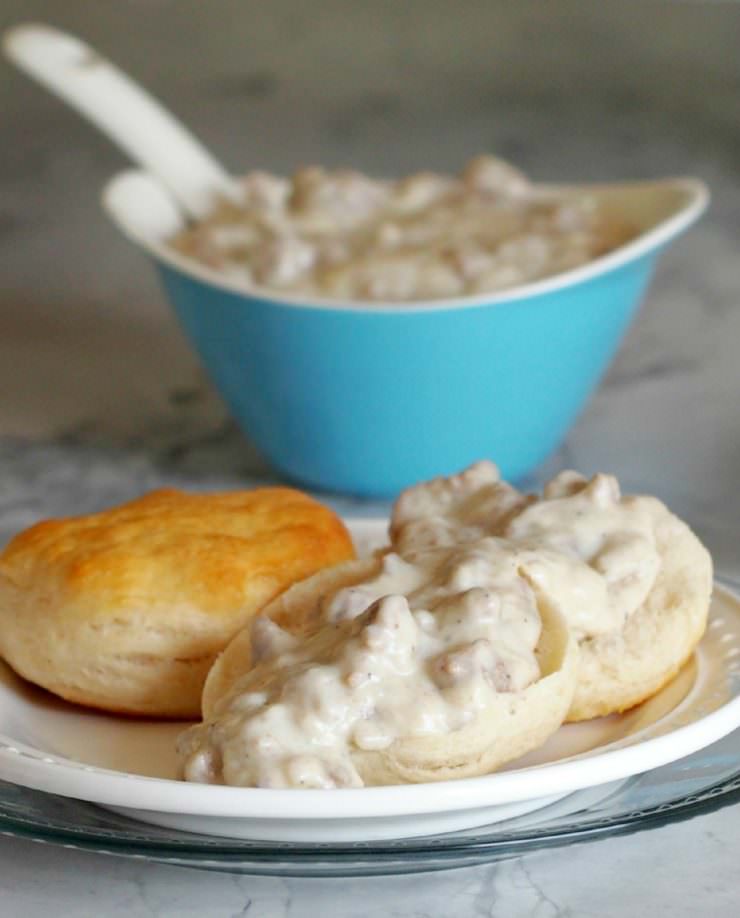 Once I thought about it, I soon realized that sausage gravy is really only a seasoned roux with meat stirred into the mix. Now roux, I can do. I do roux all the dang time whenever I make Grandma's Mac & Cheese. How is a white gravy really any different? In short, a roux and a white gravy are essentially the same animal. All I had to do to lighten the caloric load was to use lean turkey sausage in place of the full fat alternatives, scale back on the butter a bit, and use low fat milk in place of whole milk. No big deal! Light Sausage Gravy isn't complicated at all.
The resulting Light Sausage Gravy is every bit as creamy and dreamy as the full fat variety but with nearly half of the fat and calories of a traditional recipe. According to MyFitnessPal, one serving of Light Sausage Gravy over a homemade whole wheat buttermilk biscuit clocks in at 231 calories and 12.6 g of fat, as opposed to 435 calories and 23 g of fat for a standard recipe. The lightened up version of this Southern classic is waistline friendly and still every bit pure comfort food!

Make Light Sausage Gravy today!


Kirsten Kubert

Yields 6

Light Sausage Gravy

Light Sausage Gravy is every bit as creamy and dreamy as the full fat variety but with nearly half of the fat and calories. The lightened up version of this Southern classic is still pure comfort food!

10 minPrep Time

10 minCook Time

20 minTotal Time

Ingredients

16 oz. "mild" lean turkey breakfast sausage roll
2 Tbs. unsalted butter
3 Tbs. all purpose flour
1 tsp. salt
1/2 tsp. dried mustard
1/4 tsp. black pepper
1/4 tsp. dried sage
3 C. 2% milk

Instructions

Brown the turkey sausage in a cast iron skillet set over medium-high heat, breaking into small pieces as it cooks. Drain the turkey crumbles and transfer to a bowl. Carefully wipe the excess drippings out of the pan with a several sheets of paper towel.
Reduce the heat to medium. Melt the butter in the skillet until it begins to bubble and froth. Stir in the flour, salt, dried mustard, black pepper, and sage. Stir the flour paste for one minute to toast the seasonings and temper the taste of the flour as it cooks. Whisk the milk into the skillet, breaking up the clumps of flour until the mixture is no longer lumpy.
Continue to stir the mixture over medium heat until it thickens to a medium gravy consistency. Stir in the browned sausage. Keep stirring the gravy until it becomes very bubbly and sausage is heated through. Taste the gravy and adjust seasonings, as desired.
Serve hot gravy immediately over warm buttermilk biscuits .

Notes

Light Sausage Gravy is also perfectly lovely when served over baked or f ried chicken , baked potatoes, grilled steak , or steamed vegetables. Leftover gravy may be stored in an airtight container in the refrigerator for up to two days. To reheat, simply warm the gravy in a saucepan with a hefty splash of milk to thin it out as it heats.

7.6.4

109

http://comfortablydomestic.com/2016/05/light-sausage-gravy/

Comfortably Domestic - 2016





I am honored to be a Dairy Ambassador for Milk Means More – United Dairy Industry of Michigan. I'm committed to developing recipes using Michigan dairy products. All opinions are my own. Milk Means More represents the dedicated, hard working Michigan dairy farmers that are passionate about providing fresh, wholesome milk, cheese, and yogurt for you and your family. Hug a farmer, y'all!
For dairy nutrition facts, community involvement partnerships and more great recipes, visit Milk Means More on Twitter, Facebook, YouTube and Pinterest.

Be sure to come back tomorrow to see how to make this glorious Biscuit Bar Brunch for Mother's Day, baby showers, wedding showers, or any occasion necessary to brunch!