Weekly Menu Plan Week 40 is full of delicious dinners like baked chicken parm, a spicy paneer, smoky chili, one pot pasta, and a burger. As always, we include a couple desserts for weekend indulgence!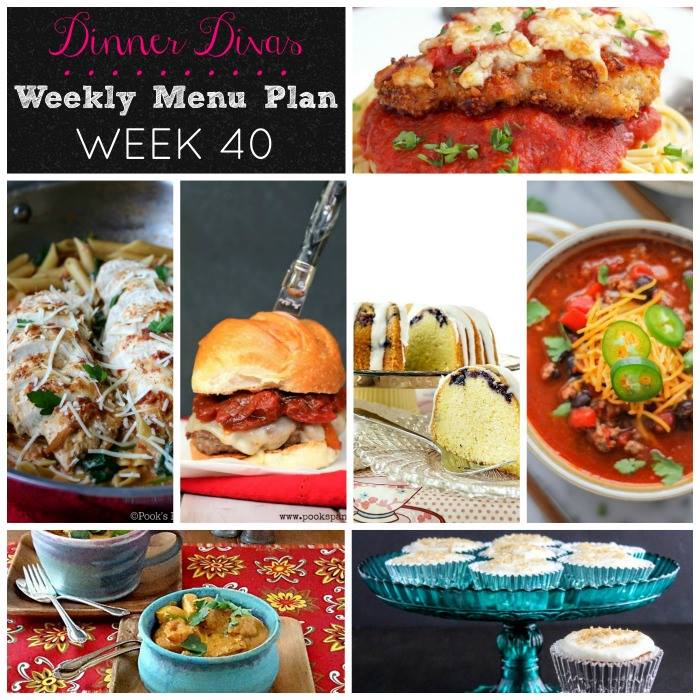 We're in the midst of a winter warm up, so the feet of snow that we shoveled off the roof? Melting like Olaf in the summer time. The balmy temps are temporary, as the blustery north wind is set to blow through later in the week.  Thus, I'm happy that the Weekly Menu Plan Week 40 is full of warm, comforting goodness for the week ahead.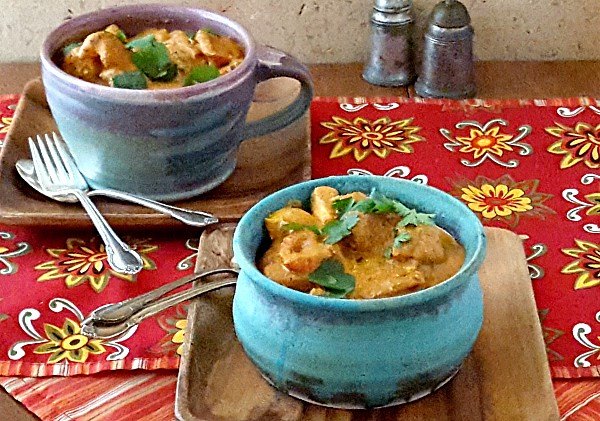 I can't think of much more comforting than the warm spices in Jenni/Pastry Chef Online's Homemade Paneer Tikka Masala. She notes that the homemade version of the Indian dish requires a fairly involved process. When time is short on a weeknight, she suggests buying a quality store-bought Indian simmer sauce. But really? If you have the time and inclination, I highly recommend making the dish from scratch on a weekend.  Serve my garlic green beans on the side to round out the meal.

I'm so excited with Cheryl/Pook's Pantry's One Pot Chicken and Spinach Pasta with Creamy Sun-dried Tomato Sauce. This is a relatively quick recipe with minimal clean up. Serve it alongside a super simple caesar salad, and you've got a restaurant quality dinner at home in no time at all. No fuss. No muss. BOOM. Now that's what I'm talking about!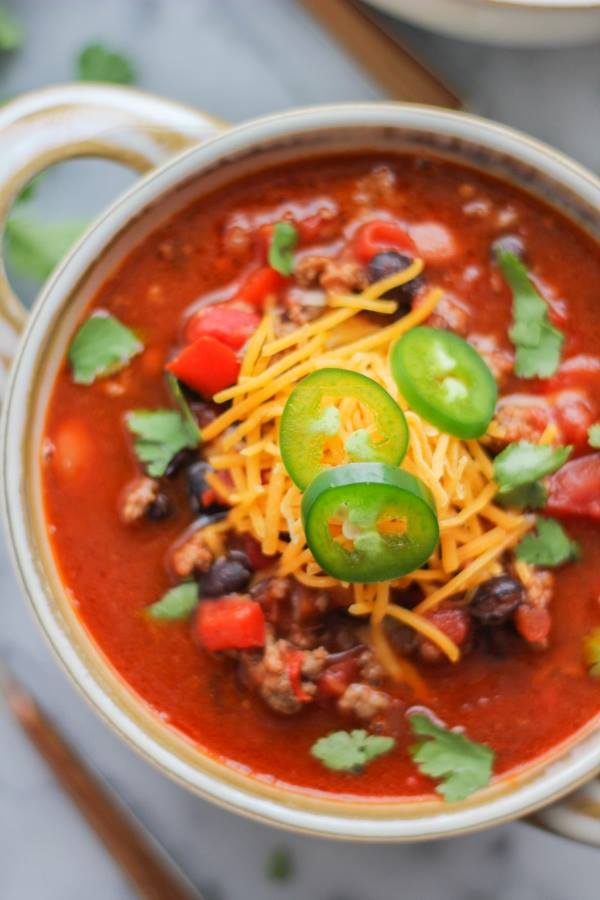 Chili is a weekly staple here in the winter months because chili is something that everyone can agree on. I like the versatility in that pretty much anything goes in a pot of chili. The Son's like that I'll let them put a few Fritos on top. Fritos would go well with Sarah/The Chef Next Door's Smoky Beef Chipotle Chili. Although, a batch of my Best Ever Corn Muffins wouldn't be amiss either!

Thursday brings the flavor with Pook's Pantry's Sausage and Peppers Burger. A blend of Italian sausage and grass fed beef are the perfect palate for the flavorful sweet pepper and onion topping. I could happily eat the topping with just a heel of no knead herb batter bread. Although I think I'll class it up a bit and serve baked potato wedges instead.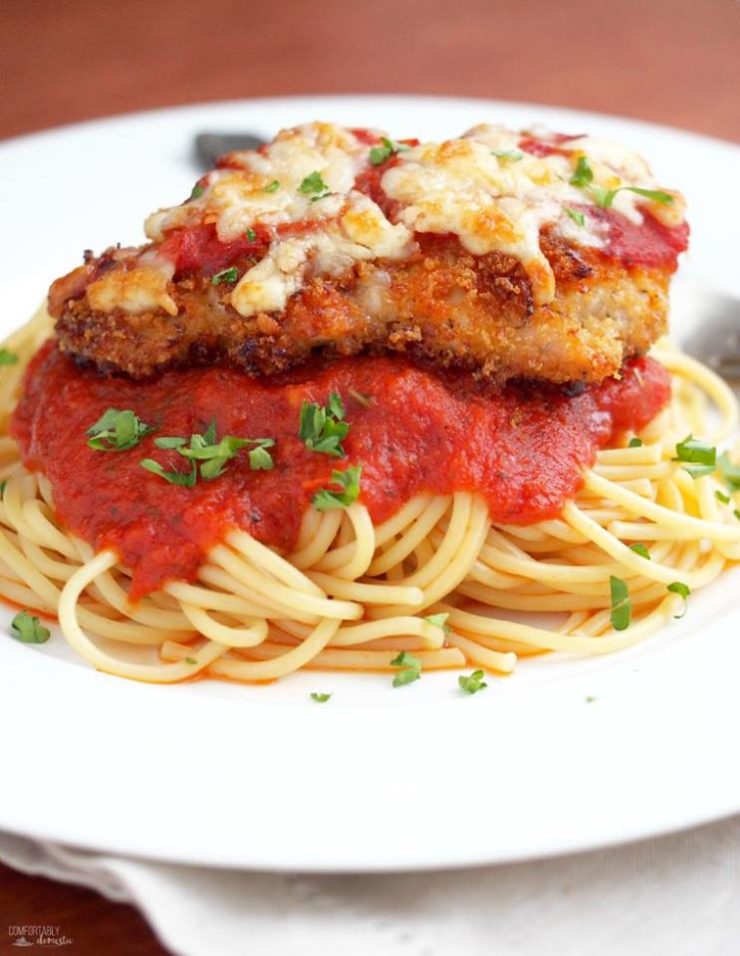 Friday is carbalicious with my Baked Chicken Parmesan. All of the flavor of a traditional chicken parm but with fewer calories because it's baked, not fried. This lighter version of the classic makes a great Date Night dinner to say T.G.I.F!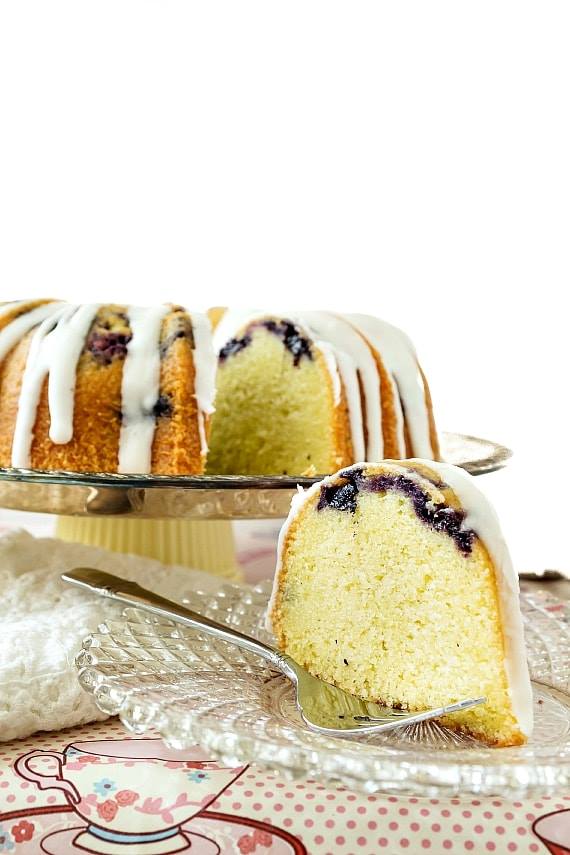 Ending the week with the bright flavors of Pastry Chef Online's Blueberry Lemongrass Pound Cake is something to look forward to. Jenni fuses her Southern roots of blueberry pound cake with the Far Eastern inspired flavor of lemon grass. Think lemon blueberry with a slight earthy finish–it's a very good thing.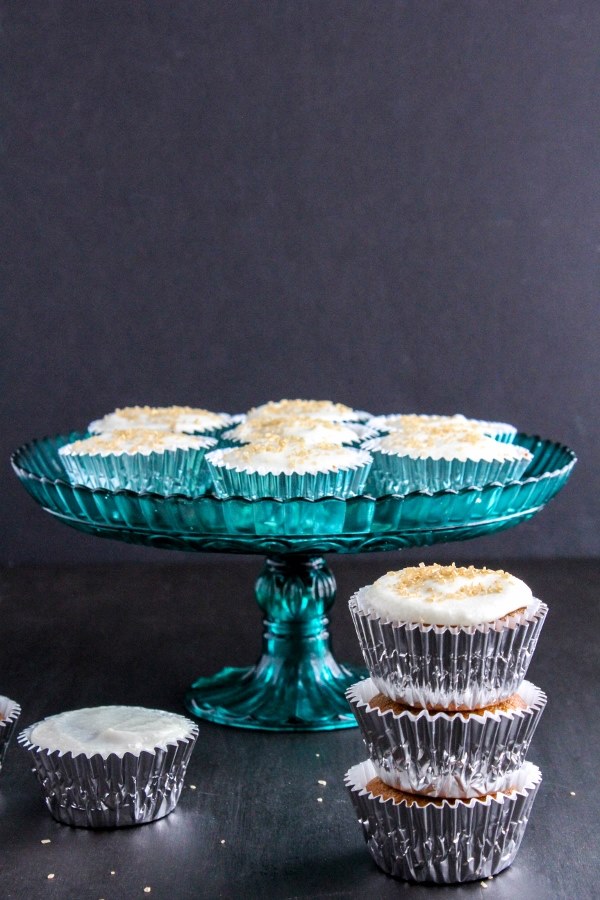 Punctuate the week with a little spice with these Gingerbread Cupcakes with Orange Buttercream Frosting. Enjoy a few with coffee over the weekend, then take the rest to work or share them with your neighbors. They'll love you for it!
What do you love about the Weekly Menu Plan Week 40?
Do tell in the comments below!