Jalapeno Cheddar Burger Buns have cheese baked right in and bring a hint of heat to really elevate the flavor of hamburgers and sandwiches.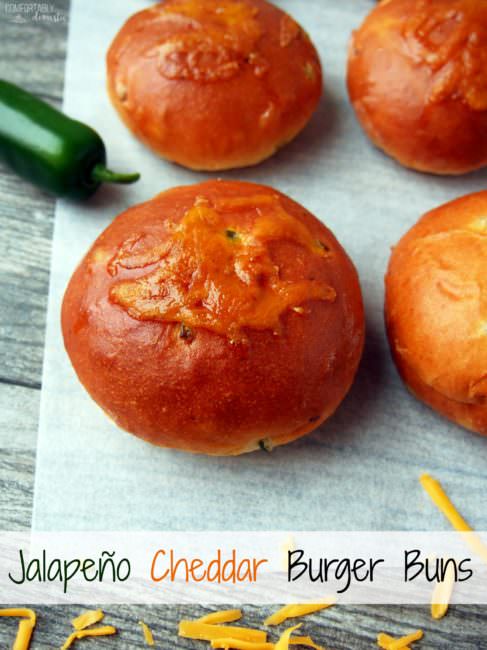 Every so often, I'm one of those weird people that gets a bee in her bonnet and decides to make homemade hamburger buns. When I'm crafting a really great burger or sandwich, it seems a shame to slap it on ordinary store bought buns. Homemade bread has the extra heft to stand up to some really great combinations. I just can't see serving something awesome like feta stuffed lamb burgers on generic white buns. Doing so is practically a crime!
Or at least it should be.
Sometimes I make a basic bun that goes with everything, like these cornmeal burger buns. Other times I want to inject more flavor into the bun to compliment whatever it is that I decide to put on it, as with these Italian Herb and Cheese Burger Buns. What can I say other than I love playing around with homemade bread?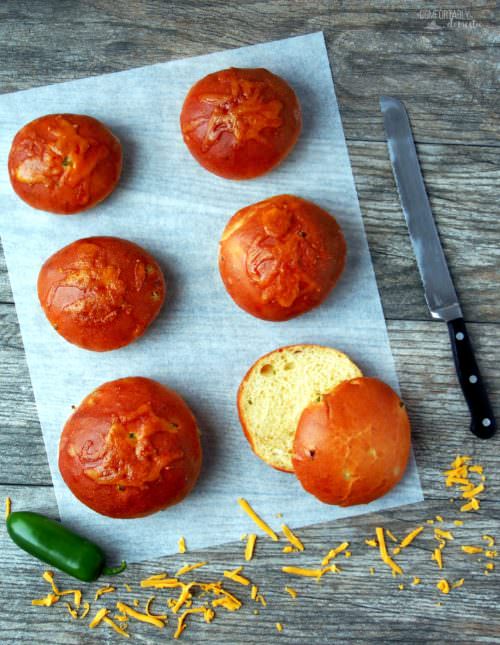 To celebrate the fact that spring may finally be here Up North, we are finally able to bust out the grill! Well, bust out the grill and not run it back to the outbuilding if an errant storm passes through. Nothing will ruin dinner faster than trying to grill it when it's rainy with 40 m.p.h. winds. Believe me! Forget the daffodils, Grilling Weather signals the official rite of spring around here.
For our inaugural run on the grill, I decided to make homemade hamburger buns to go with dinner the other night. I figure that warmer temperatures deserve a bun with a little heat to go with it, so Jalapeno Cheddar Burger Buns were born.  The dough comes together in a flash with an electric mixer, and using instant yeast speeds up the rise. Don't worry–you can knead by hand if that's your thing. There's still plenty of time to prepare dinner and a simple caesar salad while the dough is rising.
Help dough rise faster by using an empty microwave as a bread "proof box." Simply place a…
Click To Tweet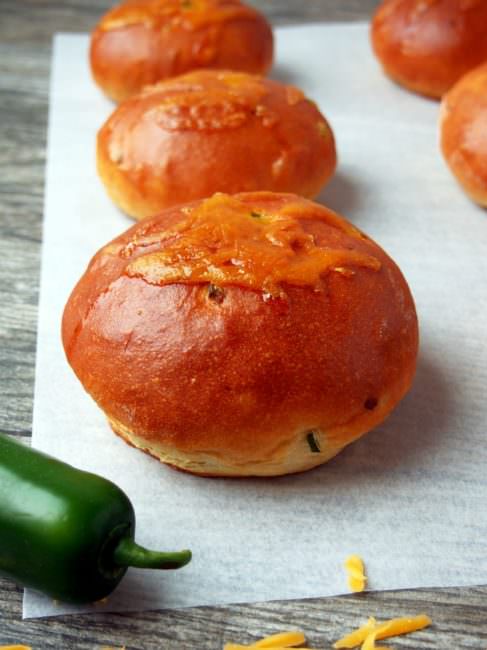 Jalapeno Cheddar Burger Buns have cheese baked right in and bring a hint of heat to really elevate the flavor of hamburgers and sandwiches. Whether it's a basic hamburger with all the fixin's, a great deli sandwich, or slow cooker barbecued pulled pork, Jalapeno Cheddar Burger Buns will make an ordinary dinner something to celebrate.
Who wouldn't want dinner served on extraordinary buns?
Be sure to stop by tomorrow to see what I served on these Jalapeno Cheddar Burger Buns. One bite and Bacon Slayer groaned in approval!

Print the recipe if you want dinner to be served on extraordinary buns, too!
Yields 8 Hamburger Buns
Jalapeño Cheddar Burger Buns
Jalapeño Cheddar Burger Buns have cheese baked right in and bring a hint of heat to really elevate the flavor of hamburgers and sandwiches.
2 hrPrep Time
20 minCook Time
2 hr, 20 Total Time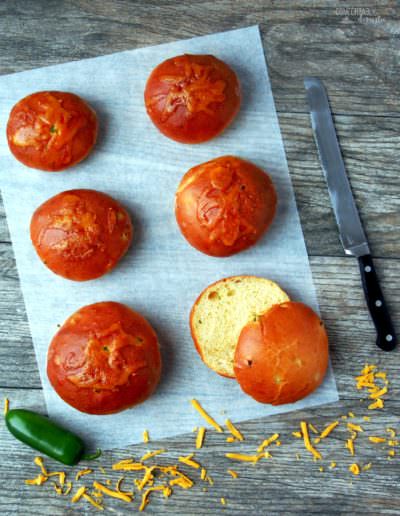 Ingredients
For the Dough:
2 ¼ tsp. instant yeast
½ C. warm water (90 degrees F)
½ C. warm 2% milk (90 degrees F)
2 Tbs. honey
¼ C. plus 1 tsp. canola oil, divided
1 egg
3 ¼ C. bread flour
1 tsp. kosher salt
¾ C. freshly grated sharp cheddar cheese
1/4 C. (1 large) jalapeno, seeded and diced
For Topping (optional):
1 egg
1 Tbs. cold water
1 Tbs. sesame seeds
Instructions
Stir the yeast into the warm milk, water, and honey in a large bowl. Let stand for 5 minutes to allow to "bloom" while gathering the remaining ingredients.
Whisk the kosher salt into the bread flour in a medium bowl to combine. In a small bowl, whisk the egg with ¼ cup of the canola oil until blended. Stir half of the flour mixture into the yeast mixture until smooth. Blend the egg mixture into the dough. Work in the remaining flour mixture to form soft, somewhat sticky dough. Fold in the cheese and diced jalapeño to incorporate throughout.
Knead the dough in a stand mixer fitted with a dough hook and set to speed 2 for 3 to 5 minutes, or until dough is smooth and elastic. Alternately, the dough may be kneaded by hand for 8 to 10 minutes, or until smooth and elastic.
Pour the remaining teaspoon of canola oil into a large bowl. Form a large ball with the dough and transfer to the oiled bowl. Turn the dough to coat the entire exterior with the oil. Cover the bowl tightly with plastic wrap, and then drape a clean kitchen towel over the plastic wrap.
Place the dough in a warm, draft free place to rise until doubled in bulk; about 60 minutes.
In the meantime, line a half sheet pan with parchment paper or a silicone baking mat ; set the prepared pans aside.
Once dough has doubled, transfer it to a clean, well floured surface. Divide the dough in half. Divide each half in half once to make 4 pieces. Divide each of those halves in half again for a total of 8 pieces. Each piece should be roughly the same size. Tuck and roll each piece of dough into a small ball that is about the size of a small apple.
Place the balls of dough 3 inches apart on the prepared baking sheet. Gently flatten each ball into a disk that is about the size of a hamburger bun. Cover the buns with a clean kitchen towel to rise for 20 minutes.
While the dough rises a second time, preheat the oven to 400 degrees F. Prepare the egg wash for the topping by whisking an egg with cold water.
After the second rise, remove the towel and lightly brush the tops of the buns with egg wash. Sprinkle the tops with sesame seeds, if desired. Bake the buns for 20 to 25 minutes or until deep golden brown and cooked through.
To serve, slice the buns horizontally in half with a serrated bread knife. Toast the inside halves on a dry skillet, if desired. Top with a really great hamburger or desired sandwich toppings and condiments.
Leftover Jalapeño Cheddar Burger Buns may be refrigerated in an airtight container for 1 day or frozen in an airtight freezer container for up to 1 month.
Notes
Pro Tip: use an empty microwave as a bread "proof box" by placing the wrapped bowl of dough inside and closing the door. I find that keeps the draft away and encourages the bread to rise faster than when simply set on the counter.
7.6.4
371
http://comfortablydomestic.com/2017/05/jalapeno-cheddar-burger-buns/
Comfortably Domestic - 2016
For more soft and delicious homemade rolls, check out Texas Roadhouse Rolls (copy cat recipe), homemade hot dog buns, and low carb cloud bread loaf.