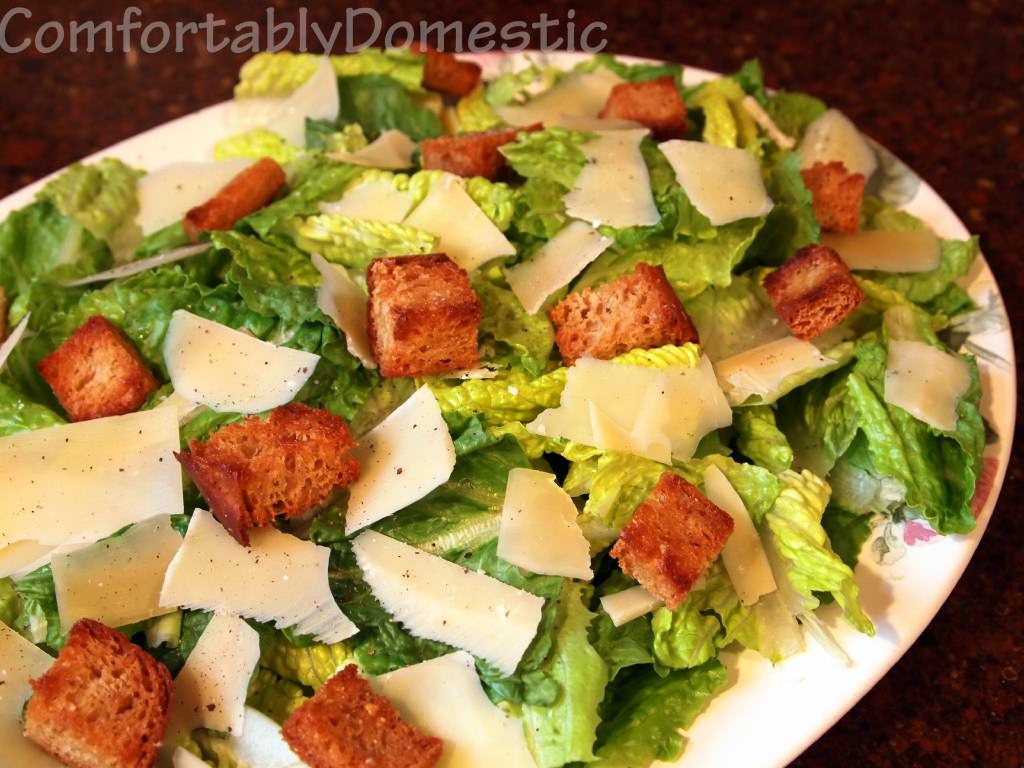 Every time a group of us get together and do a food themed week, we get this weird burst of inspiration afterward for what the next theme should be.  Mind you, Pie Week just came up on Twitter one day last summer as kind of a lark while we were discussing what we love to make with all the great summer berries.  Be a Good Cookie Week happened for a great cause.  Cake Week seemed like the thing to do.  Let's face it–cake needs to happen on a regular basis in my world.  It's a sanity thing.
So after Cake Week came to a close, we were workshopping about what the next theme should be.  Monica the GromMom piped into the discussion and suggested a Salad Week.
That Monica!  She's our Collective Healthy Living Conscience.
As soon as we locked in Salad Week, I knew that I would have to share my Favorite Salad Dressing of All Time.  Oh, and I guess a salad to put it on.  I make this dressing all the dang time–it's a basic parmesan vinaigrette, but if I add a little anchovy to it—Poof!  Instant Egg-Free Caesar Dressing.  This salad is so simple and delicious that it graces our table on a weekly basis.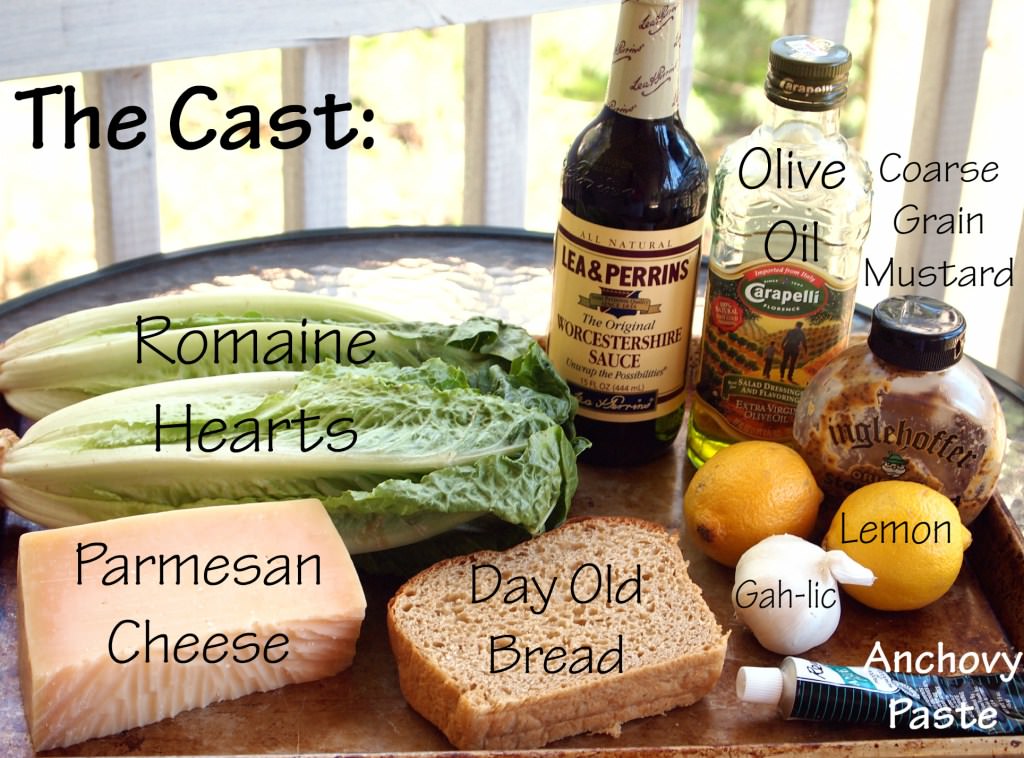 Gather the necessary ingredients for this Simple Caesar Salad.  The only thing even remotely exotic is the anchovy paste, but if anchovies give you the willies, you can skip it.  Only don't skip it–you won't even taste them but they give the dressing a little zip.
By the way…I find anchovy paste near the jarred sundried tomatoes at the grocery store.  I prefer it to canned anchovies because I open those silly little cans, use one anchovy, then end up throwing the rest away.  The stuff in the tube keeps forever in the refrigerator.
Also, since this salad has so few ingredients, be sure to use the best, freshest ingredients that you can get your hands on–that'll make the difference between a great salad, and meh.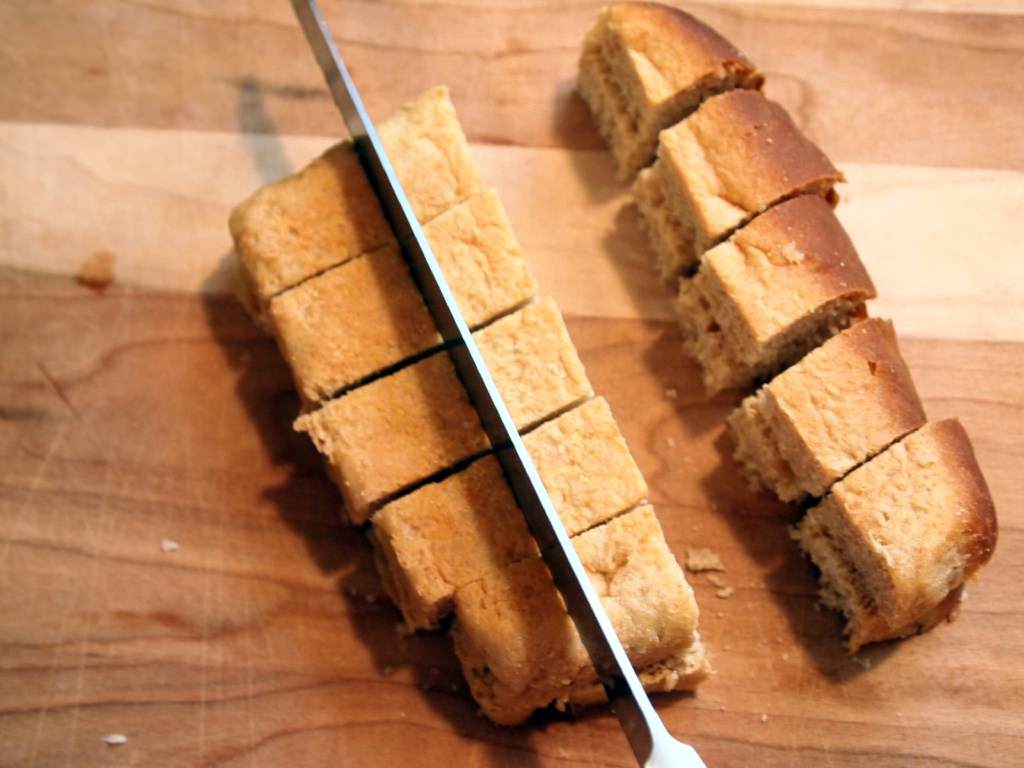 Preheat the oven to 350 degrees.  Slice the day old bread into 1/2-inch cubes.  I used the heels of some bread that I made.  Usually the Bacon Slayer and I fight over the bread heels, but somehow these had escaped our notice.  If you don't have day old bread, cube up some other good bread, and let the cubes sit out overnight to dry out.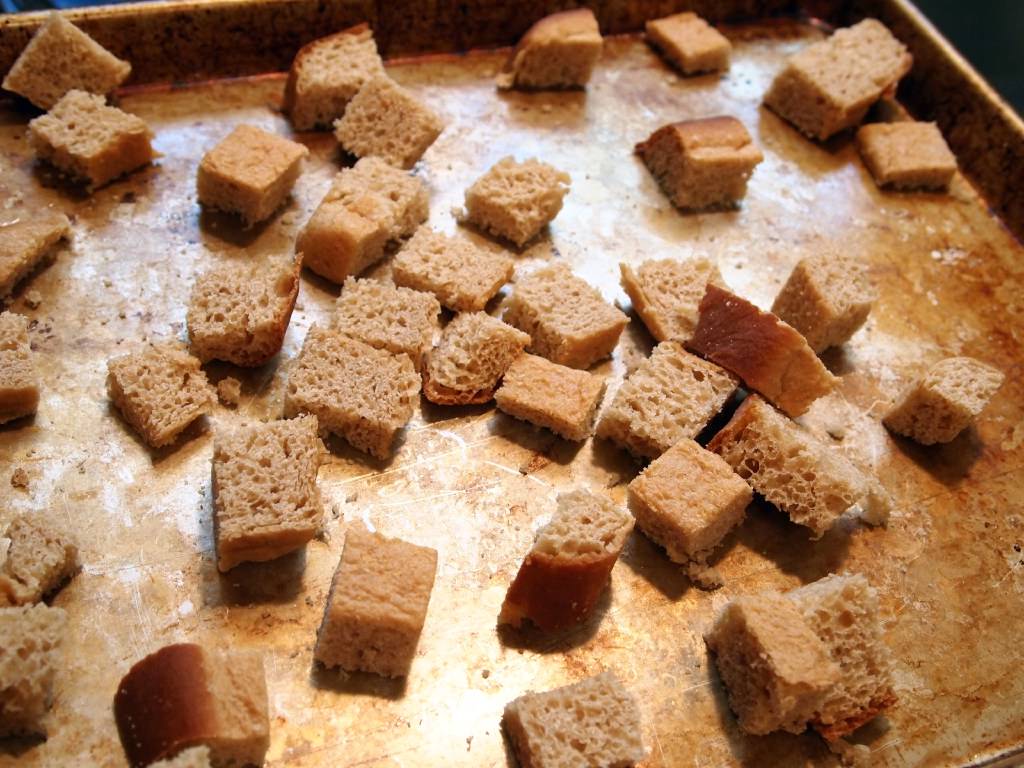 Place the cubed bread onto a rimmed baking sheet.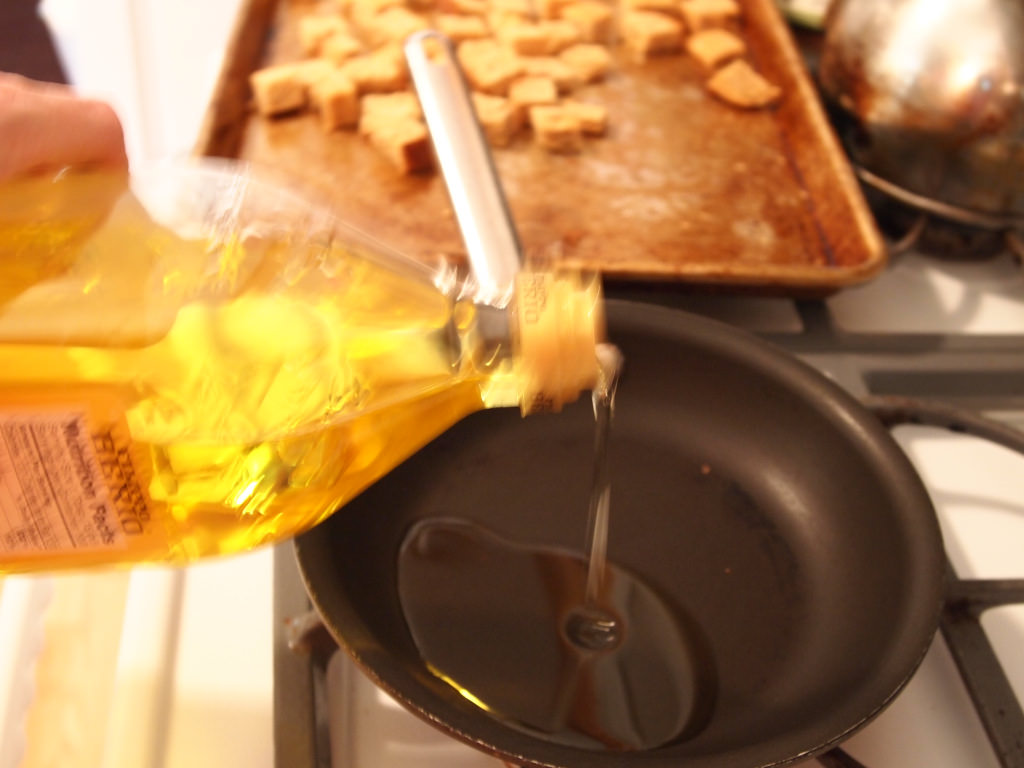 Pour a few teaspoons of olive oil in a small skillet set over medium heat.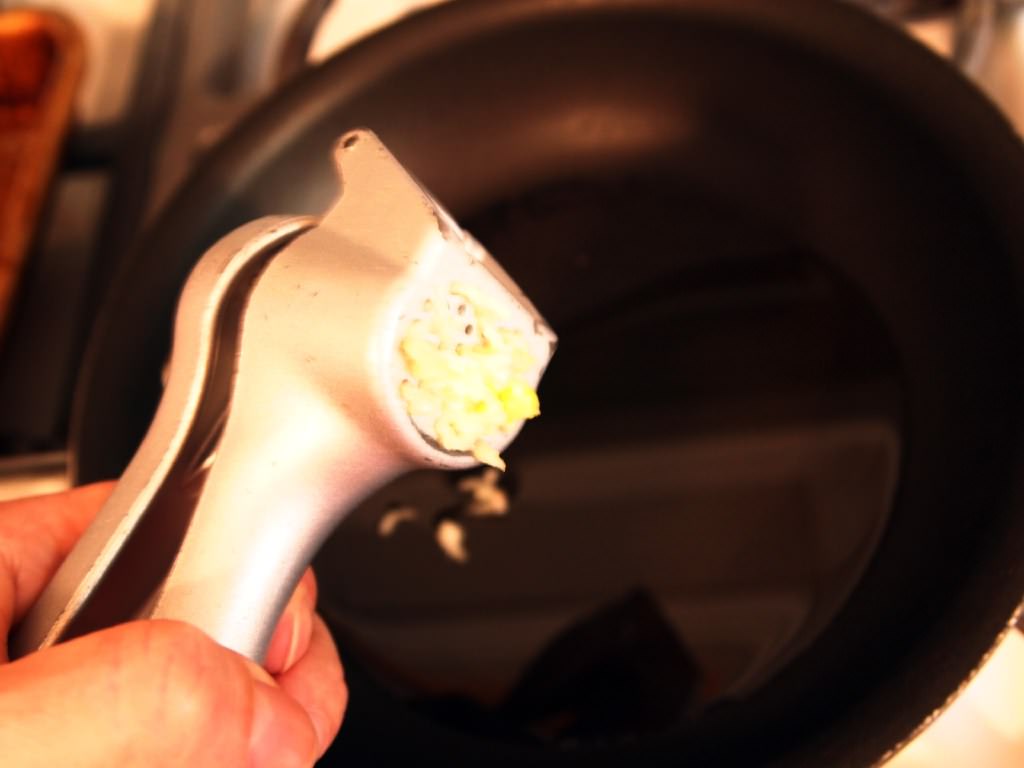 Add a clove of minced garlic to the oil, and bring it to a simmer.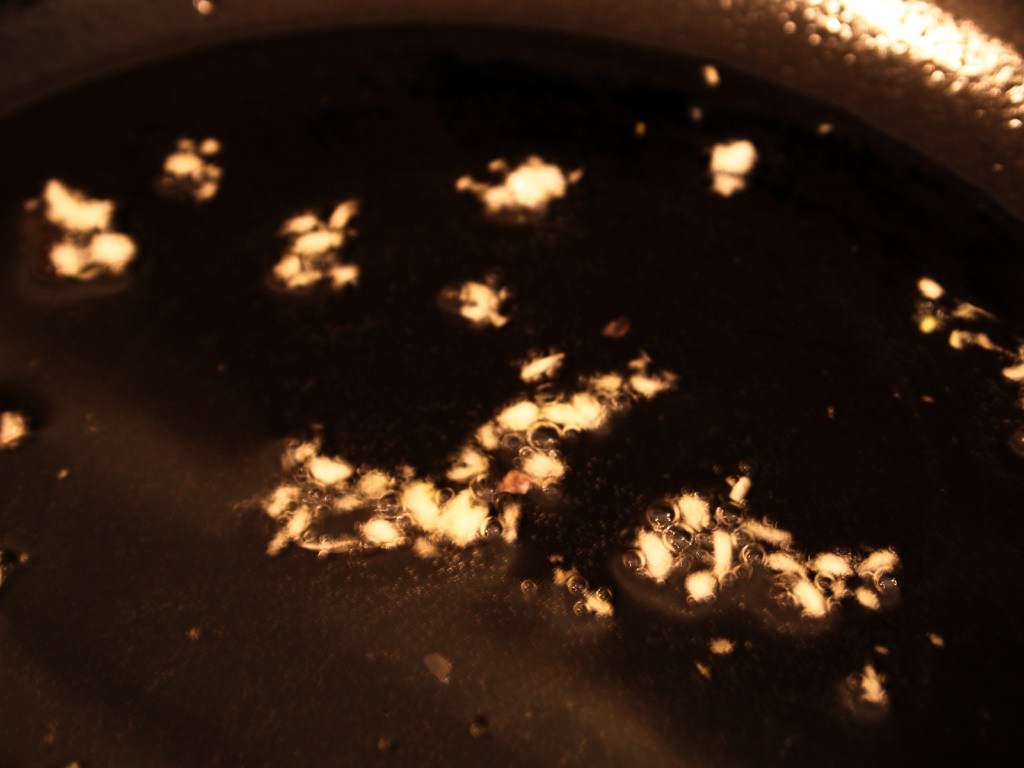 Once little bubbles start congregating around the garlic, remove the skillet from the heat so as not to burn the garlic.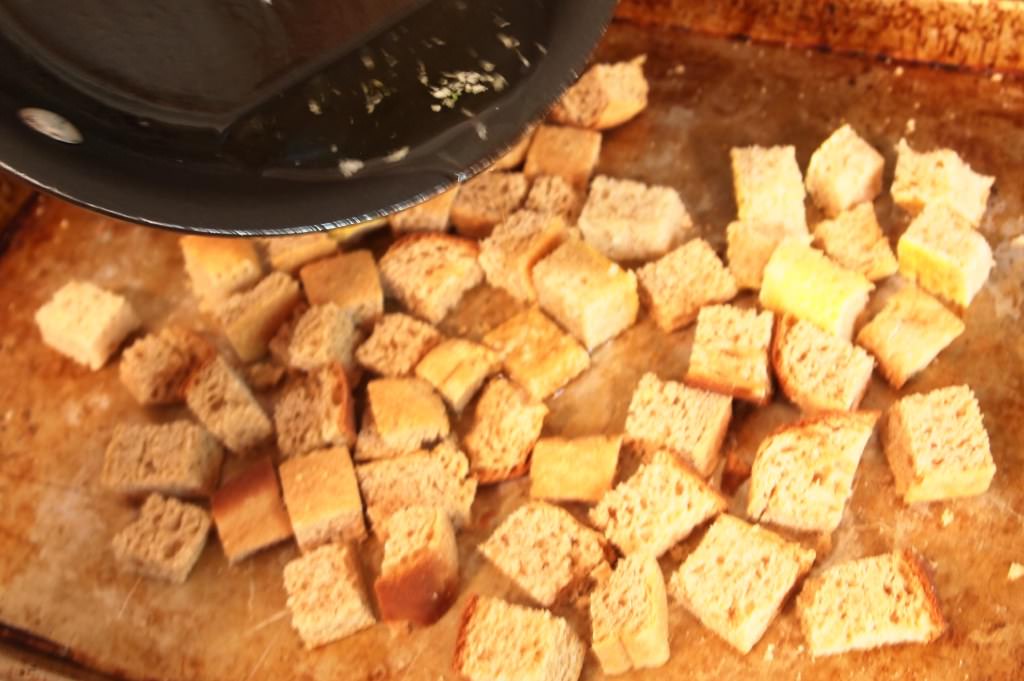 Drizzle the garlic in oil over the bread cubes.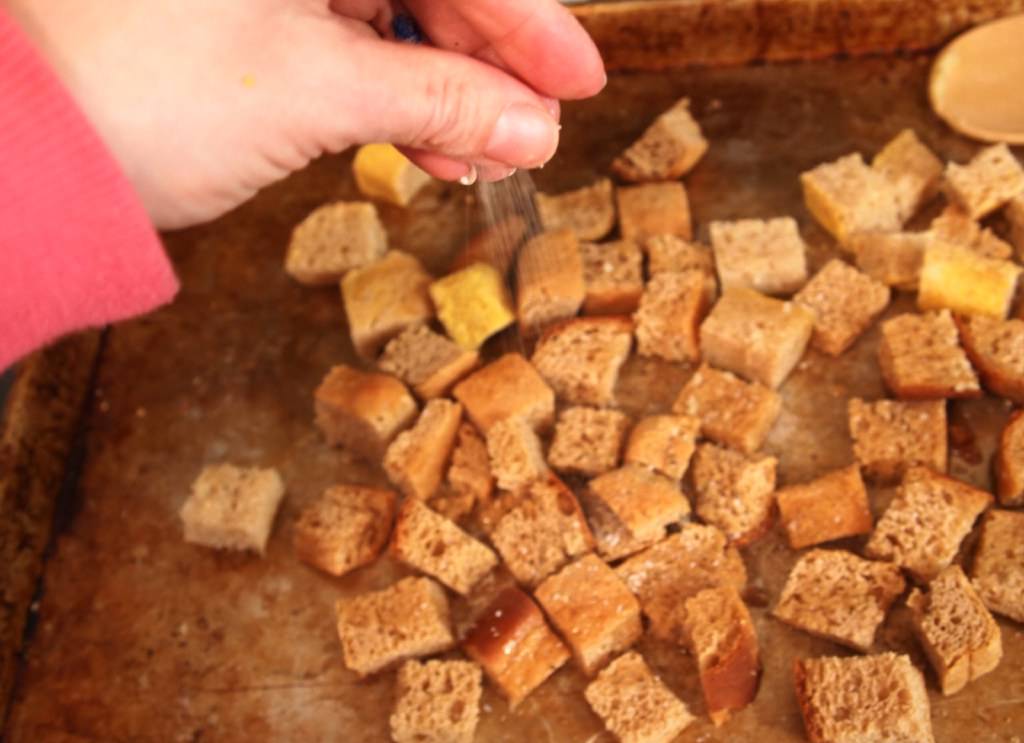 Sprinkle a hefty pinch of kosher salt and a little black pepper.  Toss the cubes to coat.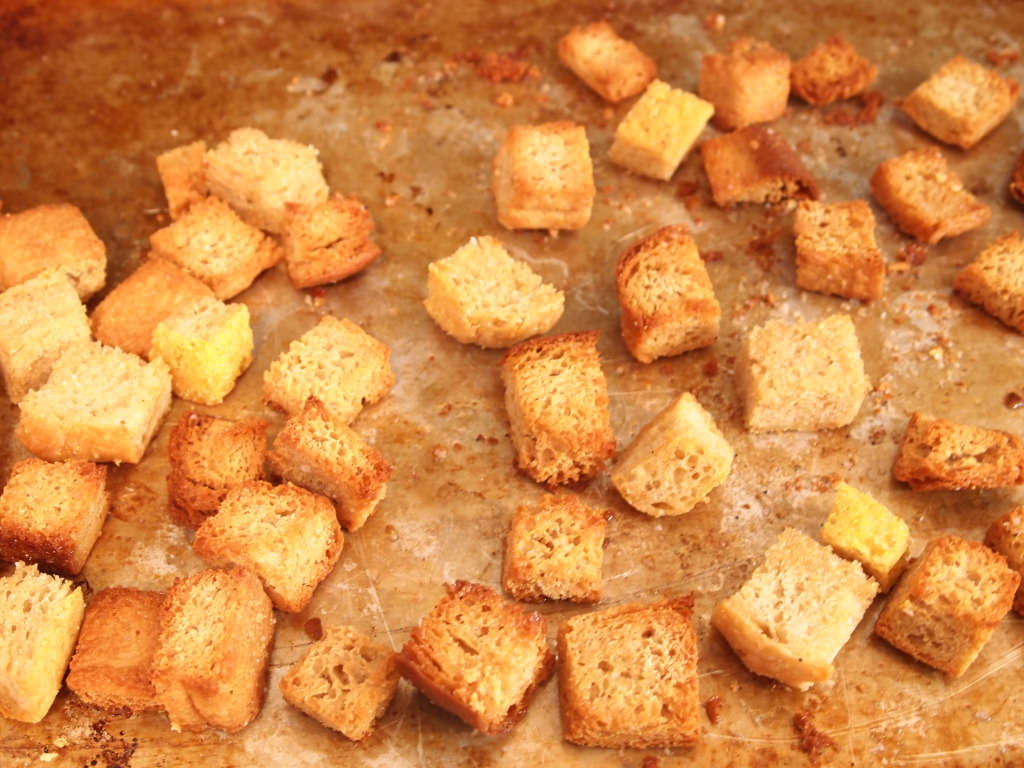 Toast the bread in the oven for about 10 minutes, or until they are golden brown. Allow the croutons to cool on the baking sheet.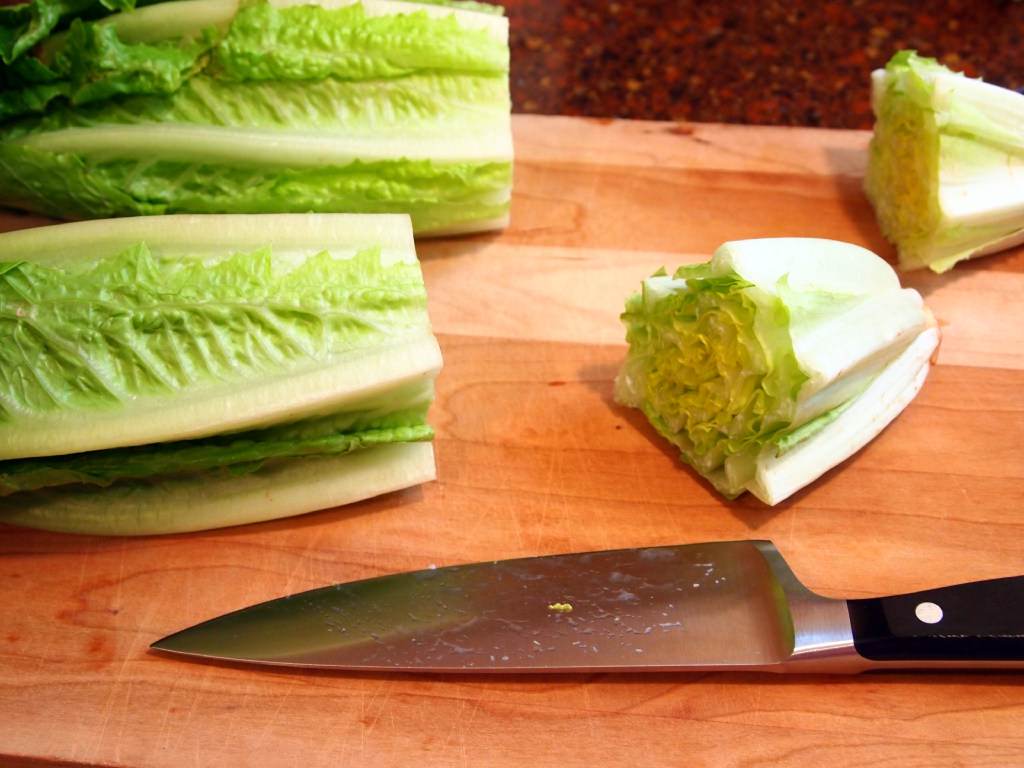 Lop the ends off of a couple of Romaine hearts.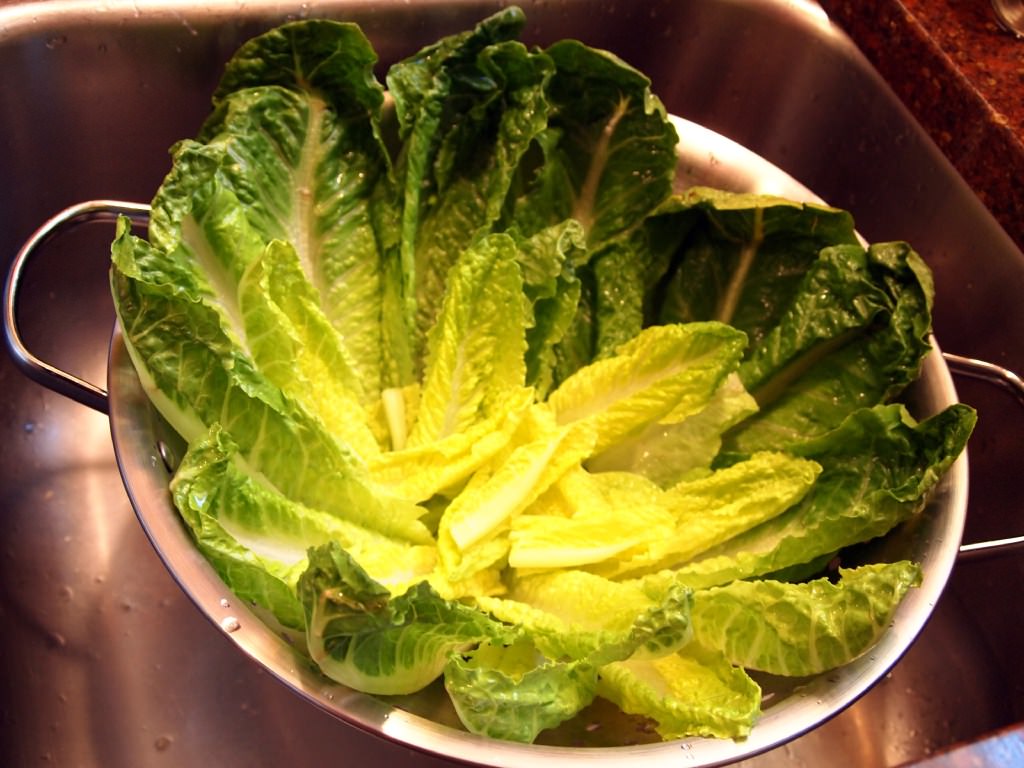 Rinse the leaves really well to remove any grit lurking on them.  Set the leaves in a colander to drain.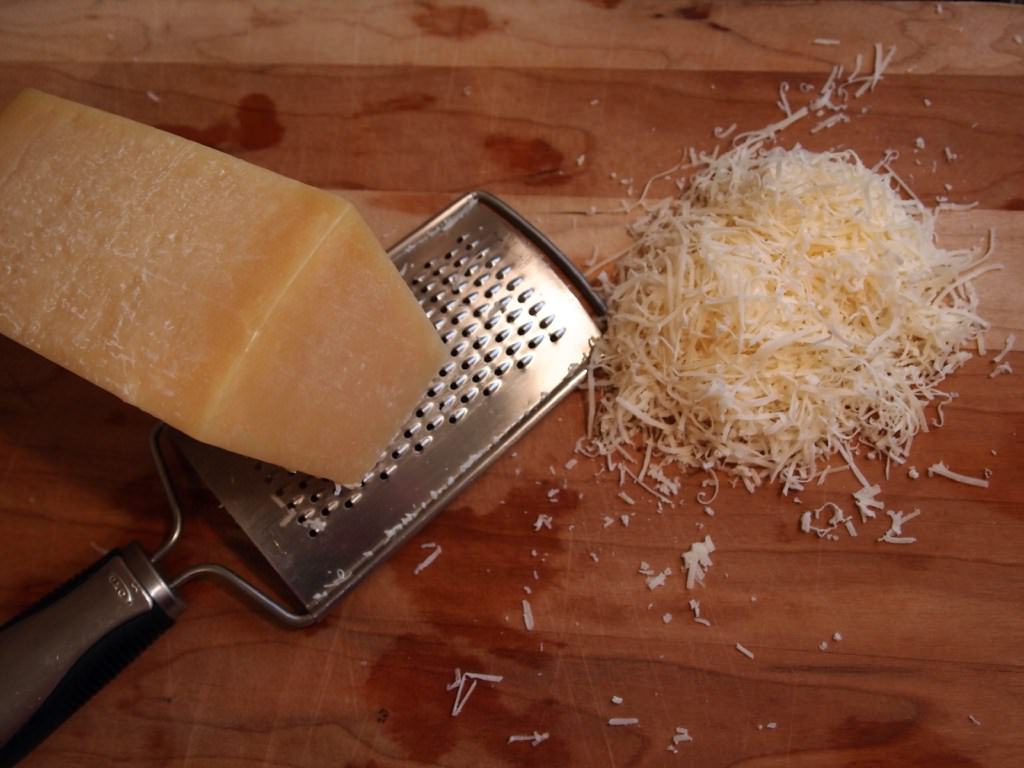 Meanwhile, finely grate a few tablespoons of parmesan.  This will not be the last you'll see of the parmesan.  You can quote me on that.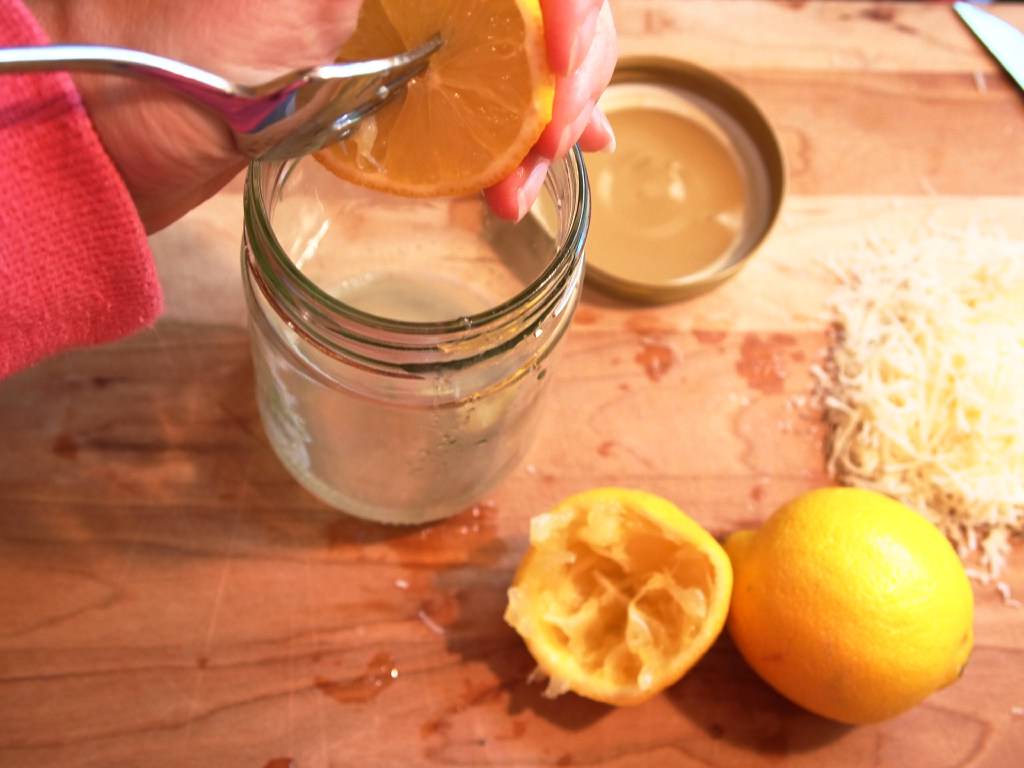 Squeeze a good amount of fresh lemon juice into a pint-sized canning jar with a lid.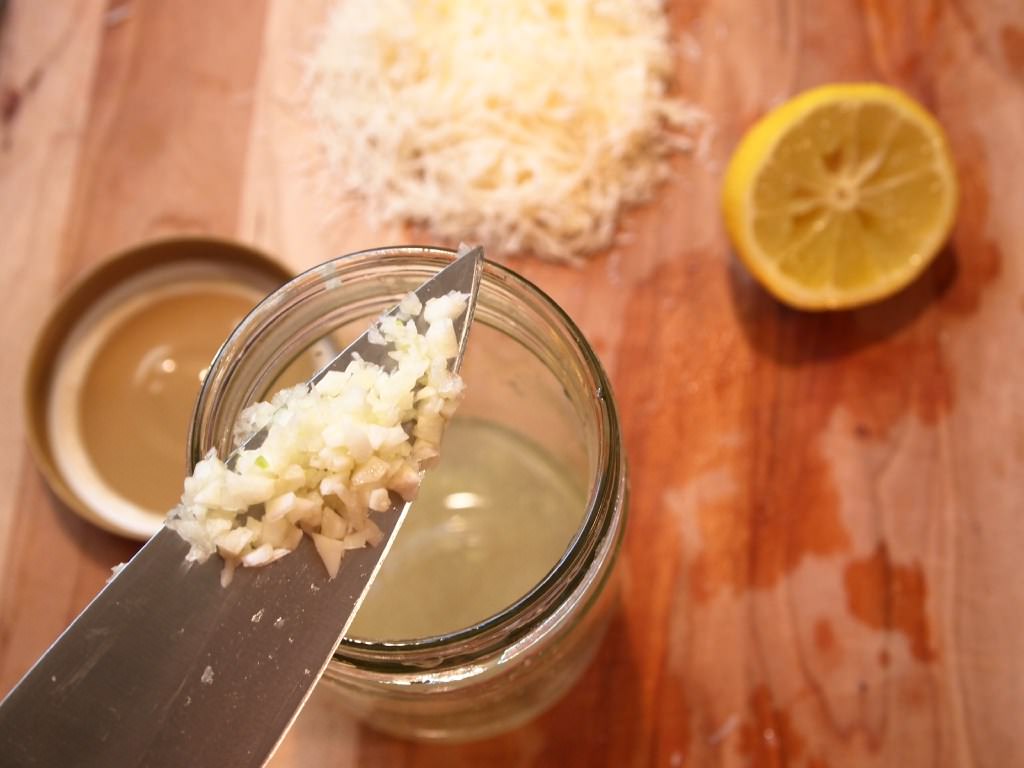 Add a clove of minced garlic.  Two if you can take it.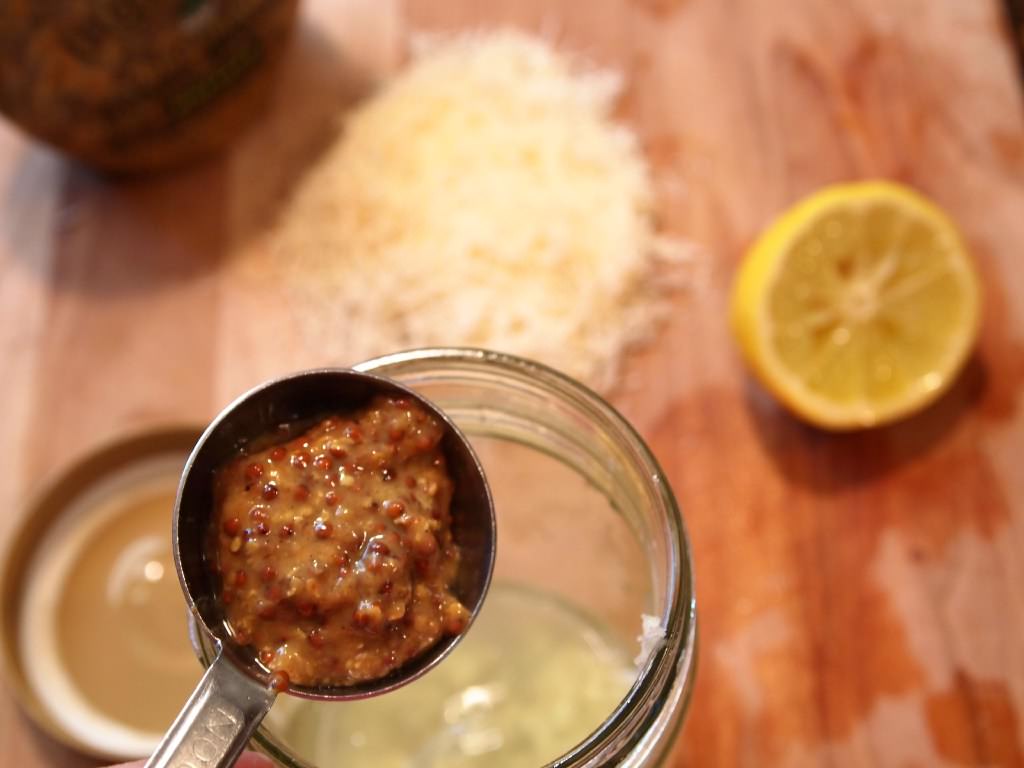 Add a little coarse-grained mustard.  The mustard acts as a thickener in place of the traditional egg in the Caesar dressing.  Don't freak out if you don't like mustard because you can barely taste it–it just gives the whole thing a little zip.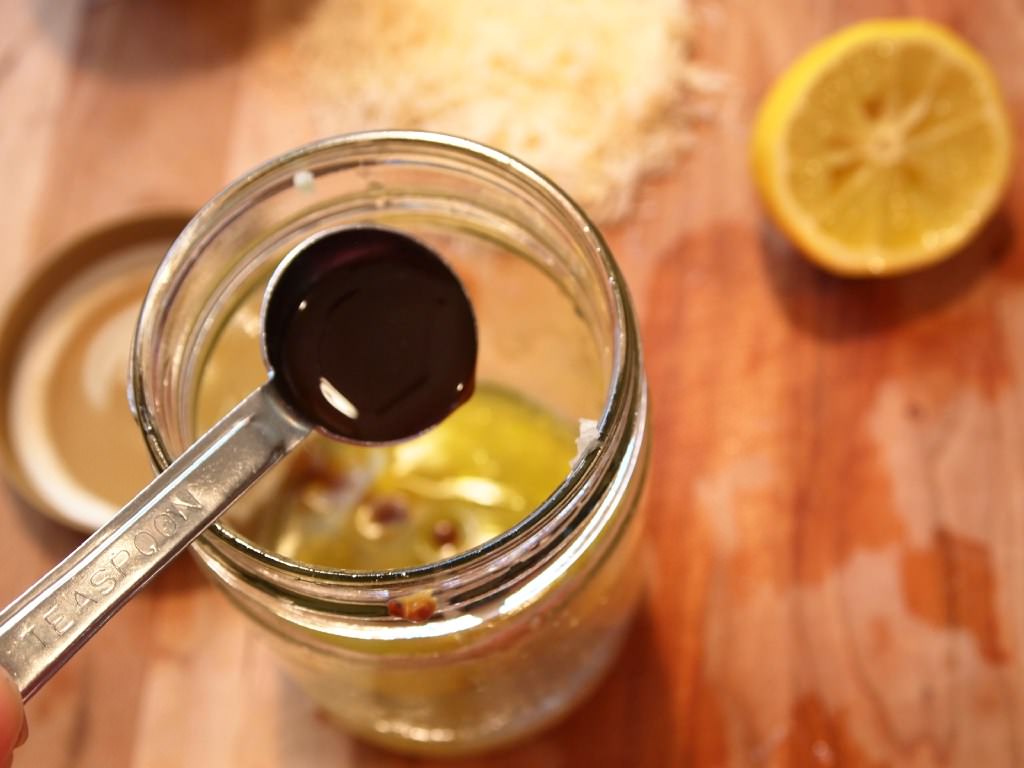 Pour in a little Worcestershire sauce for a little zing.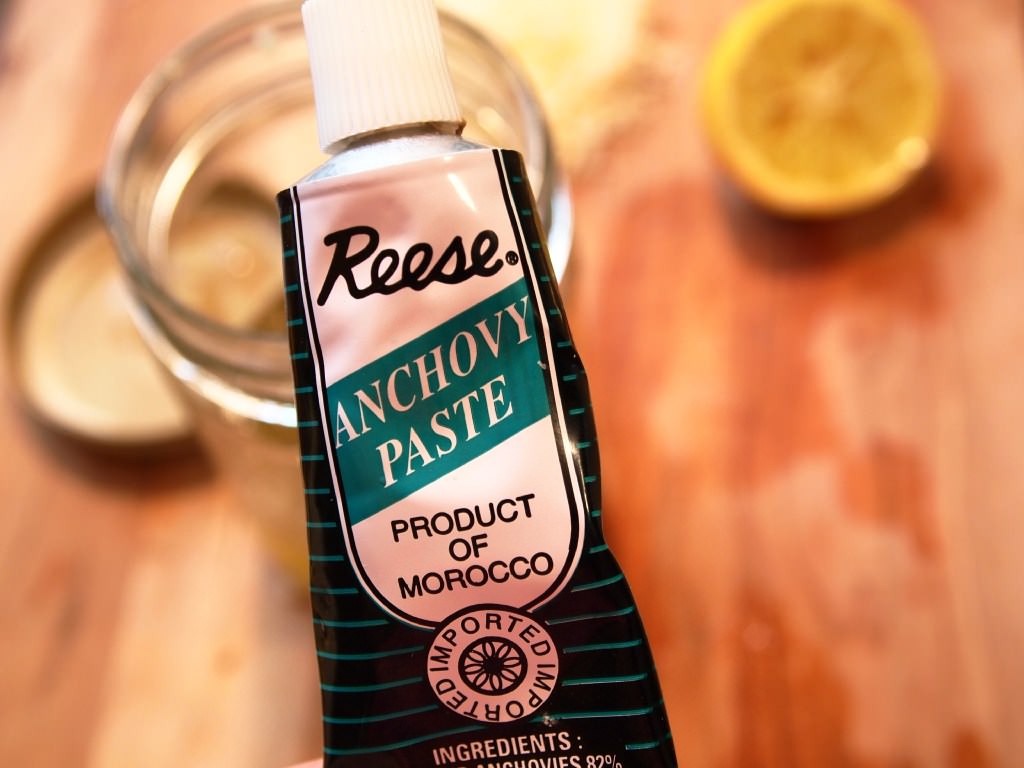 The anchovy paste is the one ingredient that packs a salty punch.  It's not fishy tasting, so don't skip it.  Zip! Zing! Pow!  Now the dressing is getting a little sass.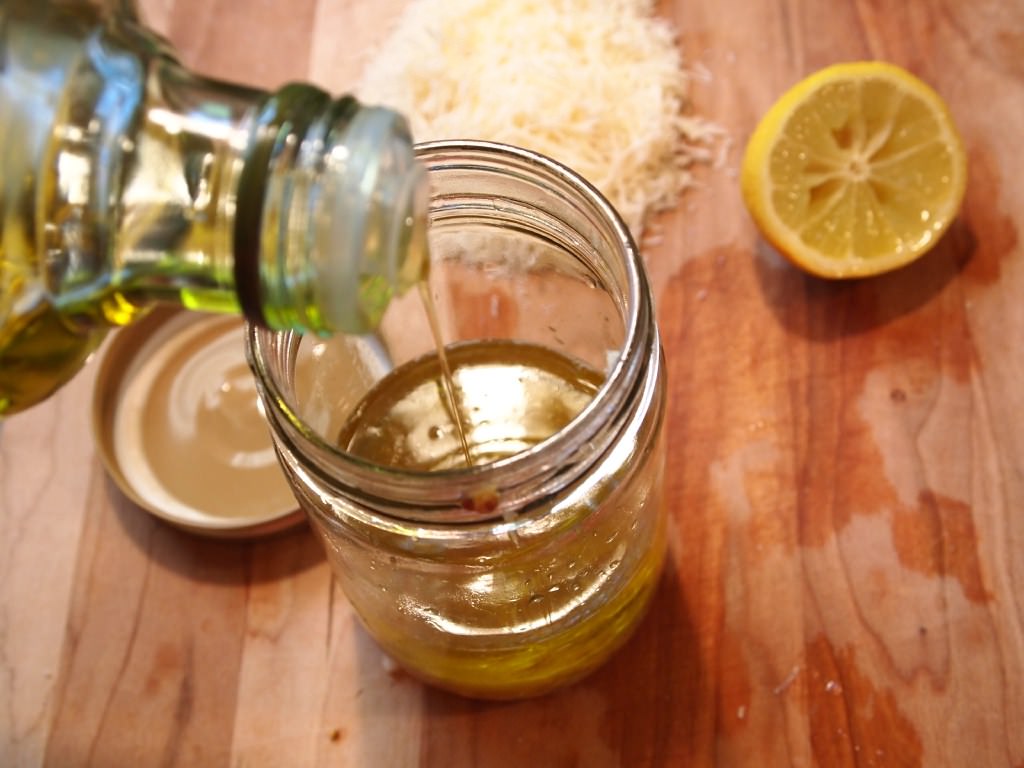 Pour in the olive oil…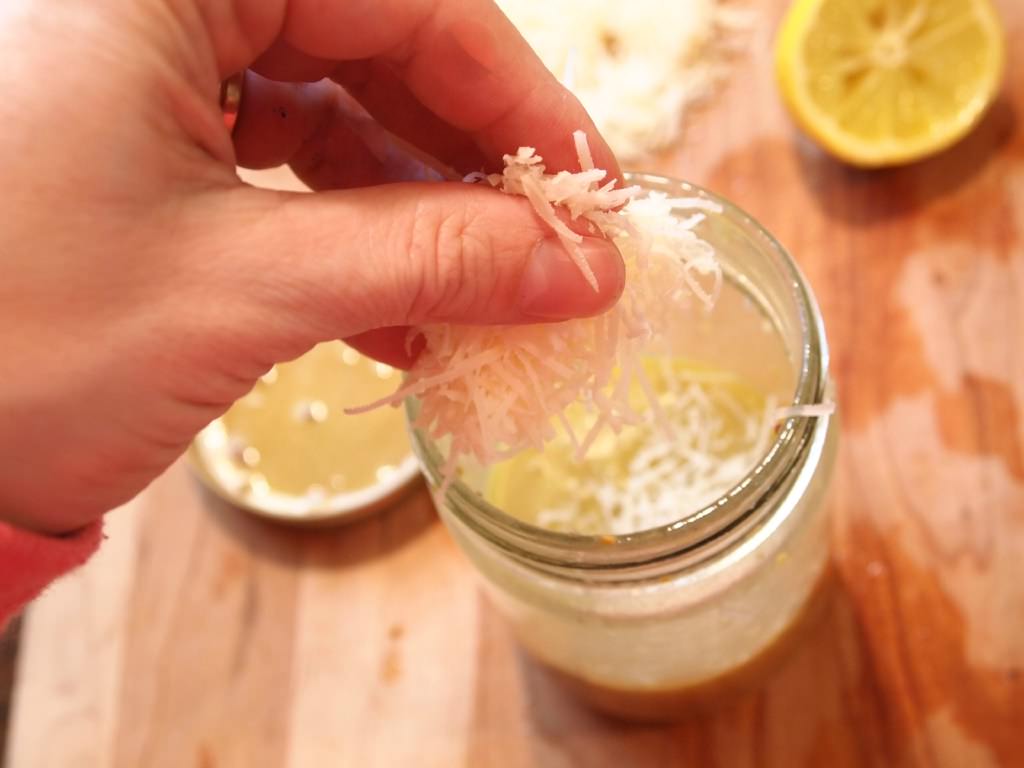 and add the finely grated parmesan cheese.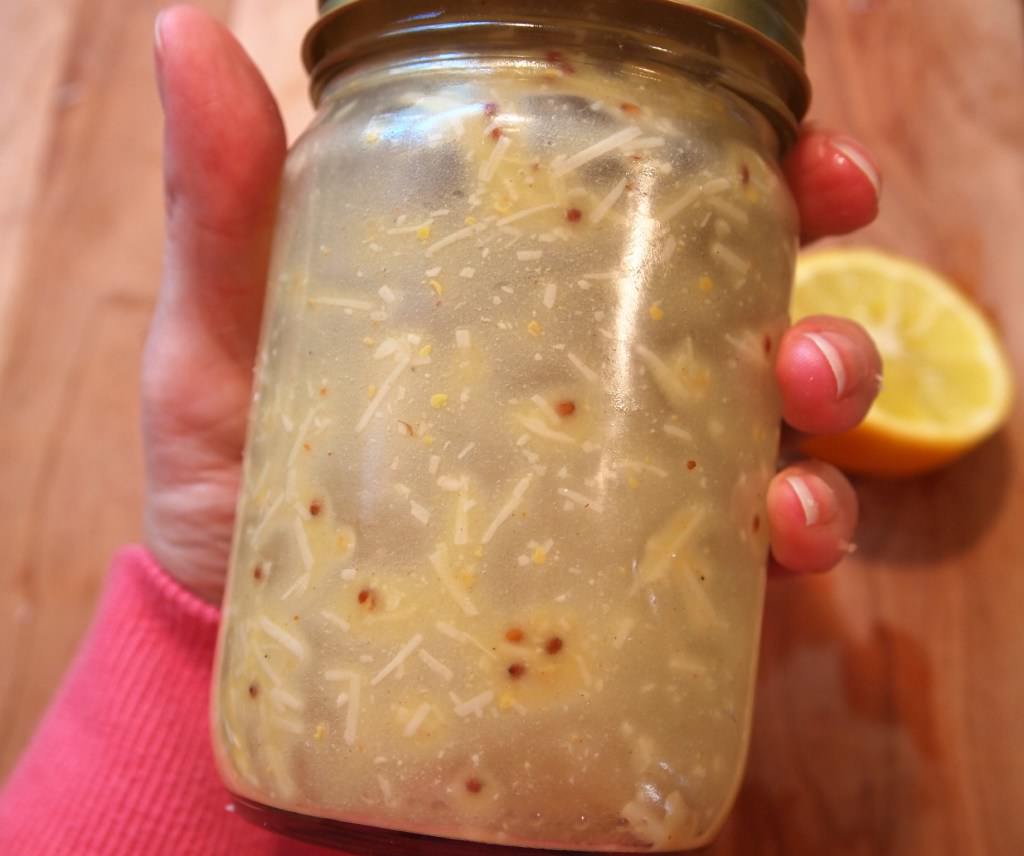 Place the lid tightly on the jar, and give the whole thing a vigorous shaking to emulsify the dressing.  Taste the dressing and adjust the seasonings with salt & pepper if you want to.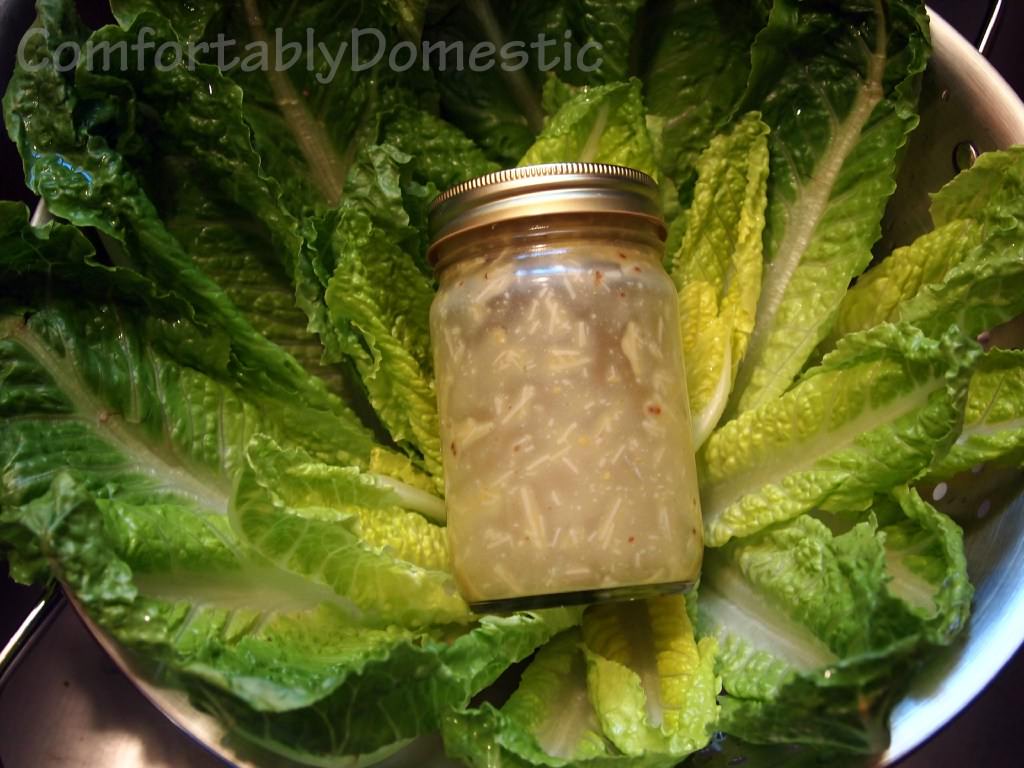 Boy, I love this stuff!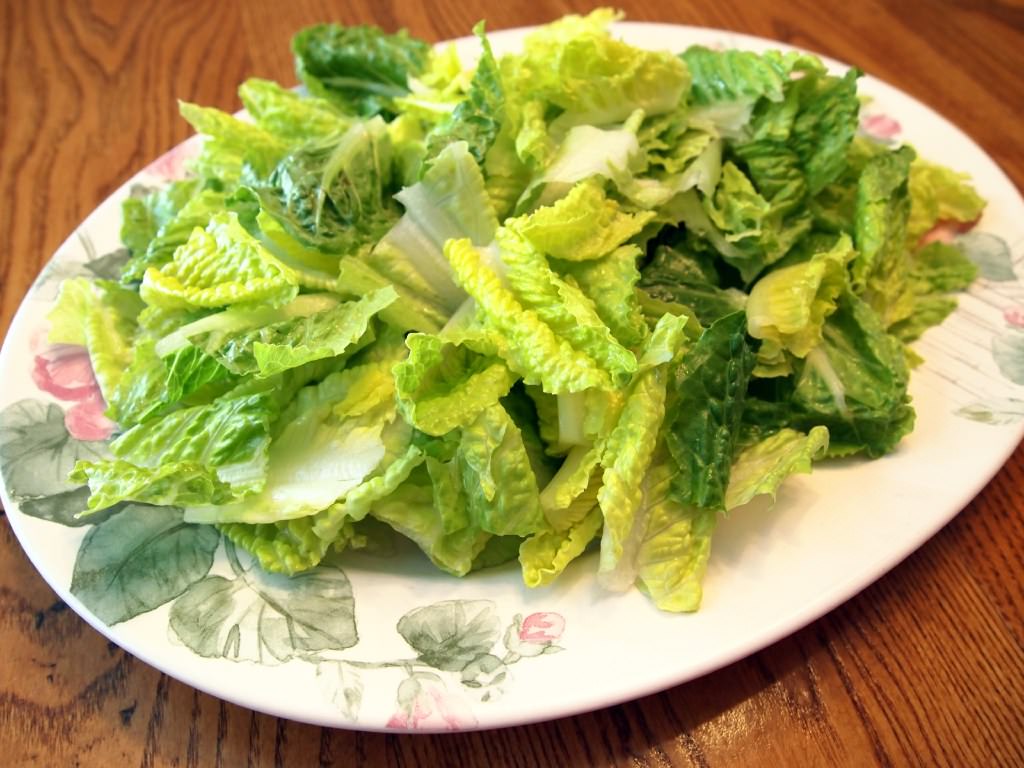 Tear the Romaine into bite-sized pieces and arrange them on a platter or in a serving bowl.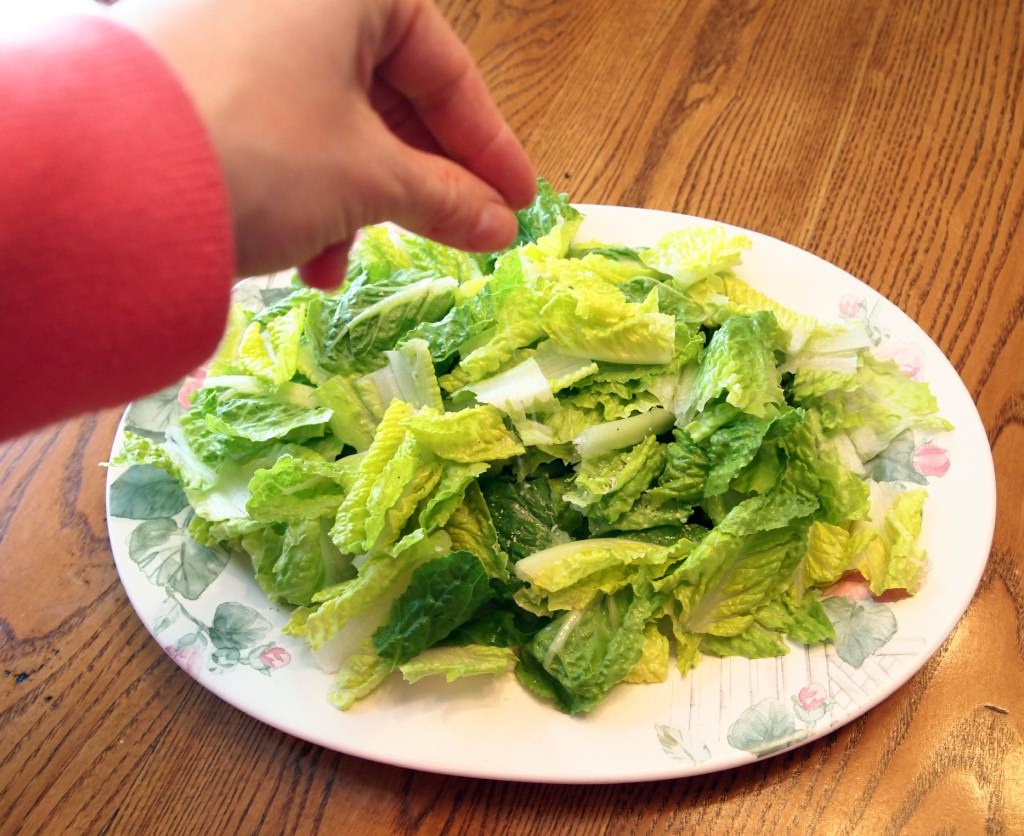 Season the greens with a pinch of kosher salt and freshly cracked black pepper.
Use a vegetable peeler to shave big ribbons of parmesan over the greens.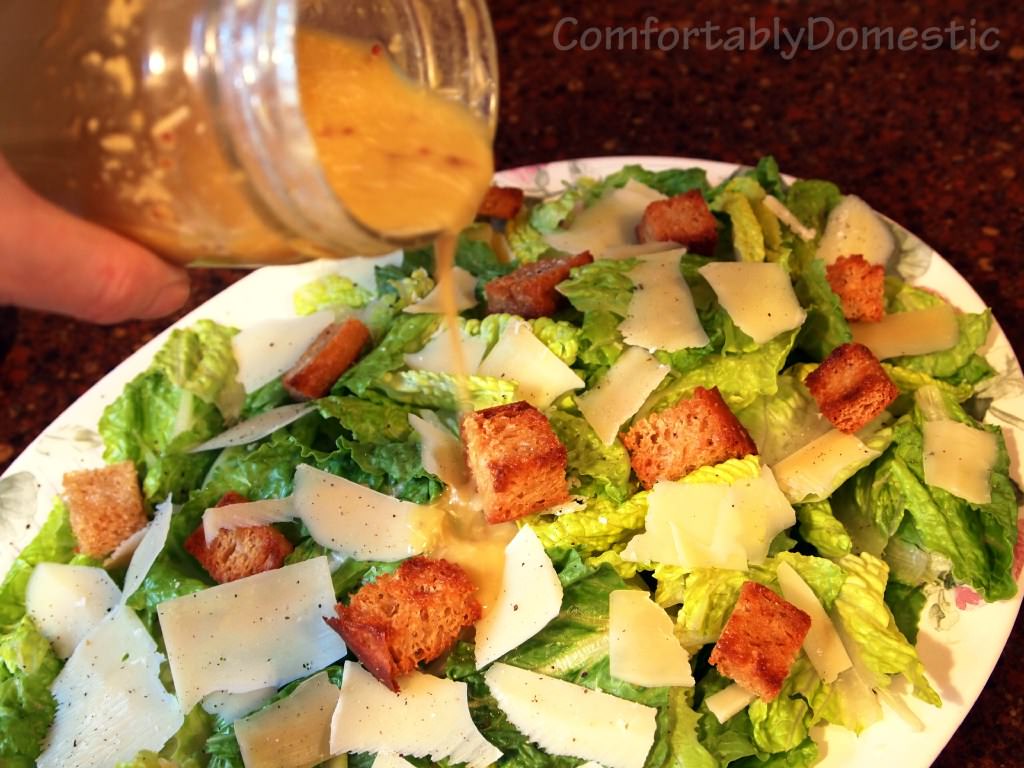 Sprinkle the croutons over the salad, and drizzle on a little of the dressing; tossing the salad to coat.  I'm not a big fan of soggy salads, so I go with the conservative approach with it comes to dressing.  I toss the salad with about 1/3 cup of the dressing and serve the rest on the side for those that like a little more.
No matter how you choose to dress it up, this Simple Caesar Salad is worthy of a regular place at your table.
Don't forget to check out the other Salad Week options, thus far:
Allison @ Decadent Philistine's Tabbouleh Salad
Jeanne @ Inside NanaBread's Head's 50′s Fruit Salad
Lauren @ Climbing Grier Mountain's Parmesan Cups with Arugula. I don't think I'm alone in the fact that I will eat darn near anything in a parmesan cheese cup. Right?
Kat @ Tenaciously Yours brings the party once again, this time with her Party Salad.
On Friday Megan @ Country Cleaver put the dark chocolate in Mole with her Chicken Mole Salad. Yep…she put chocolate in a spicy chicken salad. Because she's awesome like that.
Simple (Egg-Free) Caesar Salad
http://comfortablydomestic.com
Serves 4 to 6
For the Salad:
2 Romaine hearts (the interiors of head of Romaine lettuce)
Parmesan cheese for shaving
Hefty pinches of kosher salt and freshly ground black pepper
For the Croutons:
2C. day-old bread, cut into ½ inch cubes (use artisan or other sturdy breads)
2 to 3 tsp. light olive oil
1 clove garlic, peeled & minced
Pinch of kosher salt & black pepper
For the (Egg-Free) Caesar Dressing:
¼ C. fresh lemon juice (from 2 small lemons)
1 tsp. Worcestershire sauce
1 clove garlic, peeled & minced
1/3 C. plus 1 Tbs. light olive oil
½ Tbs. whole grain mustard
3 Tbs. finely grated parmesan cheese (please grate your own)
¼ tsp. anchovy paste (optional)
Preheat the oven to 350 degrees F.
Cut the core ends off the Romaine hearts and discard them.
Rinse the Romaine leaves very well to remove all dirt.  Drain leaves in a colander.
In a small skillet over medium heat, heat a couple of teaspoons of olive oil along with a clove of minced garlic, until it simmers but is not brown.  (Tiny bubbles will appear around the garlic bits.)  Remove from heat.
Place the bread cubes onto a rimmed baking sheet.  Drizzle with the olive oil and garlic mixture, and sprinkle a pinch of kosher salt and black pepper over top. Toss to coat the bread.
Toast the bread cubes in the oven for about 10 minutes, or until crisp and golden brown.  Remove from heat and allow to cool.
Place all of the dressing ingredients into a pint size canning jar with a lid.
Put the lid on the jar, and shake vigorously to emulsify the dressing; set aside.
Pat remaining water from lettuce, and tear it into bit sized pieces, placing them into a large serving bowl.
Sprinkle the lettuce with a pinch of kosher salt, and a little freshly cracked black pepper; toss lightly to distribute.