Broccoli bacon pasta carbonara is an inexpensive yet impressive meal, made with fresh broccoli, thick-cut pepper bacon, eggs, and plenty of cheese. Broccoli Bacon Carbonara offers a refreshingly different spin on the classic spaghetti carbonara.  This post is sponsored by the United Dairy Industry of Michigan. All opinions are my own.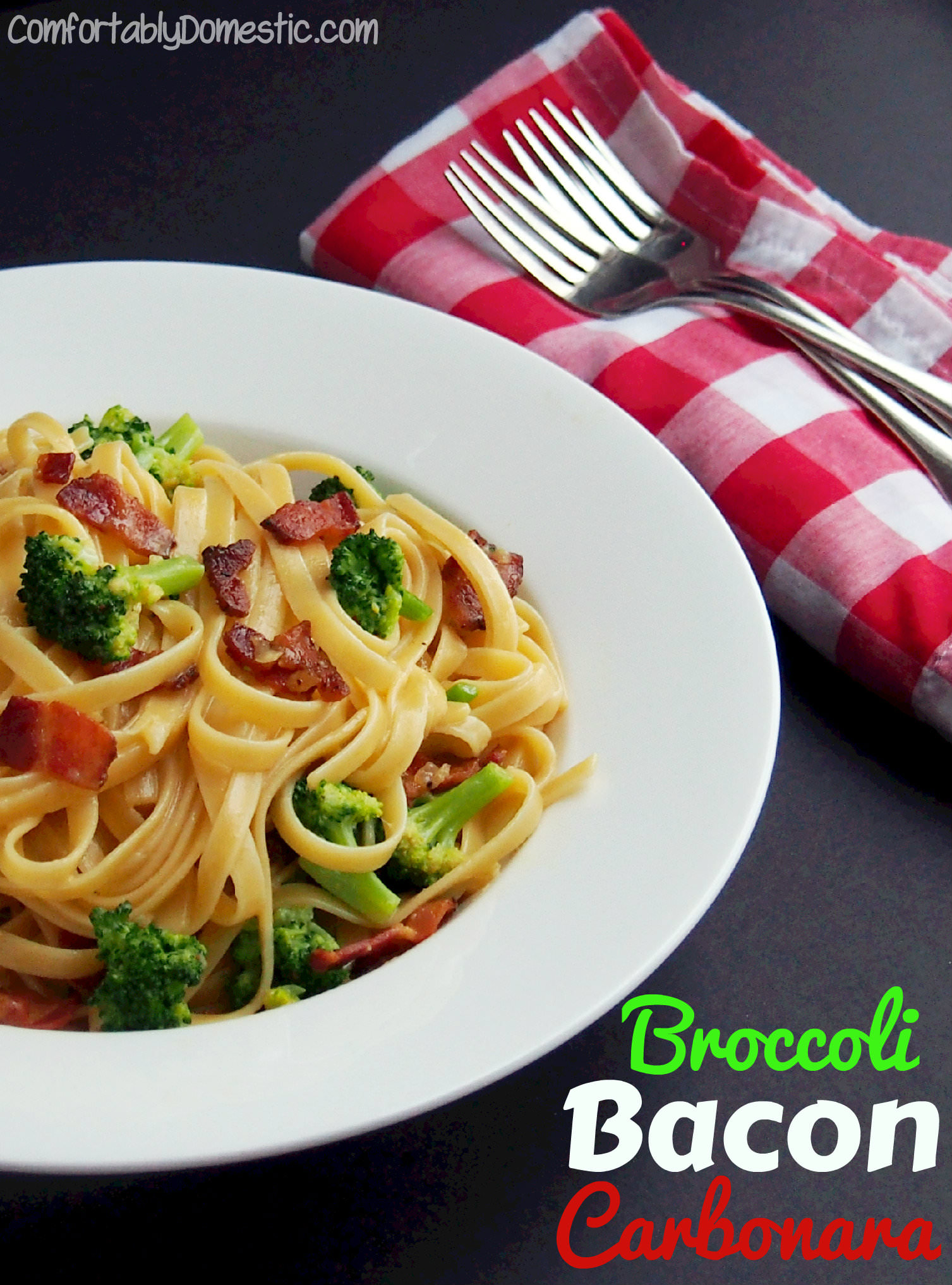 One of the most popular recipes here on Comfortably Domestic for the past several years running has been my Cajun Chicken Fettuccine Alfredo because it's so fancy and decadent "that it puts restaurant pasta to shame." I'm not bragging here Friends–that's an exact quote from a sweet Reader that has placed that particular recipe into her regular dinner rotation. Now, that's high praise!
The Cajun Alfredo recipe evolved over time and quickly became a treasured family favorite that's reserved for Bacon Slayer & my in-house Date Nights. I call it a reserved recipe because it's a tad labor intensive and the kitchen looks like a tornado went through it by the time dinner is served. (Totally worth it by the way.) It's a great recipe and all, but sometimes (read: most of the time) I crave a better-than-restaurant quality pasta, but I don't have the time nor inclination to tear up the kitchen in the process.
Don't get me wrong…I understand that regular Date Nights are an important component of a healthy marriage. I believe that putting forth a little extra effort into a fancy-ish dinner in the name of reconnecting with my spouse is definitely worth it. However, if I can set the same tone with a fancy-ish dinner that doesn't destroy the kitchen in the process, then I'm all for it!
A nice dinner doesn't have to equate with the kitchen looking like an episode of Storm Chasers was filmed in it after I've finished cooking. Less mess in the aftermath means that Bacon Slayer and I don't have to spend a chunk of the evening cleaning up, thus making us too tired to talk by the time that we're done.
Hey now–don't laugh! We're raising four boys–boys are exhausting!
Instead, I can make Broccoli Bacon Pasta Carbonara–it's quick, it's delicious, and it doesn't require every pot, pan, and bowl in the cupboard to make it.
Afterward, all we have to do is take a few minutes to tidy up, tuck the kiddos into bed, and commence with the reconnecting part of our evening.
Like sitting down and putting our feet up for the first time all day.
Or watching a movie that has real people in it rather than animated actors.
Or maybe even carrying on an adult conversation without being interrupted to discuss the intricacies of new Lego designs, or even fielding any of the other seemingly endless hypothetical questions that need to be answered real-quick-right-now!
Sigh. I love Date Night! I just don't want to be too exhausted after dinner to enjoy it.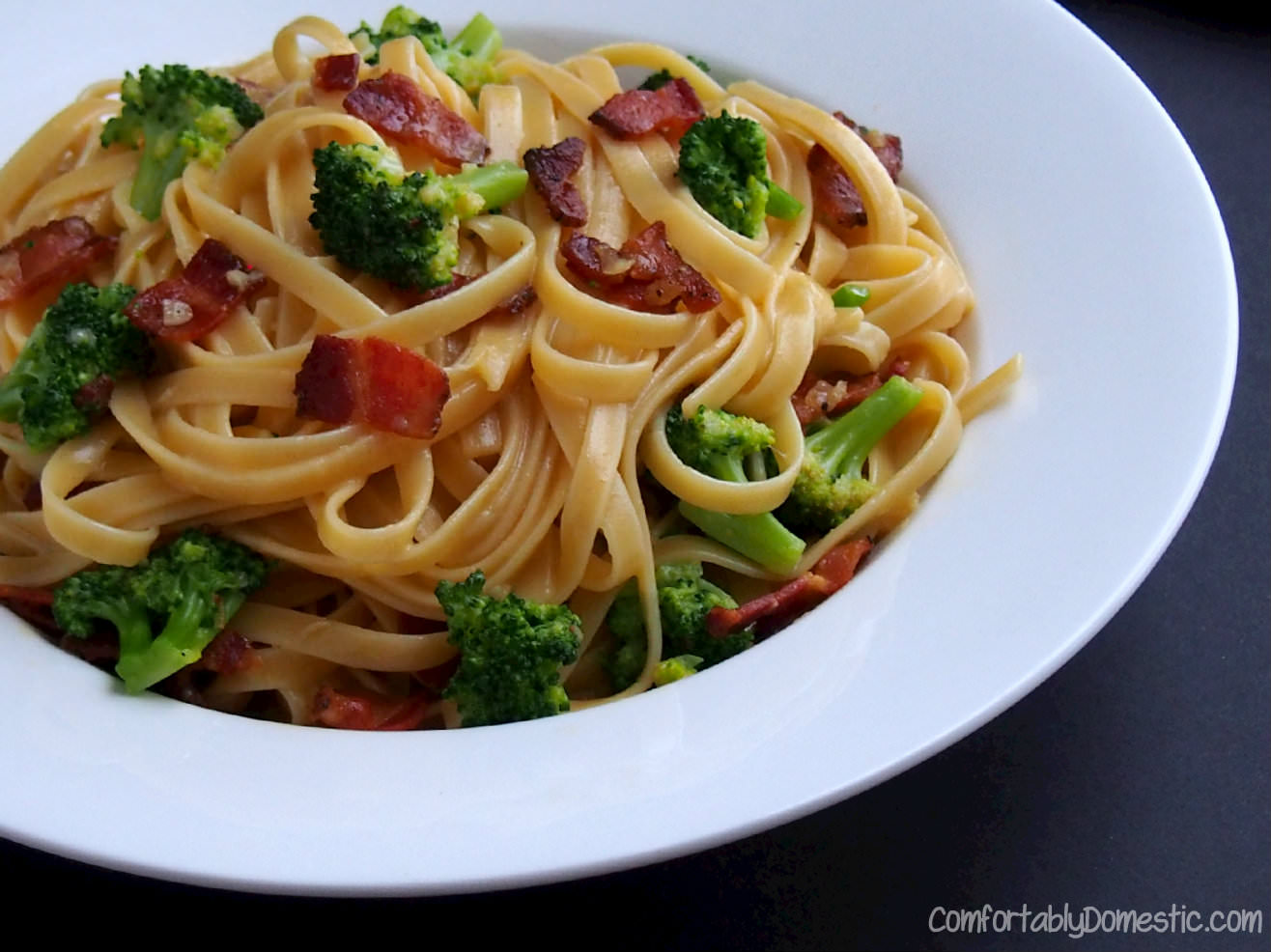 Which is exactly where Broccoli Bacon Carbonara comes in. Spaghetti carbonara is a classic Italian pasta dish dressed in a simple sauce of eggs, cream, cheese, and bacon. I took the basic idea of spaghetti carbonara and kicked it up a notch by adding plenty of broccoli and thick-cut pepper bacon.
The resulting Broccoli Bacon Carbonara is perfectly cooked pasta that's been studded with crispy bits of bacon and bright green vegetables, enrobed in a light, creamy cheese sauce that finishes with just the slightest twinge of pepper.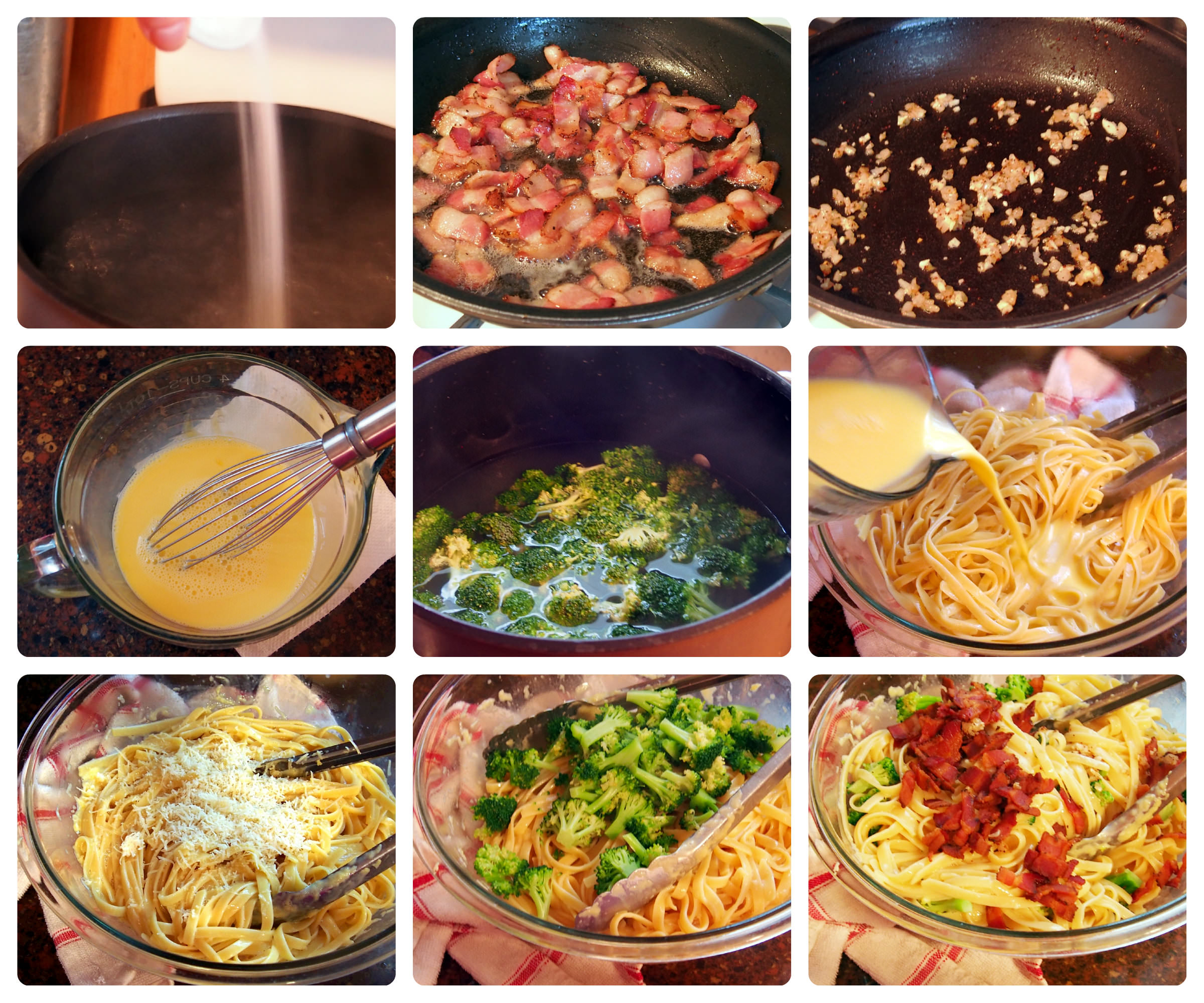 Start to finish, Broccoli Bacon Carbonara is a Date Night delicacy that is ready in about 30 minutes. Upon first bite, Bacon Slayer and the Sons declared this meal to be Our New Most Favorite Pasta Ever. In fact, due to popular demand we've eaten this very meal three times in the past ten days. It's just that good!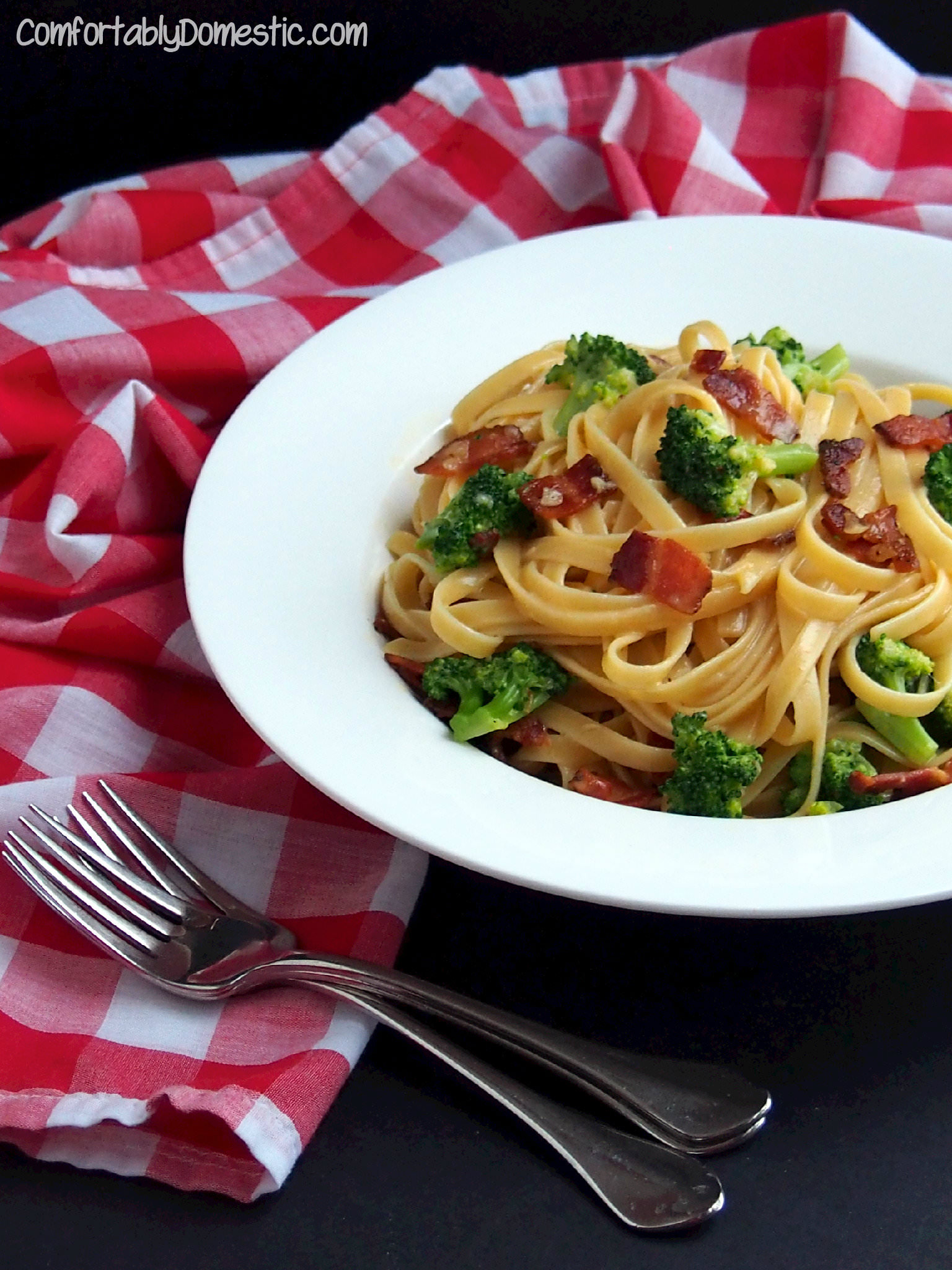 Make Broccoli Bacon Pasta Carbonara the next time you want to reconnect with a loved one over a special meal.
Or even when you crave an inexpensive, impressive dinner that's ready in a flash. Heck, if you're feeling guilty about the minimal effort involved, do what I do and bust out the red-checked table cloth to really set the mood. Yours efforts will be rewarded.
♥♥♥
Kirsten Kubert

Yields 4

Broccoli Bacon Pasta Carbonara

An inexpensive yet impressive meal made with fresh broccoli, thick-cut pepper bacon, eggs, and plenty cheese. Broccoli Bacon Carbonara offers a refreshingly different spin on the classic spaghetti carbonara. Cost per Serving: $1.30

15 minPrep Time

20 minCook Time

35 minTotal Time

Ingredients

16 oz. dried linguine
1 Tbs. kosher salt
6 slices thick-cut pepper bacon, chopped into 1/2-inch pieces
¼ C. yellow onion, peeled & minced
3 cloves garlic, peeled & minced
3 large eggs
½ C. 2% Milk
1 C. Parmesan cheese, finely grated, divided
1 ½ C. fresh broccoli florets, cut into bite-sized pieces

Instructions

Bring a large stock pot of water to a boil.  Add the kosher salt and linguine, and finishing cooking the pasta according to package directions to reach an "al dente" texture.
While the pasta is cooking, fry the pepper bacon pieces in a skillet set over medium heat until crisp. Turn off the heat. Transfer the bacon to a plate lined with paper towels to absorb any extraneous drippings. Pour the excess bacon drippings from the skillet into a glass jar and refrigerate for another use. Do not wipe out the skillet—it should glisten with the remaining drippings.
Return the skillet to stove set on medium-low heat and sauté the onion for 2 to 3 minutes, or until soft. Add the garlic to the softened onions, continuing to sauté for an additional 30 seconds. Turn off the heat, and top the crisped bacon with the onions and garlic.
In a medium bowl, whisk the eggs into the milk until they're well incorporated and the mixture is a fluid, sunny yellow color.  By this time, the linguine should be finished cooking. Remove the pasta pot from the heat and scoop it out of the pot into a large colander to drain. DO NOT pour out the pasta water! A large pasta scoop works well to remove the pasta from the water.
Toss the broccoli florets into the hot pasta water to blanch for 2 to 3 minutes. Meanwhile, dump the hot, drained linguine into a large bowl. Slowly drizzle the milk/egg mixture over the hot pasta, while simultaneously turning the pasta quickly with a pair of tongs to coat. Once all of the milk/egg mixture has been added to the pasta, sprinkle ¾ cups of the Parmesan cheese over it and continue to rapidly toss the pasta. The heat of the linguine will cook the eggs as the pasta is tossed, so keep it up for a couple of minutes.
Use a slotted spoon to transfer the blanched broccoli to the pasta bowl. Add the onions, garlic, and crisp bacon to the bowl, and continue tossing the linguine until all ingredients are evenly distributed. Taste a piece of the saucy linguine. Adjust the flavor to taste with salt and pepper, as needed. Serve immediately with the reserved Parmesan cheese.

7.6.4

248

http://comfortablydomestic.com/2014/03/broccoli-bacon-carbonara/

Comfortably Domestic - 2016
♥♥♥
A special thank you goes out to the United Dairy Industry of Michigan for sponsoring this post! I was compensated for developing a recipe using Michigan dairy products. All opinions are my own. UDIM represents Michigan's hardworking dairy farm families who provide fresh, wholesome milk, cheese and yogurt to you and your family.
For more great dairy recipes, follow UDIM on Pinterest. For current, science-based information about nutrition, animal care and well-being, and on-farm practices related to dairy products and the dairy industry, follow Michigan Dairy News Bureau on Facebook. The MDNB is managed by United Dairy Industry of Michigan (UDIM).