Chocolate truffles are a simple, versatile chocolate ganache confection that can be tailored to the personality of the gift recipient–even if the recipient is you!
Chocolate truffles are probably one of the simplest, most well received gifts that I could ever hope to give. Everybody loves chocolate, especially when in the form of velvety ganache wrapped in a crunchy chocolate shell.
I must admit that the very first time that I made truffles, I was a little bit miffed. Truffles were so easy and fun to make that I was irritated by all the money I had spent over the years buying Big Brand Name Chocolates from fancy department stores. I mean seriously?! Thirty dollars (or more!) for an assorted dozen truffles? Ha! I can make 4 dozen truffles for less than half that price.
I was shocked.
And awed.
Then elated!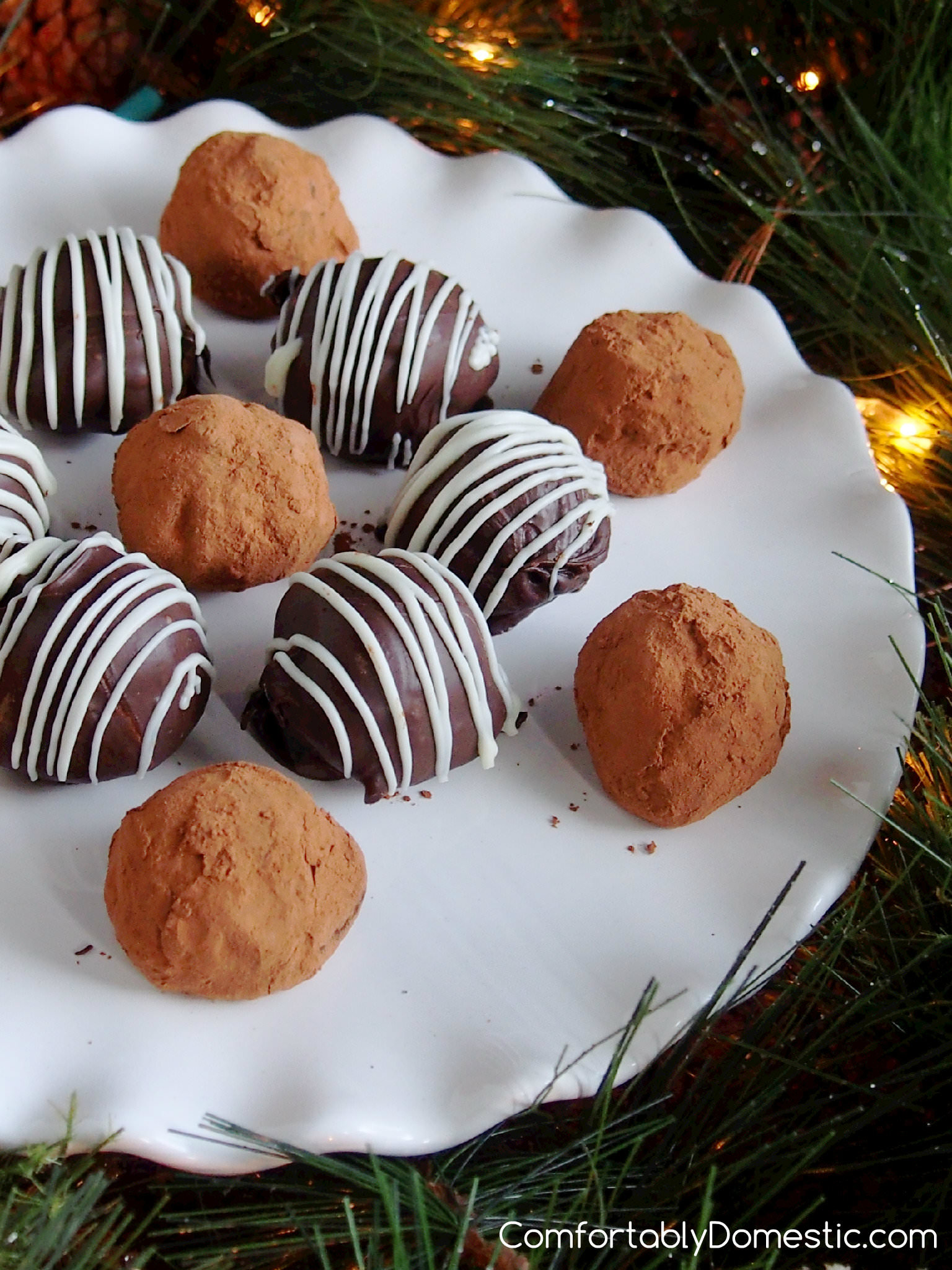 Homemade chocolate truffles are liberating, man!
No more shelling out big bucks for Big Brand Name Chocolates. No more sprinting past the perfume counters at a fancy department store to get a chocolate fix. Just deliciously decadent chocolates made in the comfort of your own home, because you deserve them. Not only are truffles super simple to make, but they can be flavored and coated in a seemingly infinite number of combinations to truly cater to the person for which they are intended. Even if the intended recipient is YOU.
Wait…especially if the intended recipient is you! Who better deserves gloriously rich and creamy chocolate confections than you?
You totally deserve these chocolate truffles.
However, if you're feeling gifty and want to share, then the recipe certainly makes enough handcrafted chocolates to spread the decadence around.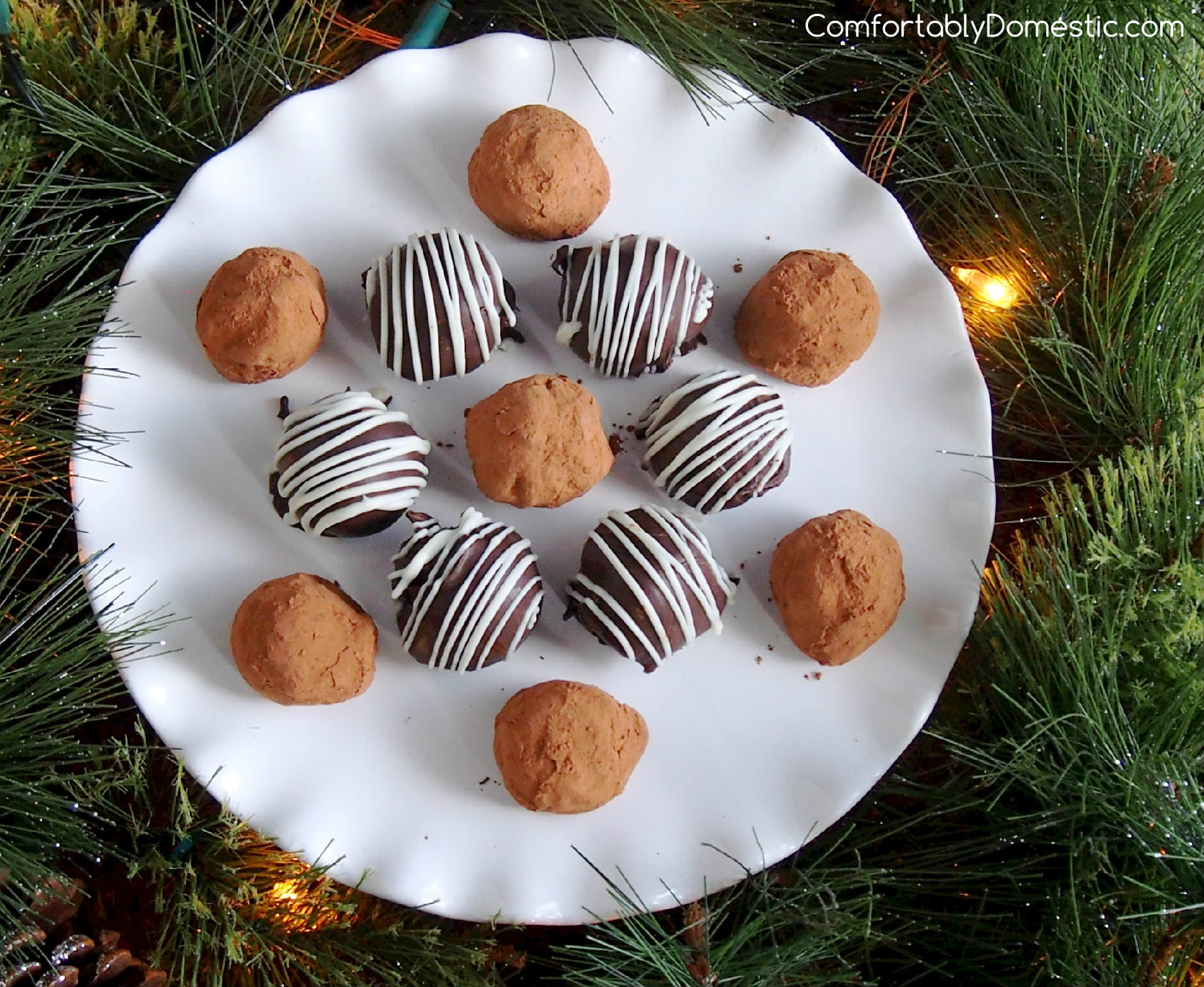 Truffles are a great, albeit messy, activity to get kids involved in. My boys love getting all chocolaty while rolling the filling between their hot little hands. I They may or may not lick the chocolate off of those hands when they're finished rolling the ganache. We have such a great time coming up with different flavor combinations together that by the time we're through, we're sure to have something that appeals to everyone.
Due to the simple nature of chocolate truffles, try to use the best quality ingredients that you can get your hands on. Store brand chocolate can serve a purpose, but I'd upgrade to a better quality brand for making candy. I'm a big fan of Ghiradelli Chocolate Chips, and Chocoley brand dipping and enrobing chocolate.
I've also made note of a few of our favorite flavor combinations at the bottom of the recipe. Please be sure to come back and share any interesting flavors that you come up with at home!
P.S. The wondrous folks at the Ghiradelli and Chocoley companies have no idea who I am. I'm just a gal with a love of good, accessible, nut-free chocolate. 
♥♥♥
Homemade Chocolate Truffles
Kirsten Kubert
Yields 48
Homemade Chocolate Truffles
A simple, bite-sized chocolate ganache confection with the ability to be flavored and coated a myriad of ways to cater to the personality of the gift recipient.
1 hr, 15 Prep Time
15 minCook Time
1 hr, 30 Total Time
Ingredients
For the Ganache Centers:

1 ¾ C. milk chocolate chips
1 C. semi sweet chocolate chips
¾ C. heavy whipping cream
2 tsp. flavored extract (See flavor suggestions noted below)

For Coating (Choose One):

1 ¾ C. chocolate chips plus 3 Tbs. vegetable shortening, melted and stirred to combine
2 ¼ C. dark chocolate candy melts, melted and smooth
2 ¼ C. white chocolate candy melts, melted and smooth
½ C. unsweetened cocoa powder
¾ C. finely ground nuts or seeds
¾ C. toasted coconut, minced
½ C. crushed candy canes or other hard candy (these will be sticky, but delightful)

Additional Flavor Toppings (Optional):

Chipotle chili powder
Cayenne pepper
Sea salt
Himalayan Pink Salt
Instructions
Line a half sheet pan with waxed paper; set it aside.
Place both the milk chocolate and semi sweet chocolate chips in a medium heat safe bowl. Heat the heavy whipping cream in small saucepan set over medium heat, until it comes to a gentle simmer of small bubbles forming around the perimeter of the cream in the pot. Pour the hot cream over the chocolate morsels. Let stand for one minute and then gently stir the mixture until the chips are melted, smooth, and the cream is fully incorporated. Stir in the flavored extract of choice. Cover the bowl with plastic wrap and chill in the refrigerator for 45 minutes or until thickened.
While the filling is chilling, prepare the (dry) coating of your choice, setting it aside for later. If dipping truffles in melted chocolate coatings, wait to prepare the coating until after the next step is complete.
Once the filling has thickened, lightly stir the filling until it lightens in color. Scoop rounded teaspoonfuls of filling onto the prepared baking sheet until all of the filling has been used. Freeze the balls for 10 minutes to firm. Once set, gently roll the balls between two clean hands to smooth out the balls. The process is messy, but deliciously worth it.
Roll the truffles in the dry coating of choice and return to the waxed paper lined baking sheet—truffles will be soft. For a hard chocolate coating, melt the chocolate of choice in a microwave safe bowl in 30 second bursts, stirring in between, until chocolate is melted and smooth. Rest one truffle on a fork and quickly dip it into the melted chocolate, tapping the fork on the side of the bowl to shake off the excess coating, and then set the coated truffle back on the prepared baking sheet. Repeat with the remaining truffles until all are coated.
Additional flavor may be sprinkled over the melted chocolate coating before it sets—see notes below. Let truffles stand until the chocolate coating has completely hardened.
Truffles with dry coatings may be stored in an airtight container in the refrigerator for up to a month. Truffles coated with chocolate may be stored in an airtight container at room temperature for several weeks, or in the refrigerator for longer storage, although the hardened chocolate coating may discolor with time when chilled. Truffles should be served at room temperature.
7.8.1.2
176
https://comfortablydomestic.com/2013/12/homemade-chocolate-truffles/
Comfortably Domestic - 2016
Flavoring and coating options for chocolate truffles
Divide the filling in half to make two different flavors. When doing so, remember to halve the amount flavoring added to each half of the filling!
Standard baking extracts make lovely filling flavorings. Use peppermint, orange, vanilla, rum, or coconut extracts. When flavoring with hard candy flavoring, know that one half of a dram of hard candy flavoring can be substituted in place of the baking extract. I like cherry, raspberry, or other fruity candy flavors.
Truffles can be rolled in just about any tasty dry ingredient. My favorites are listed in the ingredients section.
Because chocolate truffles aren't the end all be all, here are more flavor combination ideas:
For the simplest truffles, use vanilla extract to flavor the filling, and roll the truffles in unsweetened cocoa powder.
For Dark Chocolate Chipotle Truffles: flavor the truffle filling with vanilla. Coat the truffles in melted dark chocolate, and sprinkle a pinch of chipotle chili powder on top.
For Salted Dark Chocolate Truffles: flavor the truffle filling with vanilla or orange extract. Coat the truffles in melted dark chocolate, and sprinkle with a pinch of sea salt.
For Mayan Chocolate Truffles:

flavor the truffle filling with ¼ tsp. (half a dram) of cinnamon candy flavoring. Coat the truffles in melted dark chocolate, and sprinkle with a pinch of cayenne pepper.

For Cherry Cordial Truffles:

flavor the truffle filling with ¼ tsp. (half a dram) of cherry candy flavoring. Coat the truffles in melted milk chocolate, and drizzle with melted white chocolate.

For Chocolate Peppermint Truffles:

flavor the truffle filling with peppermint extract and coat in unsweetened cocoa powder, or dip in melted dark chocolate and sprinkle with crushed candy canes.

For Coconut Truffles:

flavor the truffle filling with coconut extract and roll in toasted coconut to coat. Or coat truffles in melted milk or dark chocolate, and sprinkle toasted coconut on top for a Mounds candy bar effect.

For White Chocolate Raspberry Truffles:

flavor the truffle filling with ¼ tsp. (half a dram) of raspberry candy flavoring. Coat truffles in melted white chocolate.