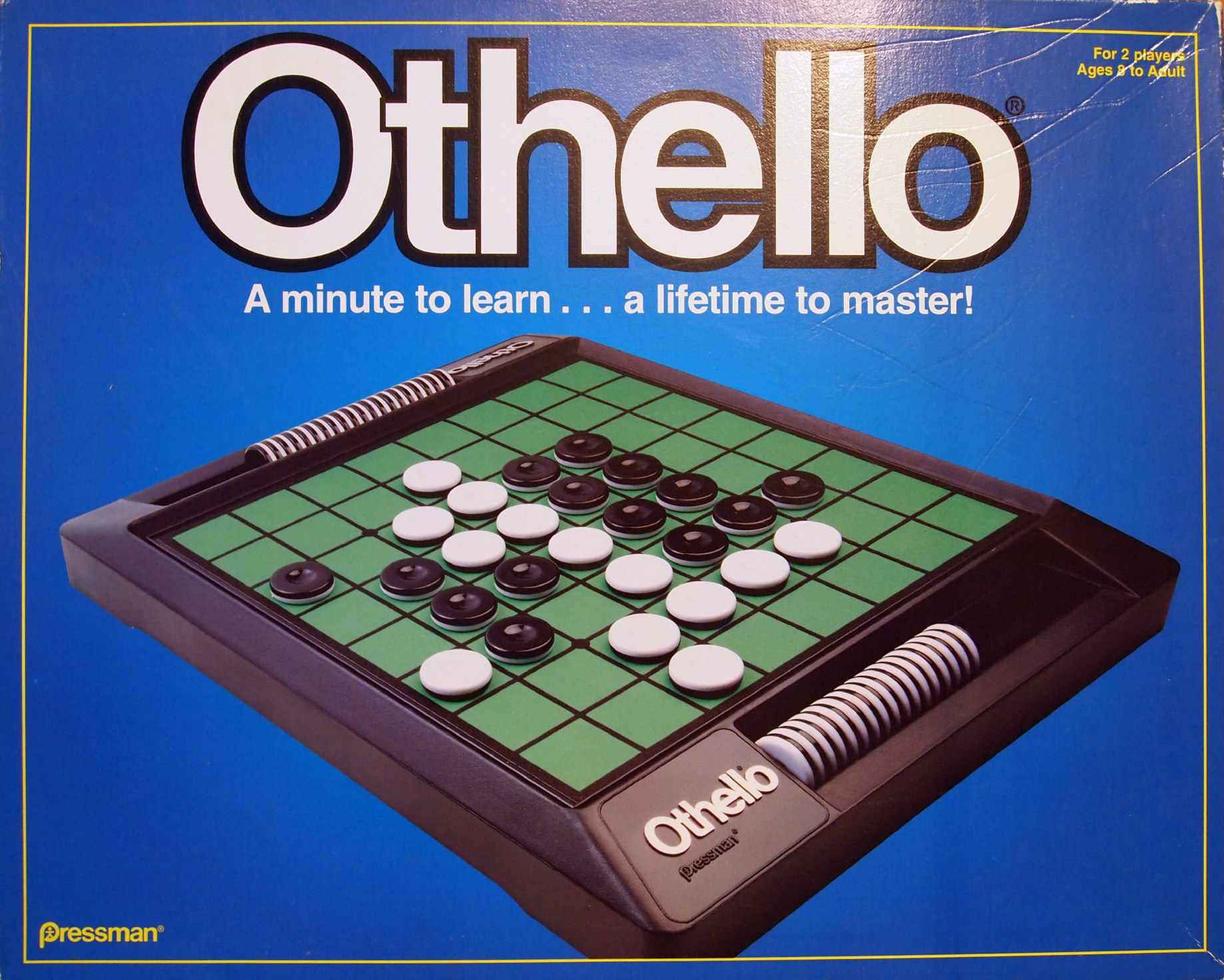 One of my favorite games from childhood was Othello. No, I wasn't a Shakespearean prodigy set on roll-playing one of his great literary tragedies of a Moor and manipulative malcontents.  I just was a kid who liked puzzles and games of strategy.
Although sometimes when Bacon Slayer and I play, we toss lines from Othello-the-Play back and forth in attempt to unnerve each other's strategy.  Anything to get in the head of the opposition, man! 😉
Play can be learned in minutes–it's simple enough for kids, yet challenging for adults.  In fact, the game tagline is, "A minute to learn. A lifetime to master."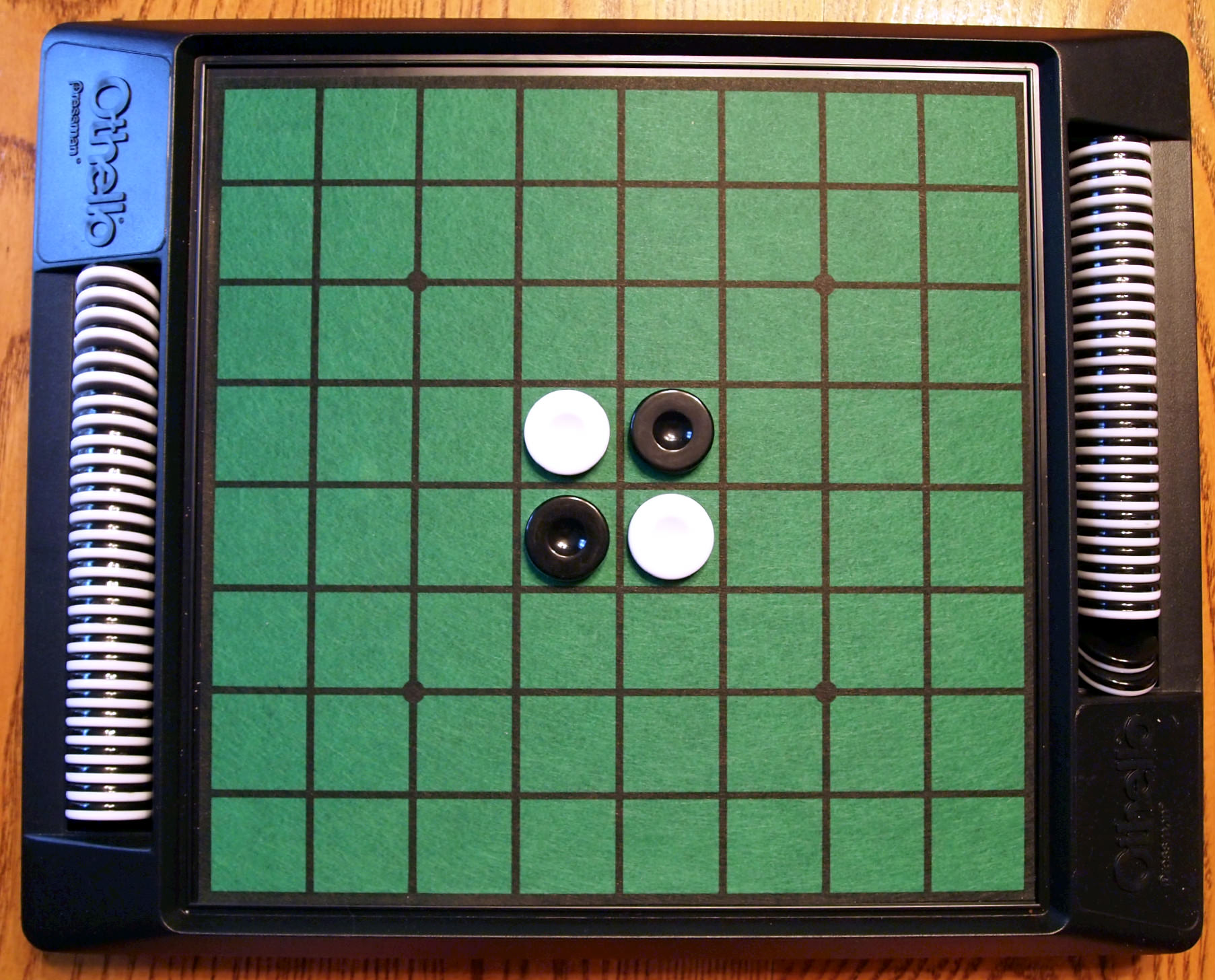 Each player chooses a color. Play starts with two discs of each color. And the banter begins…
Me: We cannot all be masters, nor all masters cannot truly be followed.  (Othello. Act 1 Scene 1.)
Players alternate placing one of their discs next to their opponents, but in line with one of their own–in effect surrounding the opponents disc(s). Discs can be placed horizontally, vertically, or diagonally. Here I am placing my black disc next to Bacon Slayers. See how I now have his white disc surrounded on both sides by my black ones?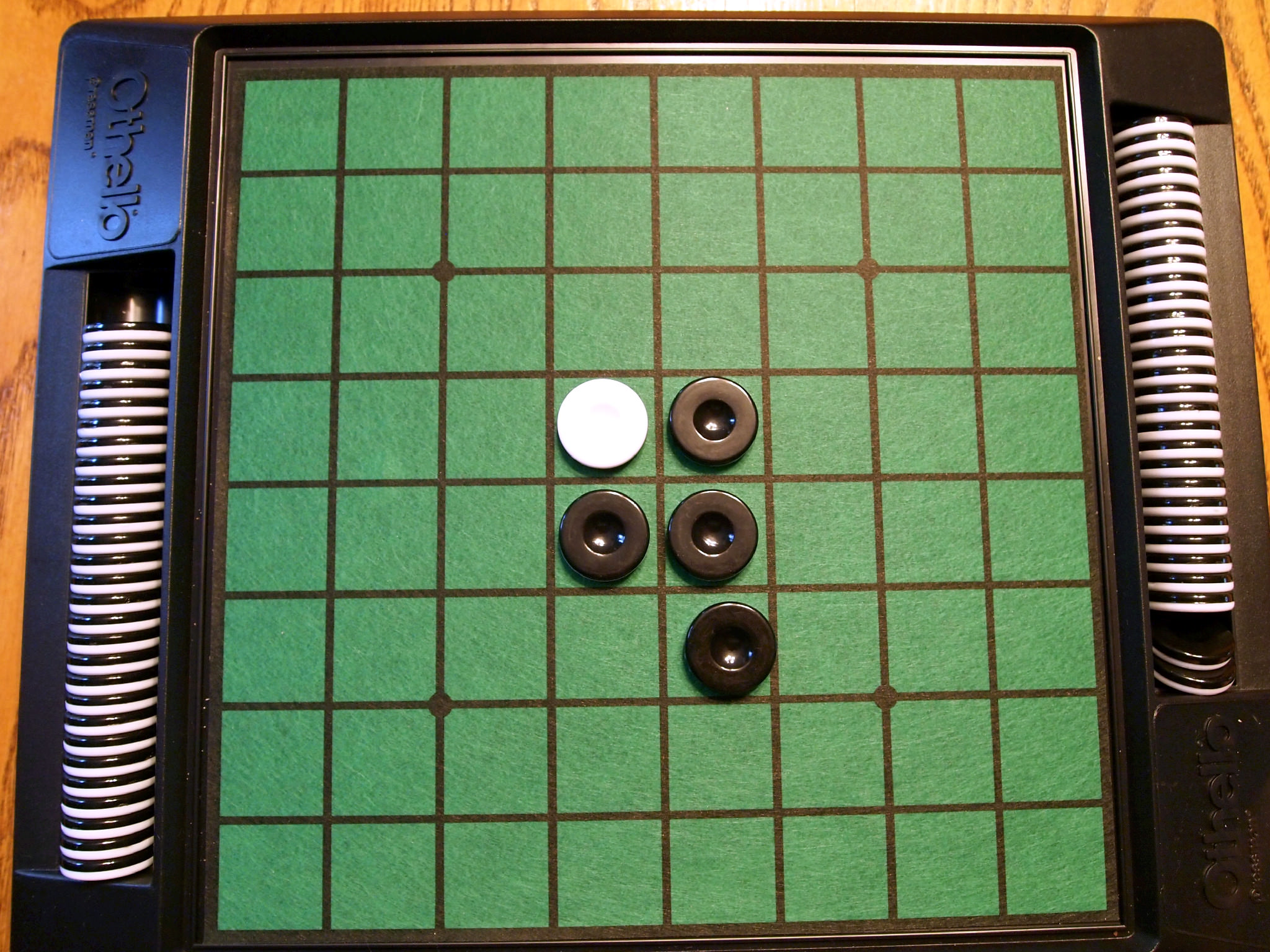 That means that I can flip over the white disc that is now in between my black discs, making it black also.
To which Bacon Slayer retorts: I will wear my heart upon my sleeve, for daws to peck at it. (Othello Act 1, Scene 1.)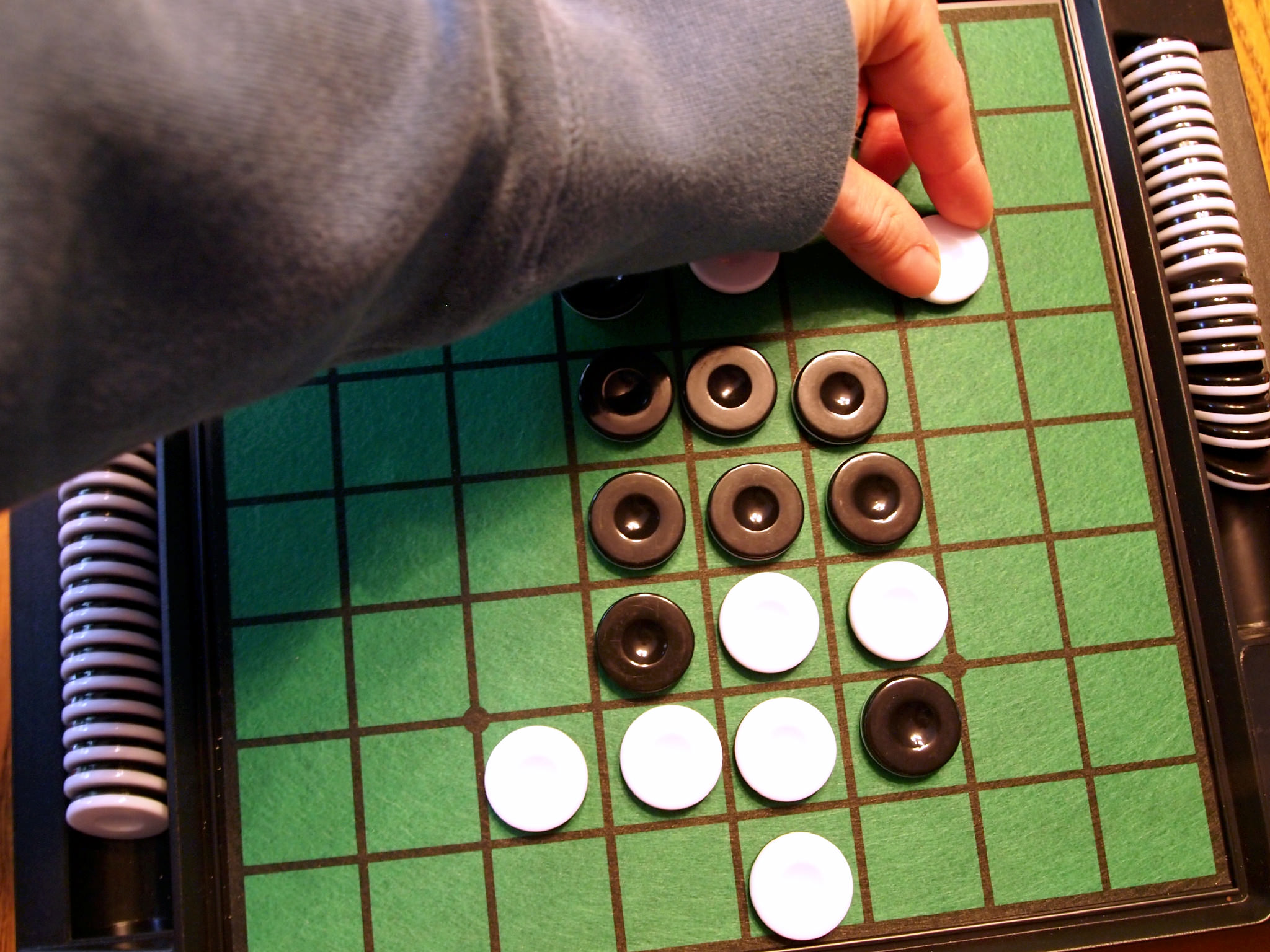 Play continues back and forth.  Given the current configuration, Bacon Slayer may choose to place a white disc diagonally next to my black ones.  See how he has a white disc waaay at the other end of that diagonal line?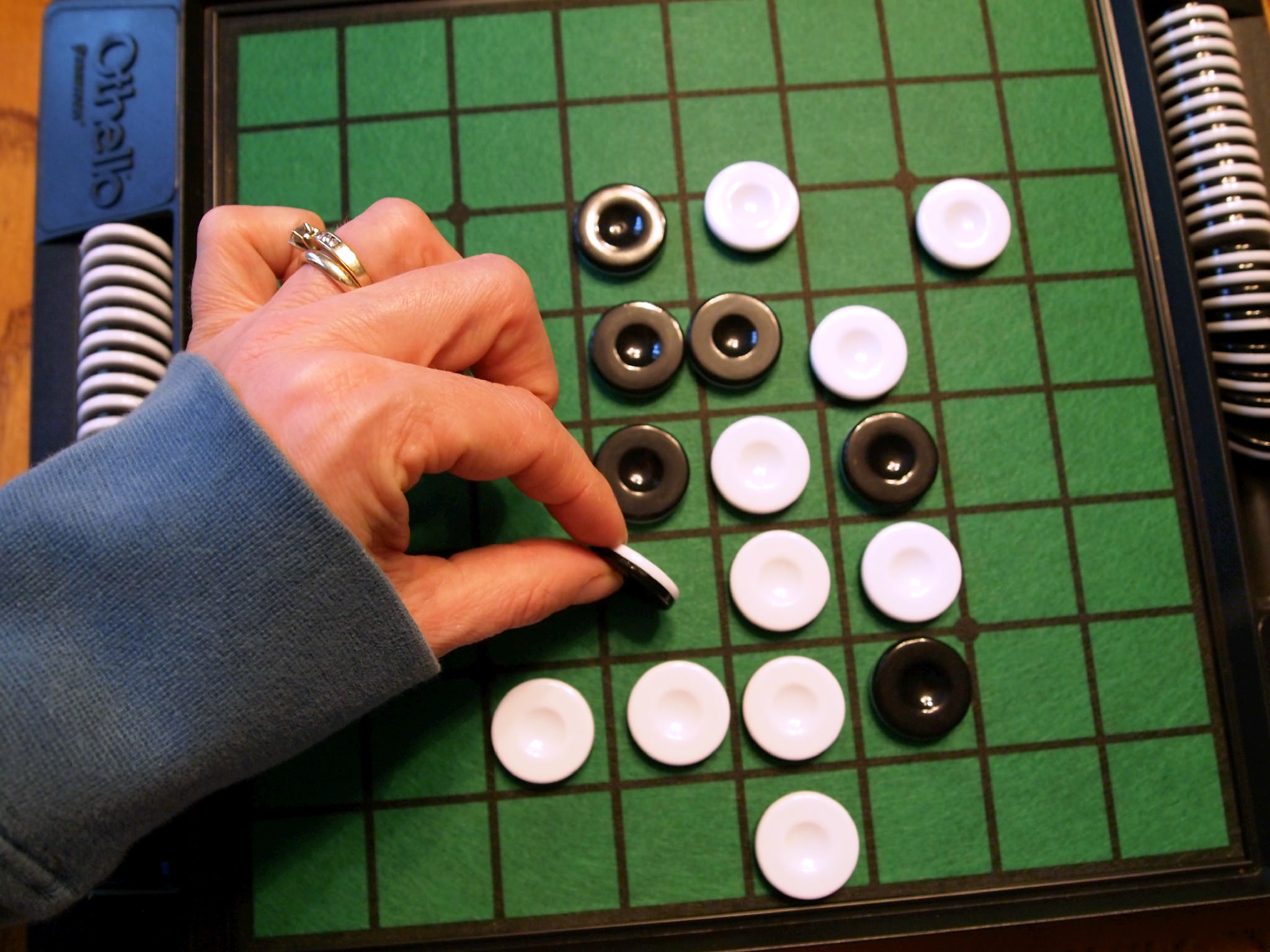 That just means that I am in big trouble because after that move, he can turn over all the black discs that are now between his white ones.  Of course I would betray none of my anxiety over the situation to the Bacon Slayer. He can smell fear like a shark smells chum.  This game is far from over, so I would just smile at him, and remind him that,
The robb'd that smiles, steals something from the thief.  (Othello Act 1 Scene 3.)
The ultimate goal is to have the most discs of your own color on the board.  Your strategy can change with each turn, based on your opponents move.  Strategy also changes based on the skill level of your opponent. One of the things that I love about Othello is that kids and adults can play together, and both are challenged and engaged in the game.  My boys love to play each other, but they sure get a kick out of beating Mom or Dad!
Othello is recommended for ages 8 and up, but in our experience, children can really begin playing around age 5, with a little help. My game was made by a company named Pressman–old copies are floating around eBay if you are interested in a vintage copy. Otherwise, Mattel is now making a new version of Othello which I've seen at major retailers and on Amazon.
Not-So-Fineprint: Neither the folks from Pressman nor Mattel have any idea who I am–this isn't a paid endorsement. We just like the board game. Bacon Slayer and I absolutely do not quote lines from Othello-the-Play, nor any other works of Shakespeare while playing Othello-the-Game. We just aren't that classy.  Our banter is much more juvenile.