With only 11 days until Christmas, I hope that I am not the only one scrambling for last minute gift ideas.  Luckily, the blogosphere is ripe with creativity and easy do-it-yourself gift ideas so that I can make it a handmade holiday.
Christina & Nicola over at The Pretty Blog are passionate about all things pretty. They are the creators of the first DIY project on my Christmas list. I really love earthy, natural decor, but I'd be lying if I didn't admit my love for all things glittery.  These adorable apple centerpieces are a perfect marriage of the two. How cute will my holiday table look with sparkly apples for centerpieces? Better yet, this is a great craft for kiddos to tackle with me.
I'll set the boys loose with the apples & sugar, right after they've gathered pine cones from the yard to make this cute pine cone flower garland.  With no shortage of pine trees here Up North, making  this natural garland will be a snap.  Jessica over at Two Shades of Pink came up with this, and has many other great craft ideas.
Things like this make me wish I really knew what to do with my sewing machine.  Handmade coffee cup sleeves will make a great, eco-friendly gift for the highly caffeinated friends on my gift list. CraftyStaci has a lot of good tutorials to help even the crafting-challenged successfully create beautiful gifts.
Sigh. As always, The Inspired Room…inspires. If you've never been by The Inspired Room, then you must…like, now. The DIY decorating ideas are so beautiful and amazing that I can't help but be inspired with every visit. These epson salt snowy luminaries are so simple, and yet so elegant. Grab a mason jar, fill it with epson salt, add a candle, and BOOM! Instant elegance.
Here's another easy, sparkly gift idea–Shimmer Candles from Remodel This Life. Such a quick way to re-purpose old candles, or to jazz up new ones to give as a gift.
I've got to be honest here–this particular craft made me squeak a little. See, I've got a thing for mason jars. I think it comes from all of the canning that happens around here. Crafts by Amanda came up with these adorable epson salt coated canning jars. These luminaries are the sweetest candle jars that I've seen in a long time. Perhaps the coolest part is that you can dye the salts any color to match any decor. Amanda has tons of great tutorials for these, and other great gift ideas.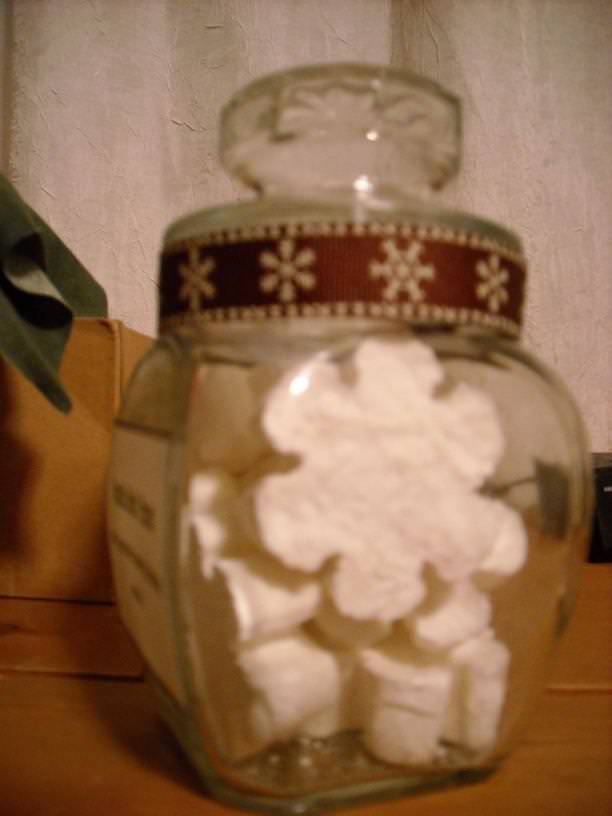 I think the sparkly luminaries would be super-cute paired with homemade bath fizzies by Bargain Blessings. Add a few cool new shades of nail polish, and good book for an instant spa basket for a girl in need of pampering. *ahem*
My family is full of logophiles, so I got very excited when I saw these Christmas ornaments from My Sweet Savannah. All you need is an old scrabble game, a saw, and a few other things that you probably have lying around the house. The ornaments are cute, but I think these would also make awesome place card for a dinner party. Except for the fact that a formal dinner party in the Comfortably Domestic house means that I've (hopefully) swept the crumbs and legos off the floor.
My guests are lucky to get napkins–consider yourself warned.
Like always, my to-do list will likely exceed the available hours in the day, so I was glad to find these cute jars of hot cocoa from Kirstin Photography.  Just fill a small canning jar with homemade hot cocoa mix, toss in some fun toppings, and presto! Instant gift. I think these little cocoa jars would be awesome if filled only half full, and brought along on a winter snowshoeing or sledding outing. Then all you need is a  a thermos full of hot water & a few spoons for a chocolatey warm up on the go.
Or you could always put the hot cocoa in a basket along with some coffee & biscotti for and instant "Good Morning" gift basket.
My favorite last minute "go-to" gift that everyone loves is a movie basket. A little candy, a little popcorn, and a movie or two, and you've got all the makings for an in-house date night for folks that don't get out much like movies. *ahem*
Not-so-fineprint: All craft images referencing other blogs are property of the blog mentioned, and can be reached by clicking the highlighted text or the photos to be redirected. Their creative ideas = my inspiration.  I just wanted to share them with you.
That's what is on my last minute DIY gift giving list. I'd love to hear about yours!
What are your favorite DIY projects to gift for the holidays? 
Are you done with your holiday gift gathering?