To say that this has been a crazy week would be a gross understatement.  In the midst of the usual, we've thrown in packing for a road trip, the drama of a best friend moving 2000 miles away, and our 2nd trip to the ER in a single calender week.  You know it's bad when the ER checkout lady remembers you.  The upswing was that Son #1 is fine, and got a few high fives from the x-ray techs for his bike crash.  (They were all very nice, young and tattooed, so somehow their affirmation of his feat made him hurt less.)
So while I've been working on a longer post to show you one of my favorite places, it sits unfinished.  I can get there from here–just not today. However, as we all still have to eat, I thought I'd share a quick, delicious side dish that everyone in my house will eat.  When feeding 5 males, 2 of whom swear that I am trying to poison them with my insistence of putting vegetables on their plates, finding something everyone eats is a big deal.
Dare I say a monumental achievement.
This recipe came about last summer when my weekly CSA baskets brimmed with potatoes.  I heart potatoes more than anything.  Except cake.
The baskets also contained ludicrous amounts a lot of zucchini.  That fact presented a problem because my family doesn't do zucchini.  And after a few weeks of zucchini bread, I needed to come up with A Better Way.  My boys vehemently disagreed, and suggested perhaps we could try chocolate zucchini bread.  Certainly an option, and although I'm not afraid of hiding vegetables in baked goods, I really wanted to get them to get to know that savory side of squash.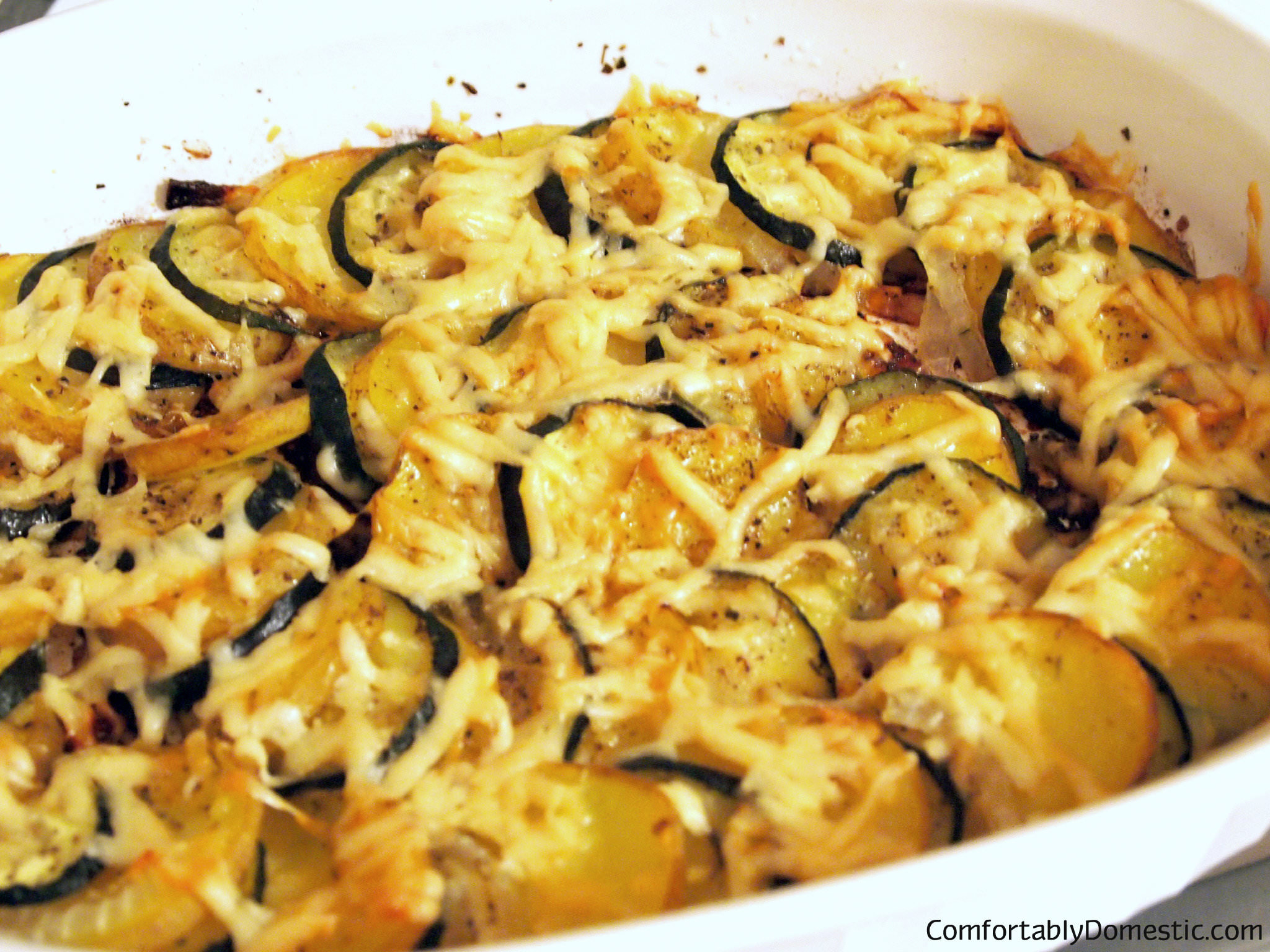 Enter Potato-Zucchini Gratin.  My boys love anything au gratin–a fancy french term meaning essentially anything baked in a dish and covered with cheese and/or butter and breadcrumbs. Potato Gratins grace our table often. They're familiar and comfortable for my boys.  So why not live on the edge a little and insert a little zucchini into the mix?
Yeah…I'm a real risk taker.
Summer squash skeptics, take heart–even my veggie hating boys inhaled approved of the finished dish.
Of course, it's super simple to prepare.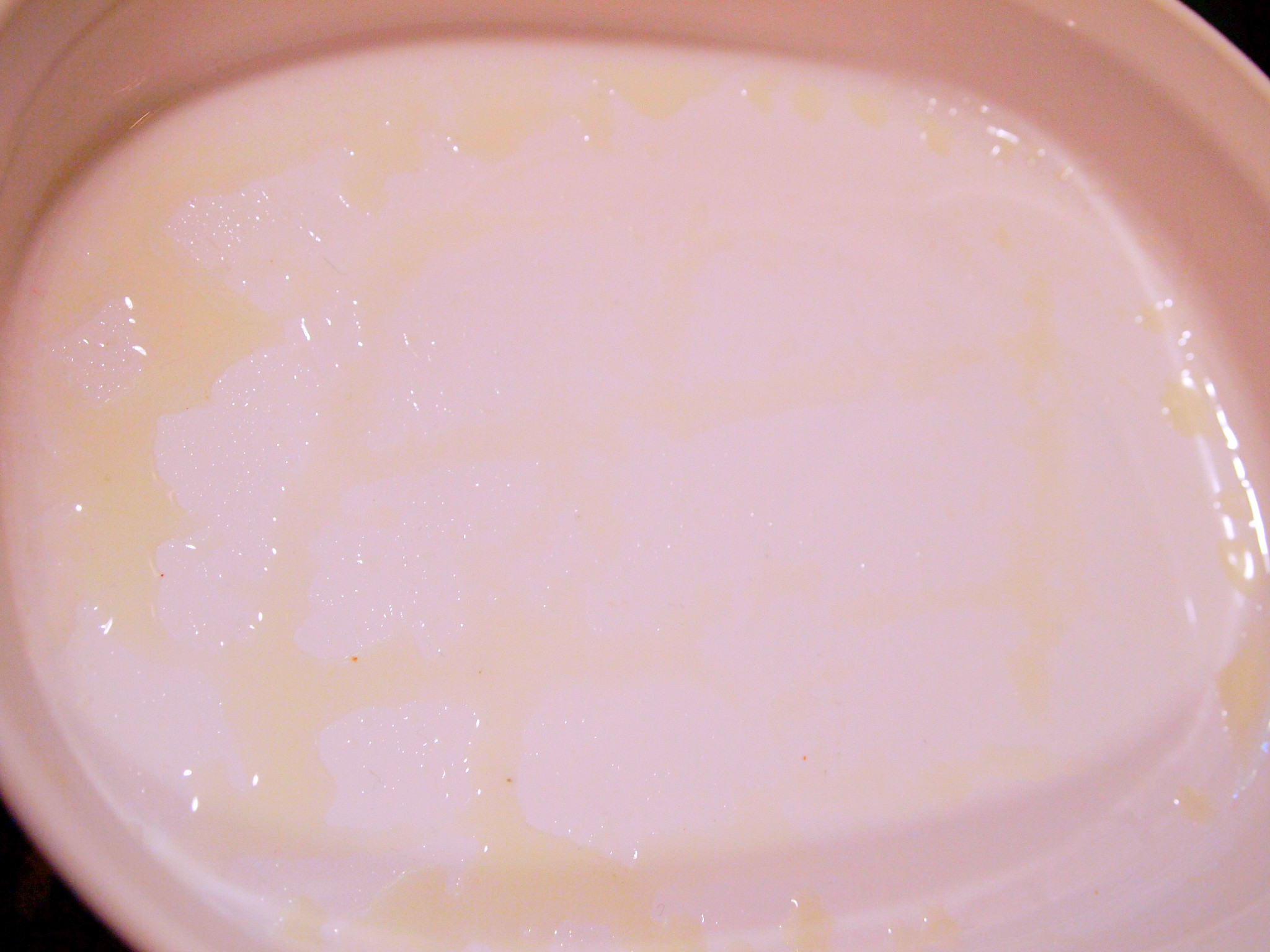 Preheat the oven to 375° F.  Drizzle about a half tablespoon of light olive oil in a shallow baking dish and set it aside.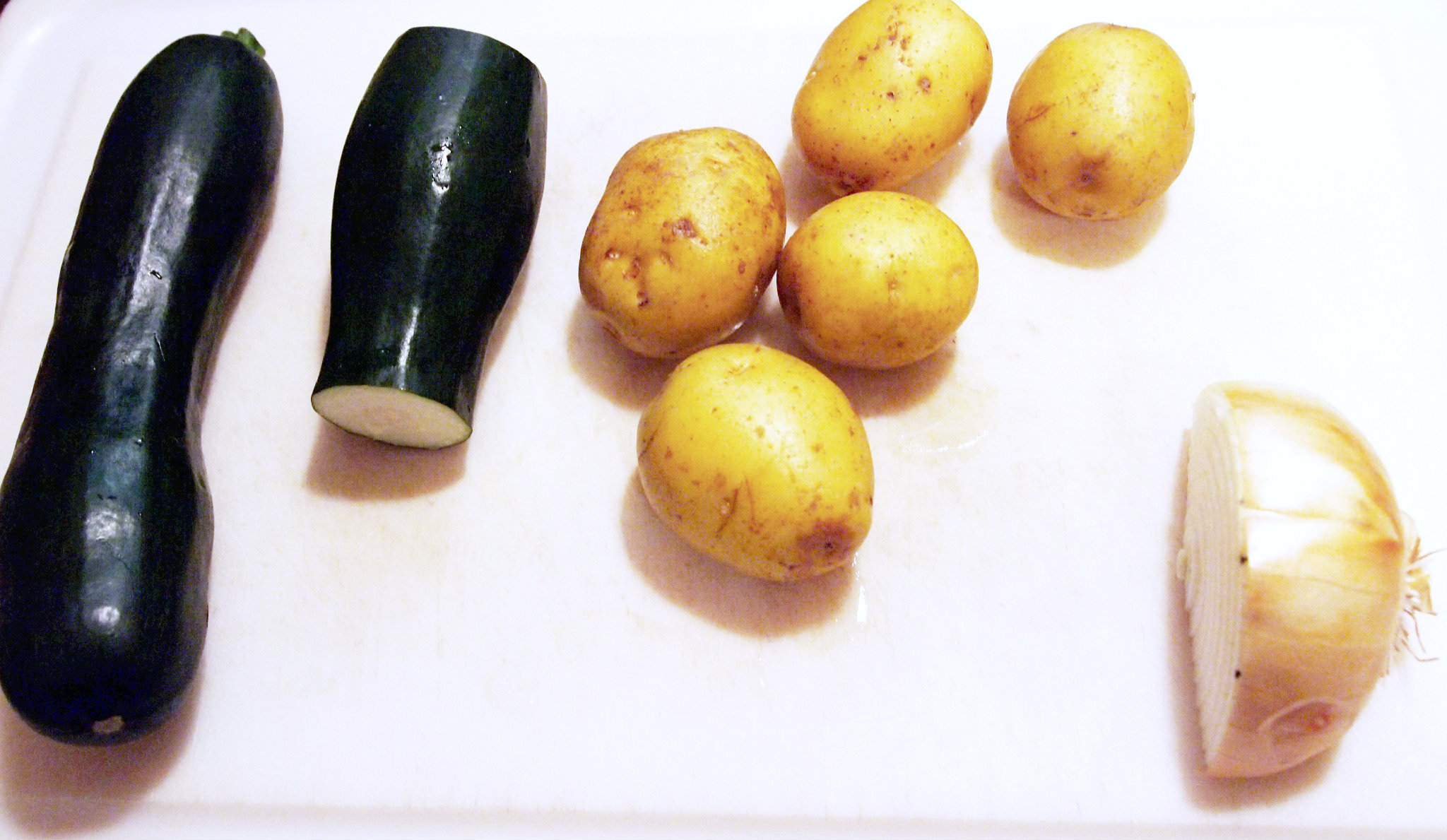 Grab a large zucchini, a few small gold potatoes, and a little Vidalia onion.  Give the zucchini and potatoes a good scrub to remove any dirt.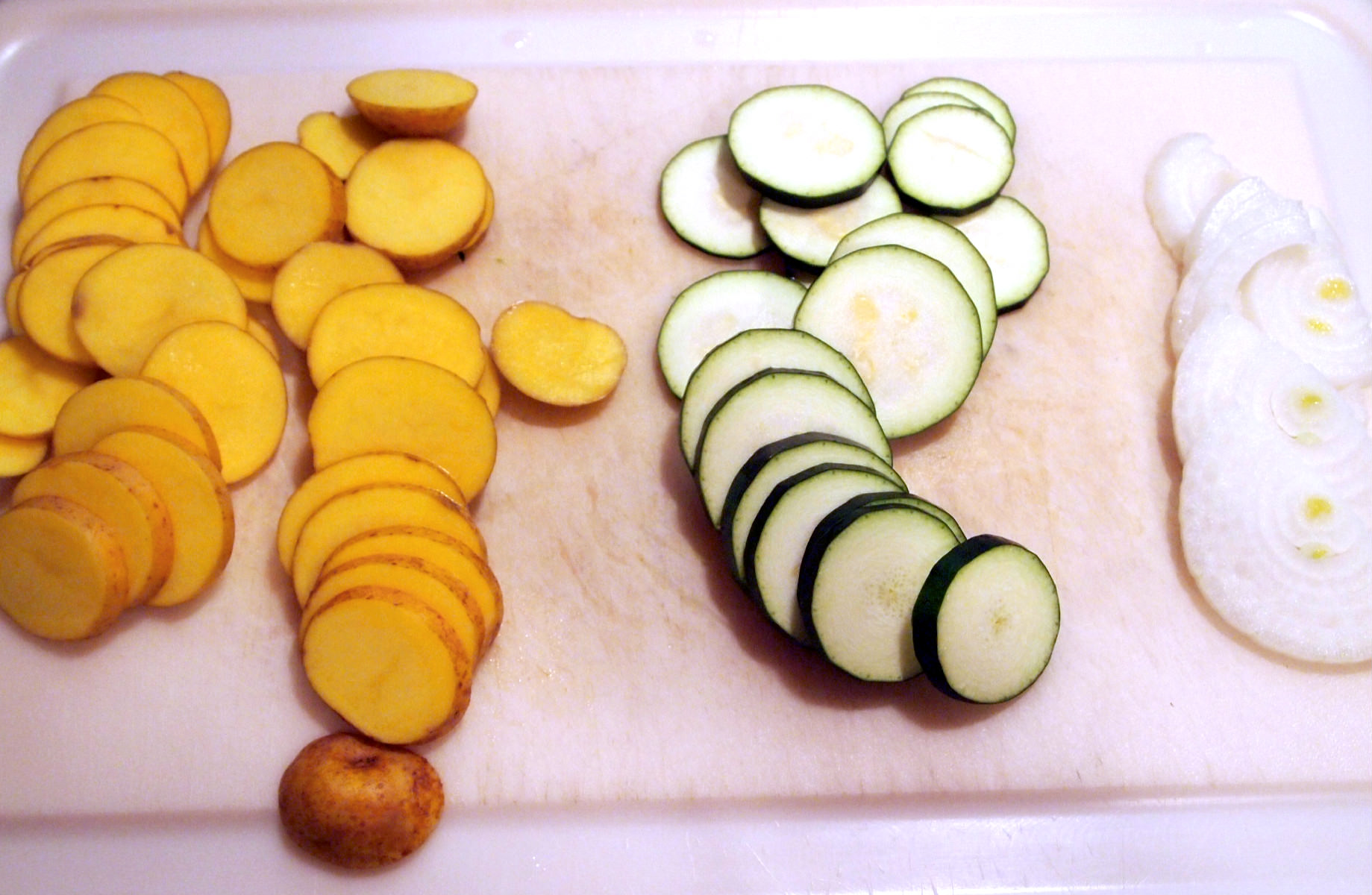 Lop off the ends of the zucchini, and then thinly slice everything into 1/4 inch slices.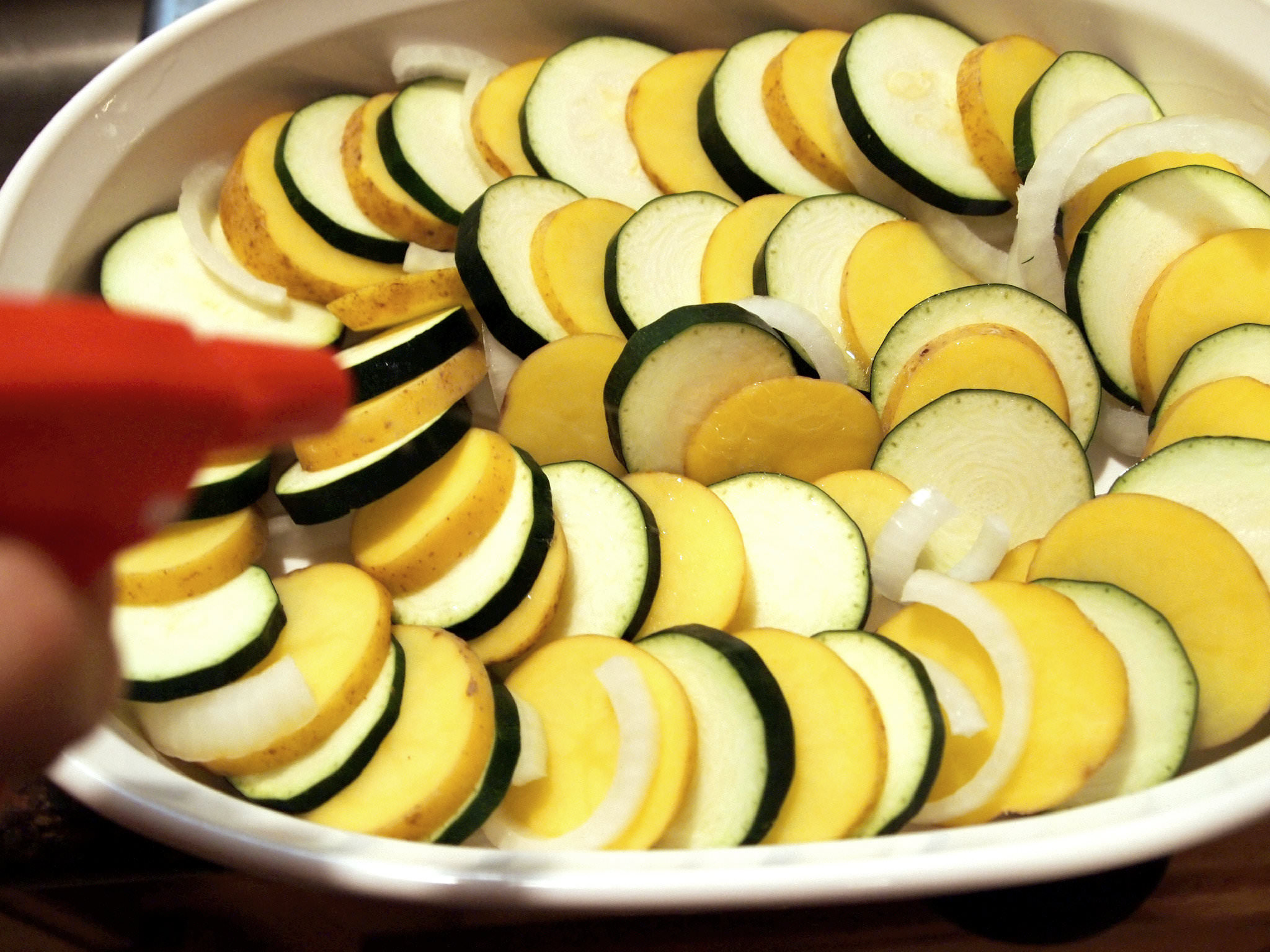 Layer the veggies in a single-layer in an overlapping pattern in the bottom of the dish.  Drizzle with another half tablespoon of olive oil. If you are like me and can't seem to drizzle oil without sloshing too much oil all over everything, then get a small spray bottle and fill it with olive oil to spritz it in lieu of drizzling.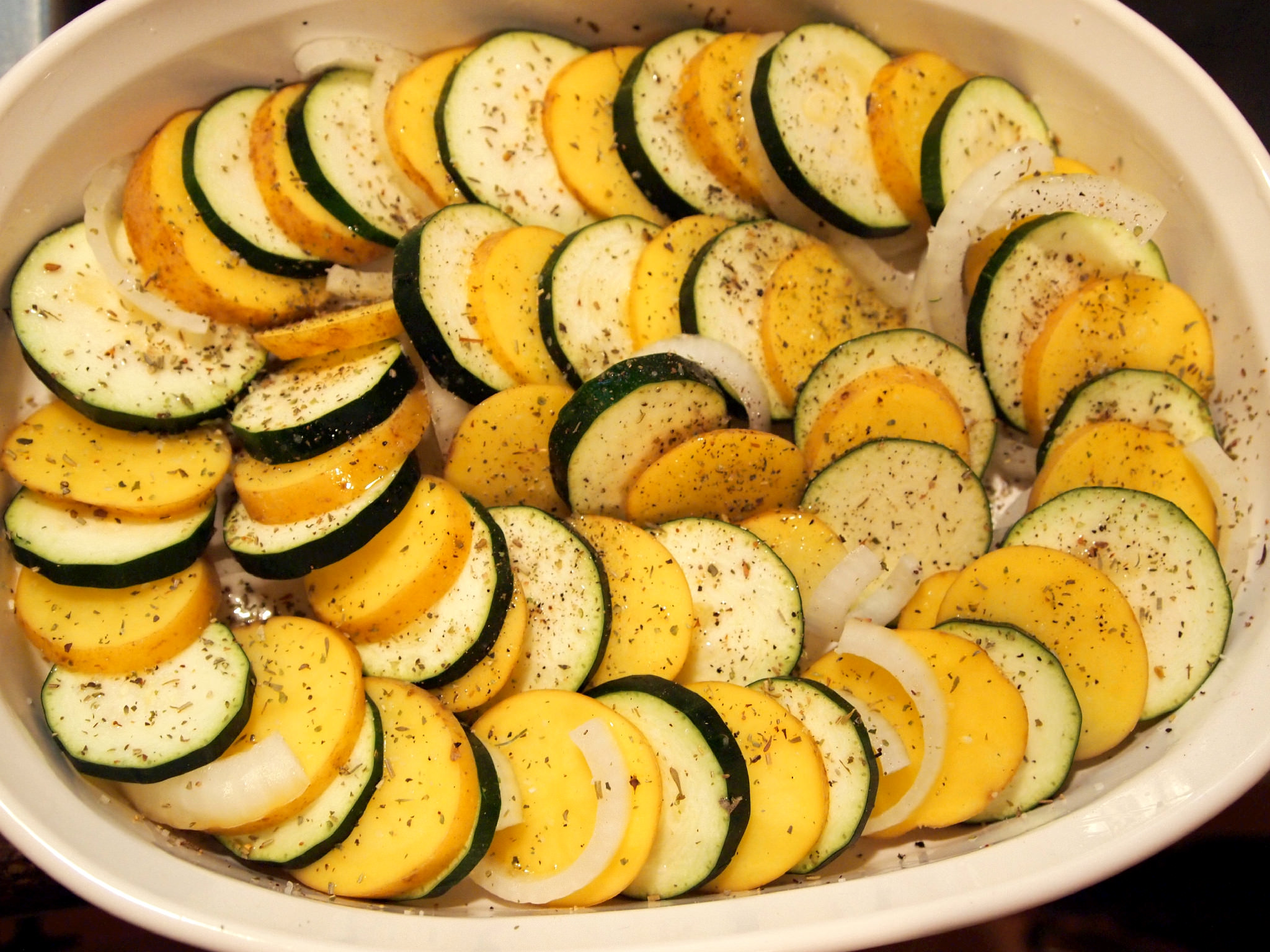 Sprinkle a pinch each of kosher salt, cracked black pepper, and dried Herbes de Provence.  Herbes de Provence is a blend of dried rosemary, thyme, and savory–if you don't have it, just use one of those.  Then go buy some, because it's awesome.  Cover the dish with aluminum foil and bake for half an hour.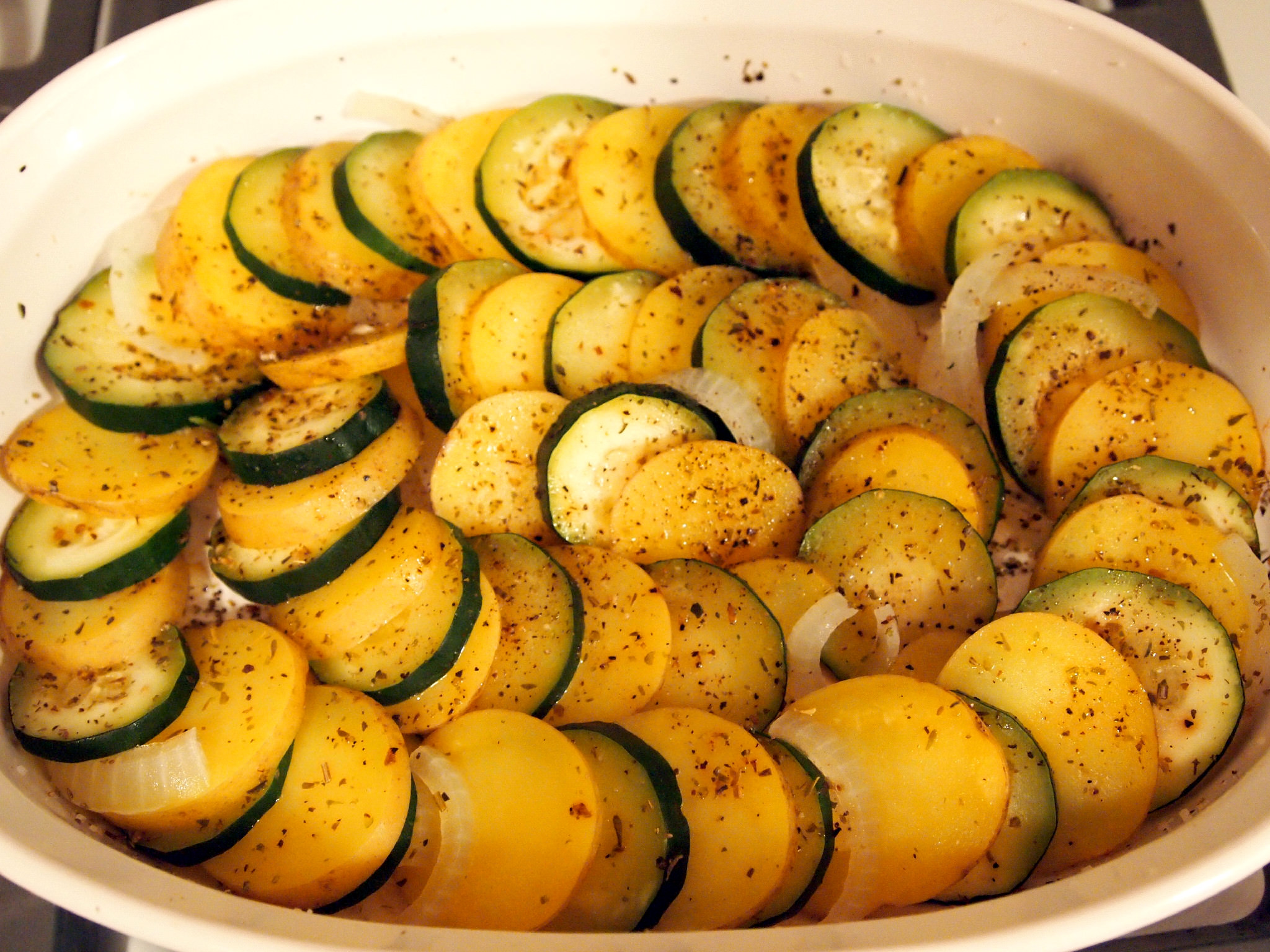 After 30 minutes, uncover the dish.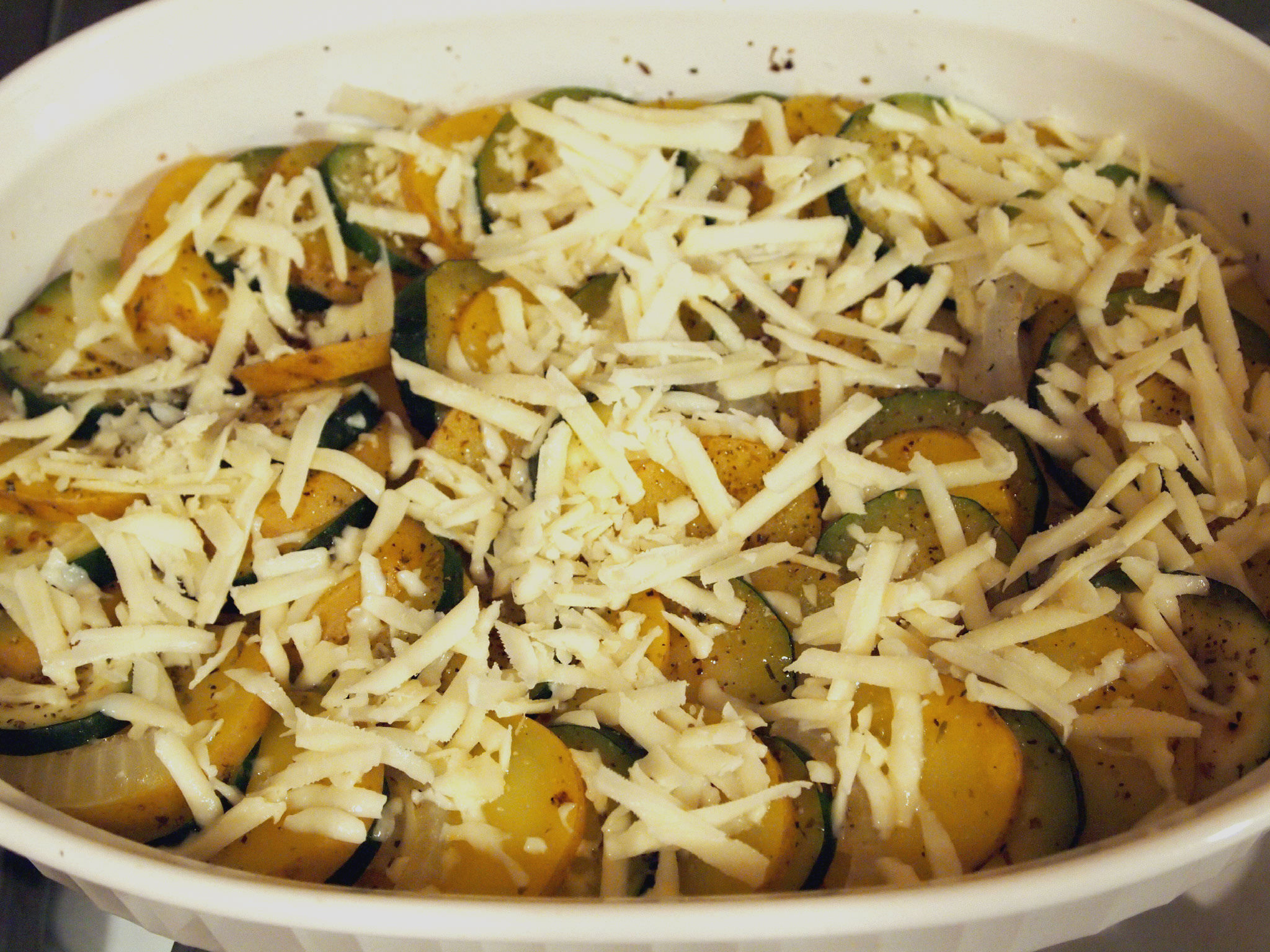 And sprinkle it with a little freshly grated Asiago cheese. Or Fontina. Or any other strong cheese of your choosing.
Pop it back in the oven uncovered for another 40 minutes or until the potatoes are soft, and the cheese is melted and slightly browned. Any liquid in the dish should have evaporated.  Let the gratin sit for 5 minutes before serving.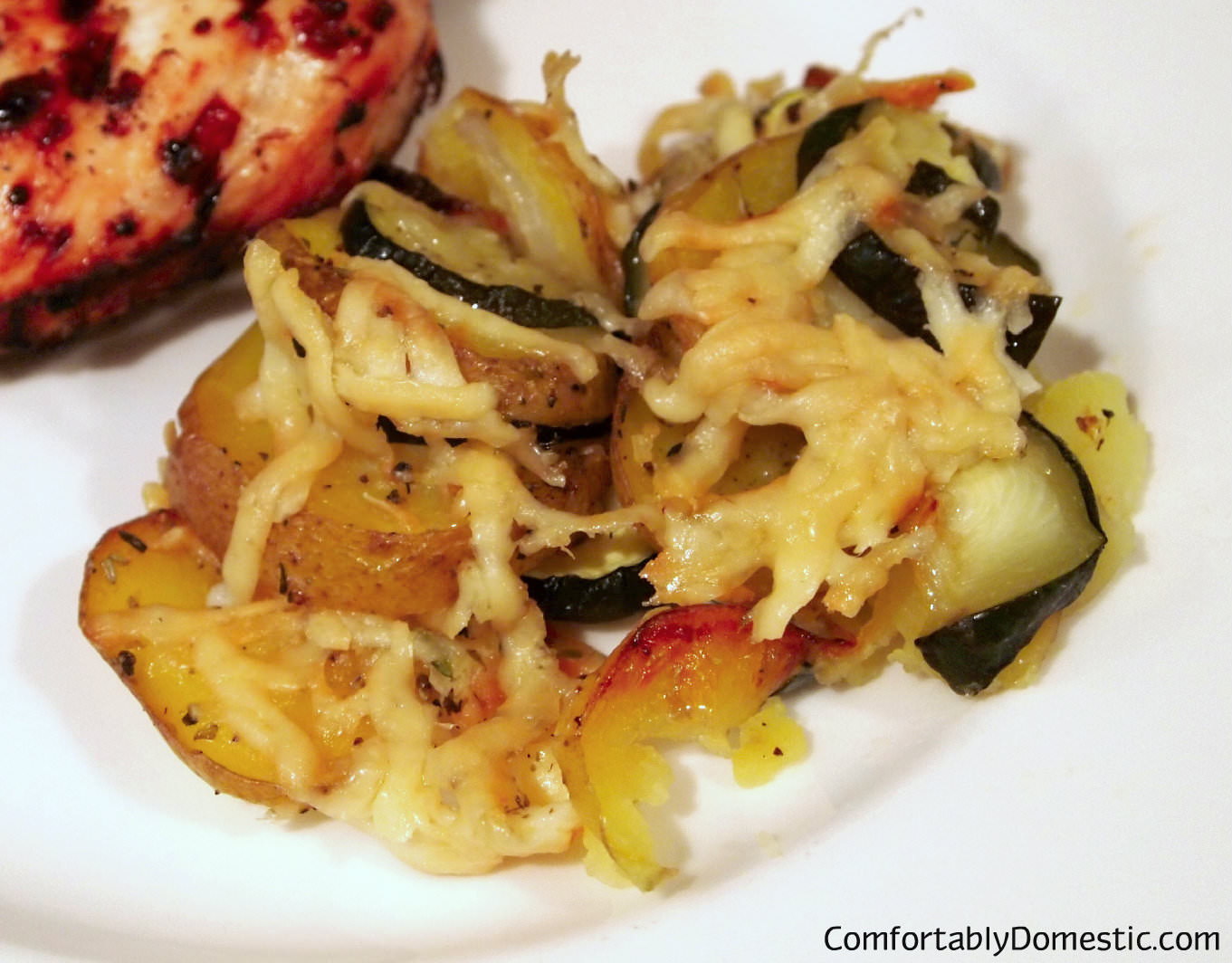 Potato-Zucchini Gratin is wonderful served hot, but wait! That's not all!  The gratin can also be enjoyed at room temperature. I'll be honest here–if there is any leftover, I stash it out of view in the 'fridge to save it for my breakfast the next morning…with a soft fried egg on top.
This recipe is very adaptable. If you find yourself with an abundance of yellow squash, go ahead and substitute it for the zucchini.  Or use both yellow squash and zucchini with the potato. Oooo! That combination might just be delish with a little feta or blue cheese in place of the Asiago.  Have fun, play around with it, and get even the staunchest of vegetable haters to eat their veggies!
♥♥♥
Potato-Zucchini Gratin
http://comfortablydomestic.com
Yield 6 Servings
Prep Time: 20 minutes, Cook Time: 40 minutes, Total Time: 60 minutes
4-5 small gold potatoes
1 large zucchini
1/8 of a whole Vidalia onion
Pinch of kosher salt
Pinch of freshly ground black pepper
Pinch of dried Herbes de Provence (a blend of rosemary, thyme, and savory)
1 Tbs. light olive oil, divided
1/3 C. coarsely shredded Asiago or Fontina cheese
Preheat the oven to 375 degrees, and drizzle a shallow gratin (or baking dish) with a half tablespoon of light olive oil; set aside.
Scrub potatoes and zucchini to rid them of any residual dirt.
Thinly slice potatoes (about ¼ inch thick) and set aside.
Remove the ends from the zucchini and discard. Thinly slice the remaining zucchini into ¼ inch slices.  Lay slices in a single layer on a paper towel for 1 minute to absorb excess moisture.
Slice the onion root to tip, and peel back the skin on one half. Thinly slice about ¼ of the half of the onion. Slices should be thinner than the potato and zucchini slices. Separate the slices into half-rings.
Alternately layer the sliced vegetables in a single-layer overlapping pattern in the prepared baking dish: begin with a potato slice, then zucchini, potato, zucchini, and then a couple half-rings of onion.  Repeat the layering until the dish is covered.
Sprinkle a pinch each of kosher salt, cracked black pepper, and Herbes de Provence over the vegetables.  (Dried thyme or rosemary can be used if you don't have Herbes de Provence.)
Cover the dish with aluminum foil and bake for 30 minutes.
Meanwhile, shred the Asiago cheese; set aside.  Fontina, or any other "meltable" strong cheese can be used.
After 30 minutes, uncover the baking dish and sprinkle the shredded cheese over the vegetables.
Bake uncovered for an additional 40 minutes, or until potatoes are soft, and any liquid in the dish has evaporated.
Let stand 5 minutes before serving.