I had this seemingly great idea to knit for everyone for the Holidays. Where I thought I'd carve out the extra time, I am not really sure. Feel free to chime in with your opinions on the projects. Here's what I am thinking about:
A pair of these fingerless mittens. They are called "Fetching" which I thought was awesome. STATUS: not started.
"Fetching" was what I thought about making with this yarn, but it just wasn't working for me–you couldn't see the detail in the pattern through the busyness of the yarn. Here's the pattern:
http://www.knitty.com/ISSUEsummer06/PATTfetching.html
Also, a few pairs of these fingerless mitts for a favored men in my life. They are called "Dashing." I just love the names at Knitty! I thought they would be great for those with iPhones. (If you are a man in my life with an iPhone, ignore this. Act like you never saw it.)  Status: not started.
http://www.knitty.com/ISSUEspring07/PATTdashing.html
I just finished one of these cute capelets from Lion Brand Yarn. I skipped the crocheted granny rose in favor of a bling-y broach because I found it hideous. (The granny rose, not the broach.) It's super cute on. STATUS: Complete & awaiting delivery! The pattern:
http://www.lionbrand.com/patterns/khs-townAndCountryCapelet.html?noImages=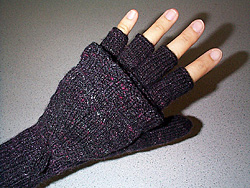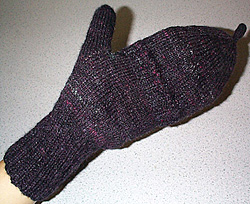 I think convertible mittens are pretty nifty, too. At least they were 8 years ago, when this pattern was written. I would use much cooler yarn, though. STATUS: mulling over the idea.
http://knitty.com/ISSUEfall02/PATTbroadstreet.html
I thought I'd make another Opera Scarf, too. I made one for my BFF Julie's birthday this year. (More about that later.) This was a free Blue Sky Alpaca pattern. They don't post it on their site, anymore.
Here's how much that I have done on that one. It looks much prettier and shimerier in person. STATUS: (barely) begun.
I think I am going to need more hours in the day. 3 more should do it.
On a positive note, I've made approximately 600 Christmas cookies, with only a few other types to go. 🙂
Are fingerless or convertible mittens over? Can a man respectfully pull off either?
Times a wastin'! Comment now.