5 minutes with a farmer is all it takes to prove how passionate they are about what they do. "Dairy Farmers never retire. We'll milk cows until the day we die because we love our animals. We're passionate about providing high quality milk to our communities—it's just who we are." –Katie Dellar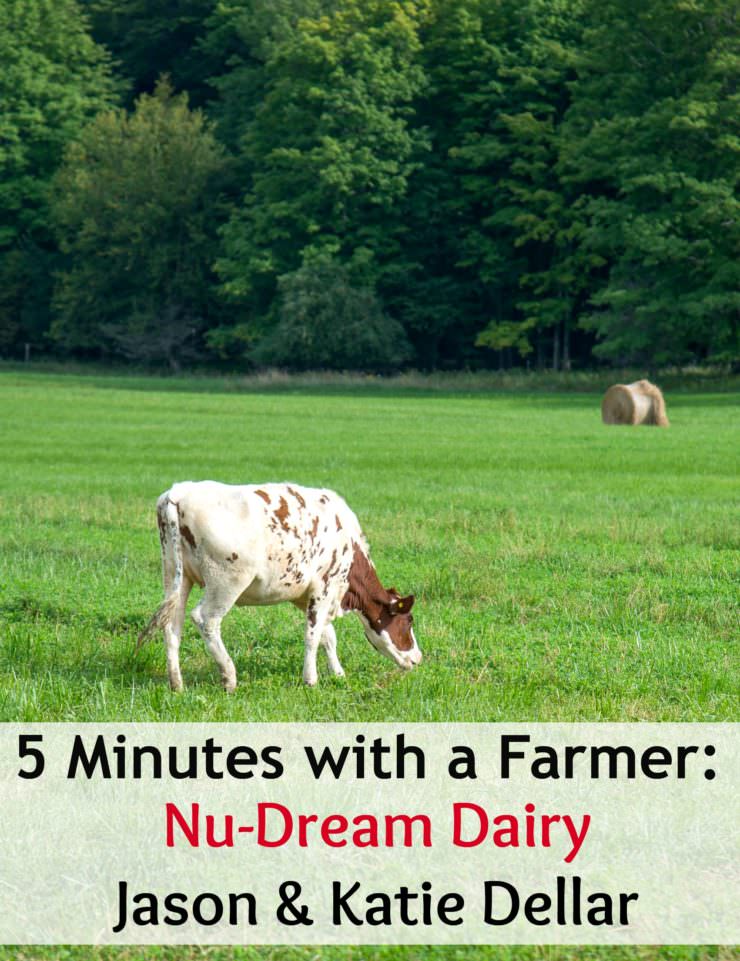 A few weeks ago, my friends from Milk Means More asked if I would like to interview a local dairy producer in my home state of Michigan because June is National Dairy Month.  Now y'all know that I'm a storyteller as well as a huge fan of All Things Dairy. In fact, a quick search of my recipe index  for the ingredients cheese, milk or butter results in more than two dozen pages of recipes for each ingredient.  I am passionate about cooking with wholesome dairy products for my family. Having 5 minutes to chat with a local dairy producer and hear them share their story was not something that I could ignore.
I was excited to learn that I'd been paired with Katie Dellar of NuDream Dairy Farm, as she's a fellow mom of four kids, sports coach, and educator. I know how busy my life is with four sons, so I can't even imagine doing all that I do while also helping run the family dairy business like Katie does.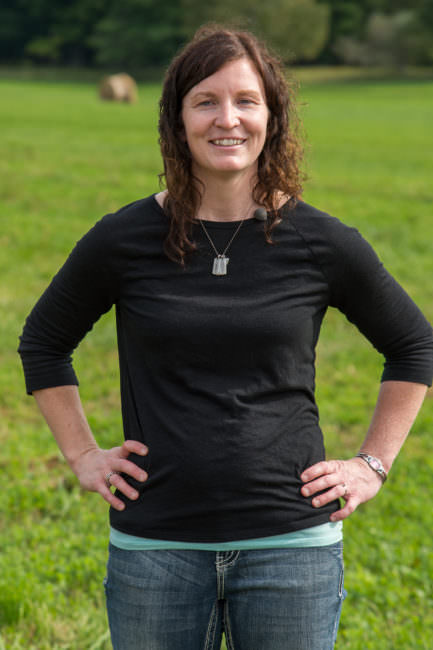 Katie wasn't always a farm girl, but she did grow up in the rural community of Harrisville, Michigan where she still lives. Her husband Jason is a 4th generation dairy farmer whom she's known her entire life. Here's the part of the story where I'd love to get a little misty eyed and say that Katie and Jason were high school sweethearts that fell in love at first sight and knew that they were destined to be together since they were knee high to a grasshopper, but nothing could be further from the truth. Katie knew of Jason growing up, but they weren't friends. She says that all she really knew about him was that he often smelled of manure from the farm.  Katie's life plan never included loving a man that smelled of manure. Her plan was to pursue a law degree and move on away from her hometown.
After a year of college, Katie's plan was well on course when she returned home from her first year of college to work at a local Subway sandwich shop for the summer. Jason happened to pop into Subway one day for lunch and noticed Katie working behind the counter. He then proceeded to eat three meals a day at Subway, in an effort to get Katie's attention.  Jason's charm eventually won her over, and he and Katie were married in 2003.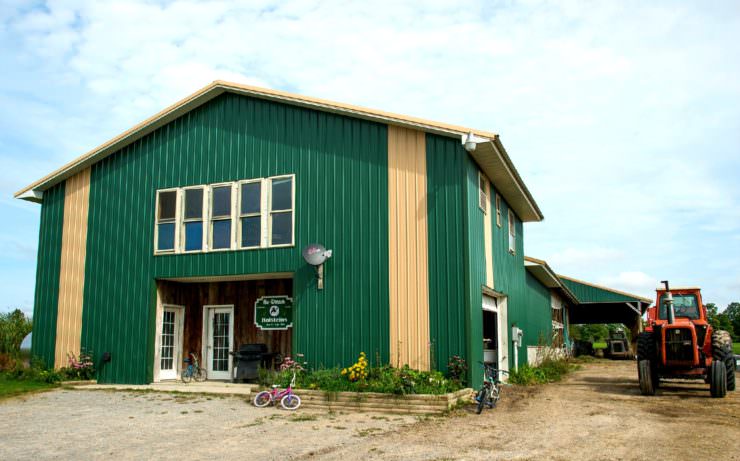 Katie shifted gears slightly and studied to be a paralegal at the local community college so that she'd be there with her husband as they started their own dairy farm—NuDream Dairy Farm. They wanted to strike out on their own and build their dairy farm as a legacy for their children to take over one day. So Jason worked the farm that he loved, and Katie worked her dream job in law. After working for a few years, Katie became a bit restless upon realizing that she didn't love the law as much as she once did.
Katie loves her husband something fierce though, so when he was smack in the middle of yet another employee quitting and leaving him shorthanded on the farm, she jumped in and offered to help milk cows. After years of watching Jason struggle to retain employees whom were willing to put in the long hours to help him care for their animals on the farm, Katie wondered why she didn't offer to help him sooner. She absolutely loves milking cows! I guess I'd call Katie an Accidental Dairy Farmer.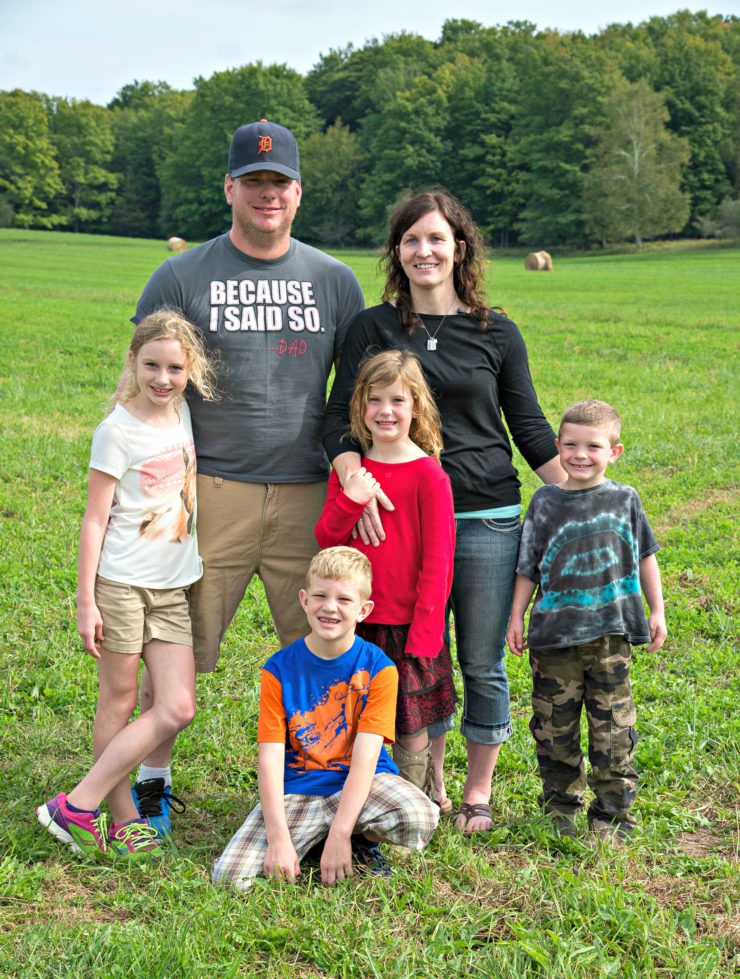 Being responsible for the care and well being of 60 cows is a whole lot of work. The days are long and the work literally never ends—you have to love what you do to be that invested in farming. Their cows are milked twice each day; with the first time being at 5:00 a.m. Milking is not a glamorous job. In fact, Katie jokes that the cows will poop on you as soon as they look at you in the milking parlor, so now she's the one that smells like manure!
Katie thinks that one of the greatest gifts that they give their kids by growing up on a dairy farm is living a walking, talking education ever y day. Their children Kiersten (10), Matt (8), Tori (7), and Will (5) are learning the responsibility that comes with taking care of others every day. The Dellar kids learned to be self sufficient at an early age by getting themselves ready for the day, getting their own snacks, and starting on their homework, as well as doing chores. All of the kids have regular chores to do to help with the farm. They understand that caring for the animals comes first, and that everyone must help with the workload so that they can spend fun time together as a family. Even at their young ages, the girls set the parlor up for milking while the boys bring the cows to the parlor when it's time.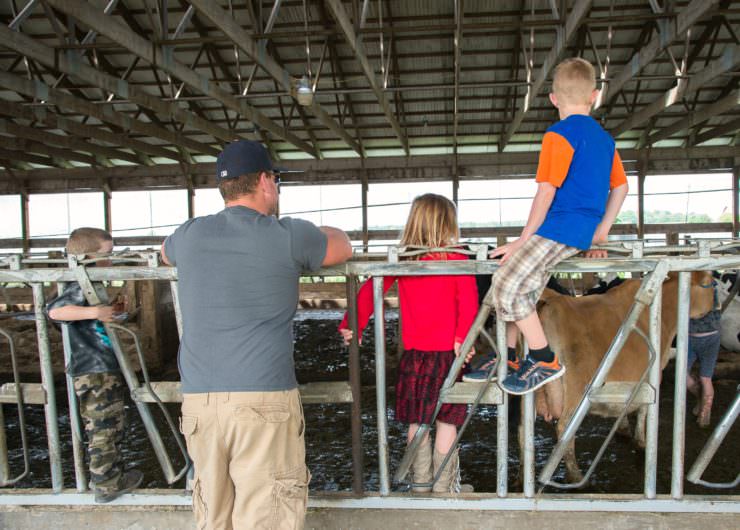 Dairy cows must be happy and well cared for in order to produce the best quality milk. A cow that is sick or under stress will not produce milk, so keeping the cows as healthy and comfortable as possible is the top priority on a dairy farm. Fans keep the cows cool in the heat of summer, and heaters keep them warm during the frigid winters. Fine beach sand is brought into the barns to serve as both comfortable bedding, as well as a soft surface for the cows to walk on in order to protect their feet from unnecessary pressure or cuts that can be caused by walking on hard-packed surfaces or stepping on an errant stone.  Katie says that the cows are treated with antibiotics on a case by case basis if they become sick, just as she would treat her children if they had an infection. As with people, the cows' bodies process the antibiotics through their system within days after finishing the course of medication.
Once the cows are milked, the milk goes into a chilled holding tank to await pick up by the milk hauler. The milk hauler collects milk from NuDream Dairy Farm, as well as many other local dairy producers, until the tank is full and ready for processing. Milk produced by Michigan's family dairy farms is usually hauled less than 100 miles to the nearest processing facility, thus enabling the milk to go from the farm to processing to retail shelves in an average of two days—it doesn't get much fresher than that!
Katie wants me to be sure to communicate the fact that all milk that is processed and sold at supermarkets is free of antibiotics and growth hormones. Milk is tested at least 7 times between the family farms and processing plant before reaching supermarket shelves to ensure that there are no detectable traces of antibiotics or growth hormones present. As of 2008, Michigan Milk Producers Association co-op mandated that no rbST hormones be administered to dairy cows. Michigan dairy farmers sign an affidavit indicating their commitment to not administering  growth hormones to their cows.
If traces of antibiotics are detected in the milk between the farm and the processing plant, the entire tank must be discarded before it ever enters the processing facility. In addition to the moral implications, the offending farm is subject to serious financial implications for breaking the law. The farm in violation must reimburse the other farmers for the loss of the tank of milk, pay a hefty fine, and loses their contract to have their milk processed at the processing facility. Families can't afford that kind of financial ramification, so they just don't do it. Katie feels very strongly about doing what is right for all concerned and teaching those ethics to her children.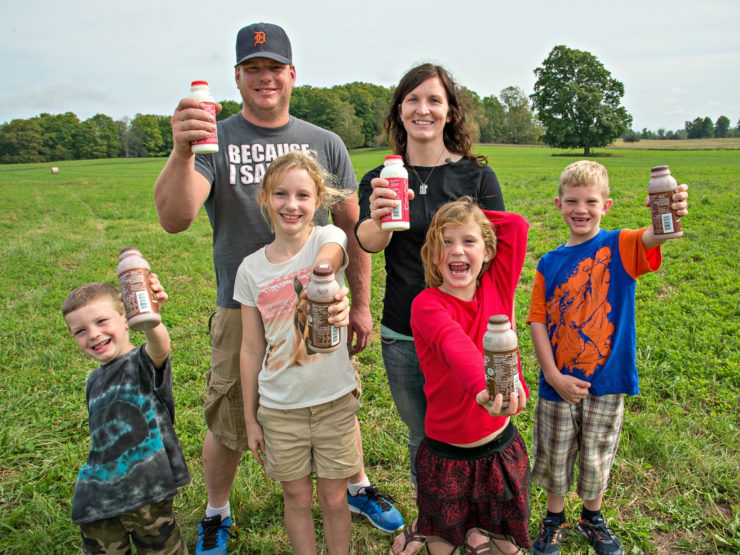 She and Jason are also instilling a sense of community in their kids. Milk is an excellent source of nutrition with necessary calcium, carbohydrates, fats, and protein to keep bodies healthy and strong. At $1.60/gallon, milk provides more protein than an egg for only 10-cents per serving. For this reason, Food Banks list milk as the most desired yet least donated food item. Seeing a need, Katie organized a milk drive in her community to provide milk to food insecure families on the weekends when kids are not in school. Her reasoning for starting the program was to provide economical nutrition to families in need while letting the community know that Dairy Farmers Care. She said that many people were shocked to meet a local dairy farmer and discover that the milk produced within their own community was the same milk sold at their local markets.
Dairy farmers consistently look for ways to be efficient, to be responsible stewards of their land, and to give their cows the best possible care in order to produce the highest quality milk. The hours are long and the operation is expensive. You may have noticed that the retail price of milk has been decreasing for the past few years. Reduced retail  prices for milk are having a major impact on family dairy farms, as they are getting paid less than half of what they were earning per 100/wt. of milk just two years ago. When milk prices continue to drop, the farmers are forced to cut their personal costs as much as possible because taking budget away from their animals is not an option. Reduced prices are forcing some 4th through 6th generation dairy farmers to sell their herds and find other ways to support their families.
"A Dairy Farmers answer to adversity is to just keep going." –Katie Dellar, NuDream Dairy
Katie and her husband have faced this situation first hand. With milk prices plummeting, it was becoming apparent that continuing to milk cows was no long financially feasible for their family farm in the current market. Jason toyed with the idea of selling the entire herd to start crop farming, but Katie couldn't imagine them not milking cows in some capacity. Cows are their first love. After much discussion and a whole lot more prayer, Katie and Jason decided to sell all but 12 of their 60 dairy cows and go into a different sort of business.
Now NuDream Dairy is in the business of raising and weaning heifers. A heifer is a female animal that has never had a calf. A cow will have her first calf at about 24 months of age. Raising a heifer until she is of calving age and ready to join the milking herd can be an expensive proposition. Calves are very susceptible to illness and stress, therefore they require continuous care to ensure that all of their needs are addressed. Katie feeds her heifers whole milk from their milking herd because she feels that it's best for them before being transitioned to grain and water. A cow produces between 6 and 7 gallons of whole milk per day. A heifer drinks about a gallon of whole milk per day, so NuDream Dairy is easily able to sustain their heifers with fresh milk until they are weaned and ready to be sold to other dairy producers at about 12 weeks of age. Katie's first love is cows, so the raising and weaning heifers is a natural extension of her passion for milking. The Dellar family and NuDream Dairy will follow this new direction as they continue to persevere through dairy market fluctuations. Their hope is to one day be able to transition back to being full time dairy producers, because as Katie says, "Milking cows is such a part of who we are that we refuse to do anything else. "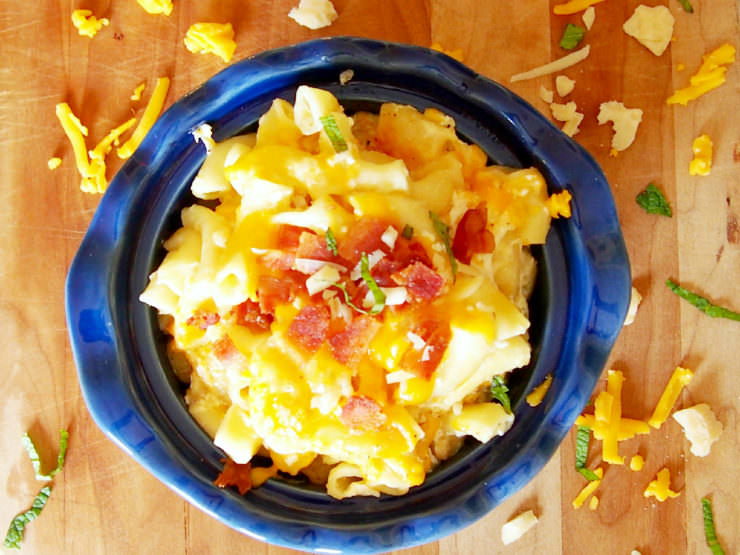 Click on the photo above to see the recipe for my take on Katie's One Pan Macaroni and Cheese.

I am honored to be a Dairy Ambassador for Milk Means More – United Dairy Industry of Michigan. I'm committed to developing recipes using Michigan dairy products. All opinions are my own. Milk Means More represents the dedicated, hard working Michigan dairy farmers that are passionate about providing fresh, wholesome milk, cheese, and yogurt for you and your family. Hug a farmer, y'all!
For dairy nutrition facts, community involvement partnerships and more great recipes, visit Milk Means More on Twitter, Facebook, YouTube and Pinterest.

To keep up with Katie Dellar, visit her on her Dairy Mom page on Facebook. Tell her that I sent you! To help dairy farmers continue to support their families and serve their communities by producing high quality dairy products, be sure to regularly stock up on delicious cheese, milk, yogurt, and other dairy products!