Homemade flour tortillas are so incredibly soft and delicious that you'll wonder how you ever lived without them in your life.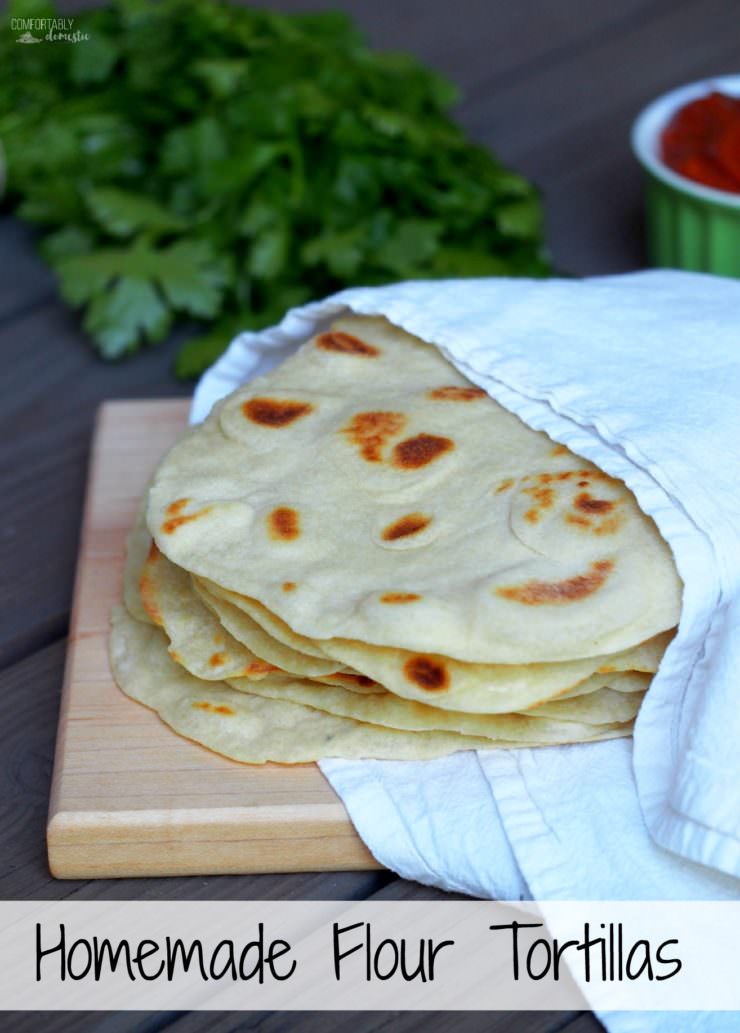 For a northern girl, I've probably eaten more than my fair share of tortillas over the years. What can I say? I'm a sucker for a crispy burrito, freshly grilled fajitas, or just about anything that I can roll up in a flour tortilla. My love of tortillas began when I briefly lived in Northern California as a kid. I didn't live there long enough to establish roots, but my tenure out west was long enough to discover the beauty of a fresh flour tortilla.
As the new kid, I was more than a little nervous about my first day of 5th grade in a new school. This marked my third elementary school at that point in my life. Not only was I the new kid at school, I was the new kid at a school in an entirely new state that was some 3000 miles away from "home."
Have you ever been the new kid? That apprehensive looking kid dressed in comfy clothes that weren't necessarily in style because you'd just arrived after a week long road trip across the country and the moving truck hadn't arrived with your other clothes yet? The new kid that interrupts class with her arrival only to have to withstand a public introduction to a room full of curious eyes in the middle of a math lesson? Yeah. That's only mildly horrifying to an 11 year old girl.
Thankfully, a sweet waif of a girl named Greta was my seatmate in class, and she took it upon herself to be my tour guide for the day. She showed me the ins and outs of Sierra Gardens Elementary, and didn't laugh at all when I couldn't get over the facts there were no lockers and all of the hallways were outdoors. At some point, Greta discovered that I walked past her house on my route home. She offered to have me join a group of girls for the walk home, an invitation that I readily accepted because the only thing worse than being the new kid was being the new kid walking home alone after school.
Along the way, Greta invited me over to watch General Hospital with the other girls. ALL of the girls at my new school were into General Hospital because Rick Springfield starred as Dr. Noah Drake, and we were all just sure that one of us would marry him someday. (Spoiler: it wasn't me.) 
Apparently, Greta's was the place to watch GH on a Tuesday because her mom didn't work on Tuesdays, which meant that she usually made something awesome for a snack. It was in Greta's kitchen that I was introduced to homemade flour tortillas. Up until that time in my life, I had never seen a flour tortilla, much less eaten one. I know! It was in Greta's kitchen that I learned the joys of eating a warm tortilla fresh out of the skillet, buttered with a generous sprinkling of cinnamon sugar.
Holy. Wow. I was instantly smitten those flour tortillas! I'm pretty sure that I ate my weight in flour tortillas that day–a fact that pleased her mother to no end because flour tortillas were so commonplace to the other girls present that many of them skipped the snack all together.
I'd like to say that Greta and I kept in touch after I moved back to Michigan a couple of years later, but that isn't how it happened. Although I'm still grateful to her for taking me under her wing that day, we didn't have a lot in common outside of a love for Rick Springfield, Jessie's Girl, and flour tortillas. We didn't become the kind of friends that keep in touch.
But I still think about those tortillas.
The only place that I'd ever found homemade flour tortillas as good as Greta's mom's was at a little bakery in the Mexican Town area of the city in college. I've tried to make them myself and failed miserably every time. I'd pretty much made peace with the fact that unless a friend with hidden tortilla making super powers took pity on me, munching on a homemade flour tortillas would remain a rarity.  Store bought tortillas aren't even the same species as a good homemade flour tortilla. It's like comparing store bought Wonder bread to homemade white bread in that there is just no comparison in terms of quality and taste.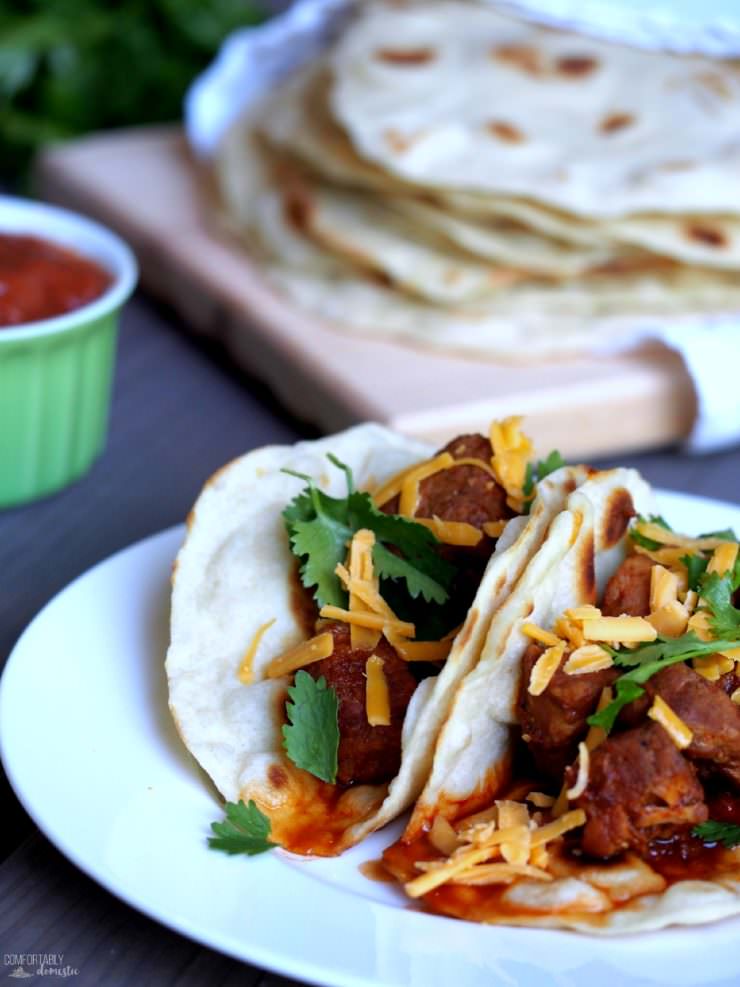 Many years later, my friend Angela brought her awesome sopapillas to a pot luck. I might have gone all Shawn & Gus and sang "SO-pa-PEEEE-yaaaas!" every time I ate one. For those that don't know, sopapillas are simply fried flour tortillas that are dusted with a generous amount of cinnamon sugar. When I asked about her recipe, Angela informed me that she learned to make homemade flour tortillas with her grandmother, and she offered to teach me how to do it! As it turns out, Angela is that friend with hidden tortilla making super powers! She honestly makes the best darned flour tortillas that I've ever eaten in my life–although she insists that her tortillas are just okay. Accordubg ti Ang, her daughter Tana has "the touch" like her grandma.
Tana is just sweet and patient enough to teach me how to make her homemade flour tortillas every step of the way. She also agreed to let me photograph the process to share with you. What a girl!
Now, their family recipe is one that's passed down by learning by hand and adding ingredients "until it looks right" to make the tortillas. Thankfully, they've nailed down actual measurements, although a little flexibility in the liquid measurements is necessary. I've personally tested this recipe more than a half a dozen times, so I know it works. I promise you that you can do this with good results.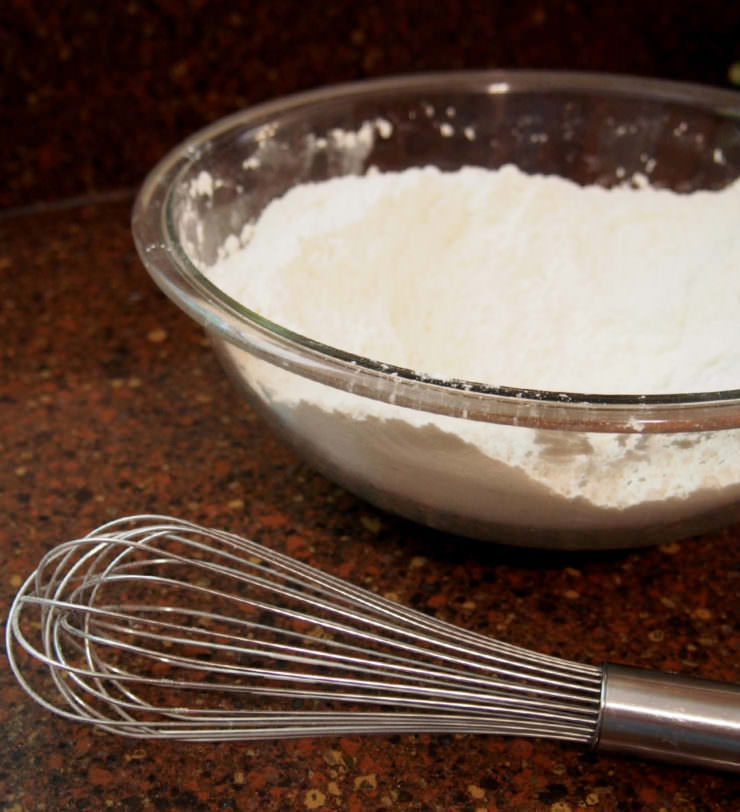 Start by whisking together the flour and salt, making a well in the center of the bowl.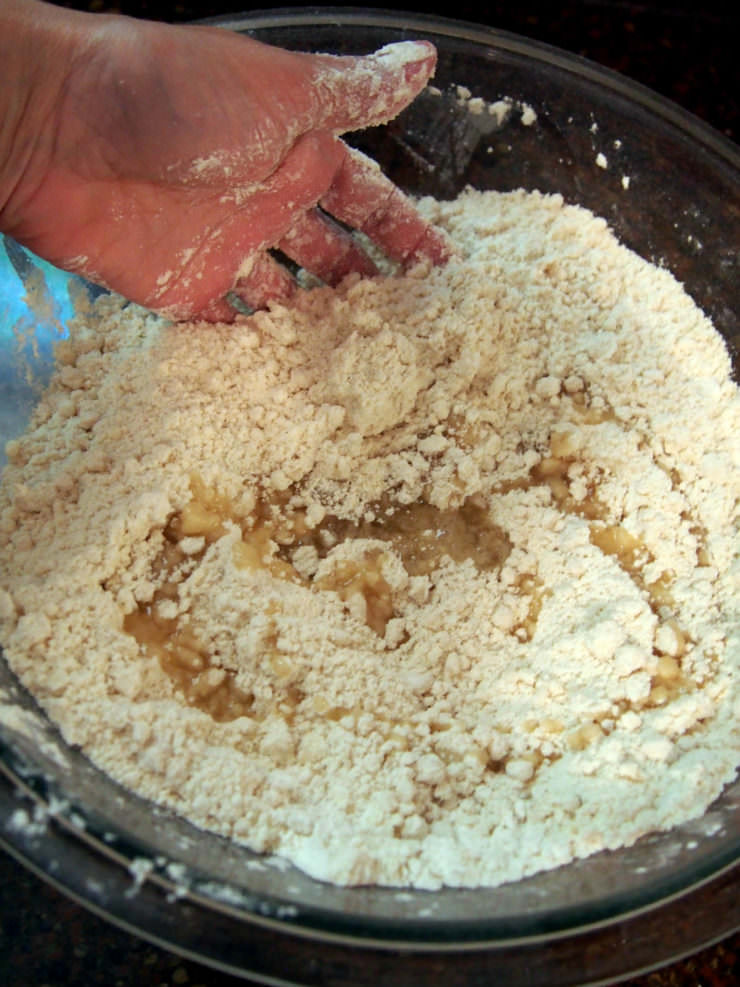 Add the oil all at once. Yes, I said oil. Not lard. Not butter. Not shortening. The Garcia family insists that a mild cooking oil such as canola or corn oil is the key to making the best tortillas. Since I can attest to the sheer awesomeness of the finished product, I believe them.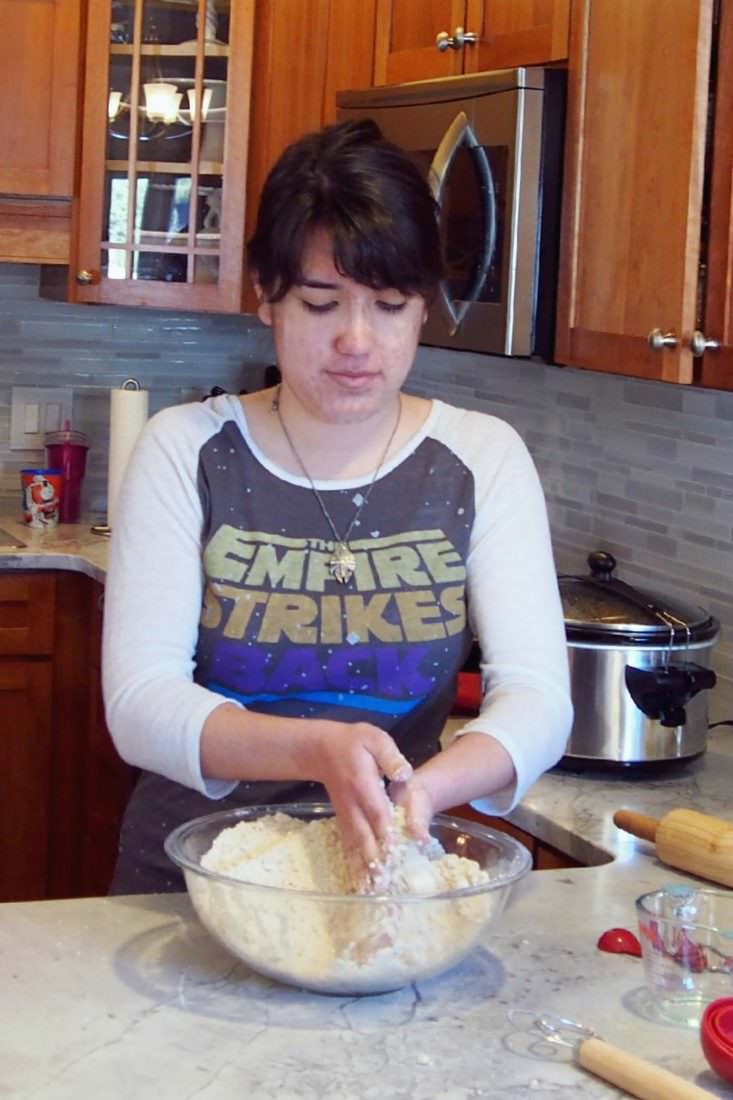 Next, it's time to get up in there and get a little dirty by grabbing handfuls of flour and oil and briskly rubbing it together between your hands.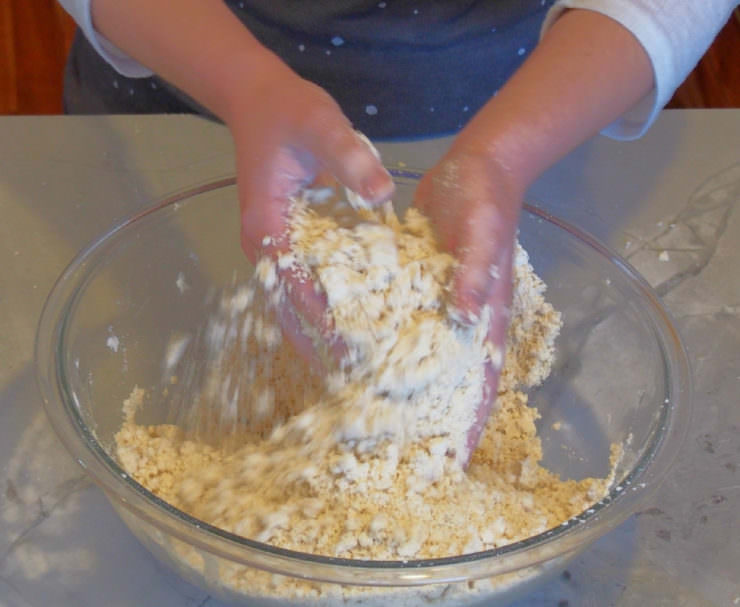 Continue the process until the oil blends into the flour enough to form small clumps that are no larger than the size of a pea.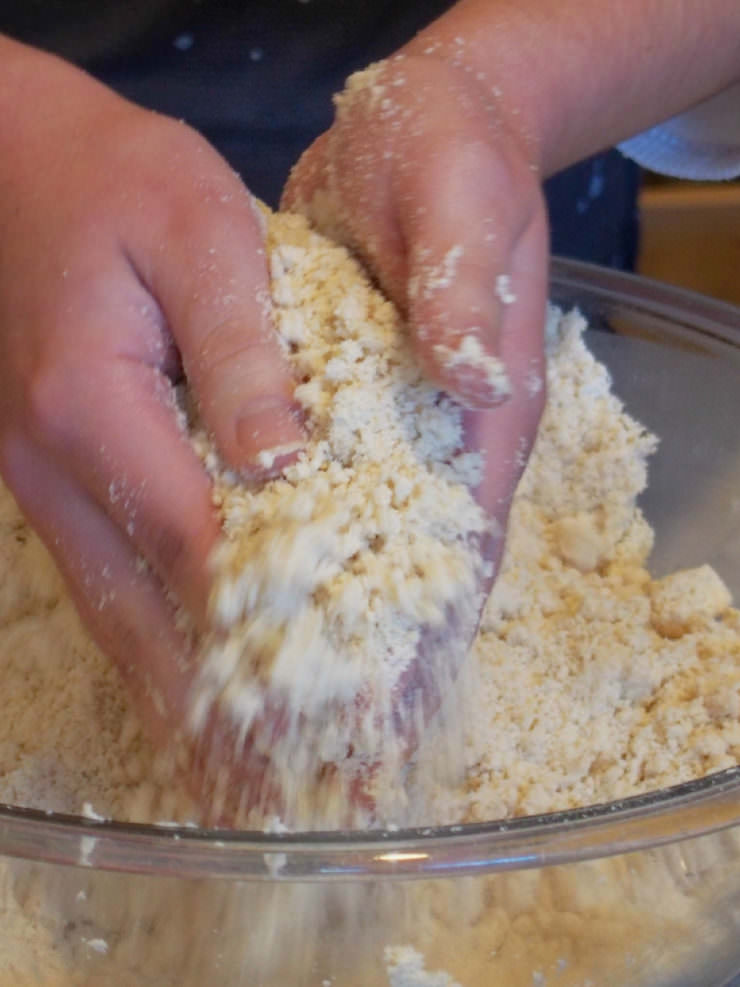 At this point, the tortilla dough should look much like pie crust after cutting in the butter by hand. You should end up with a cohesive ball of dough when squeezing a handful of the crumbs together.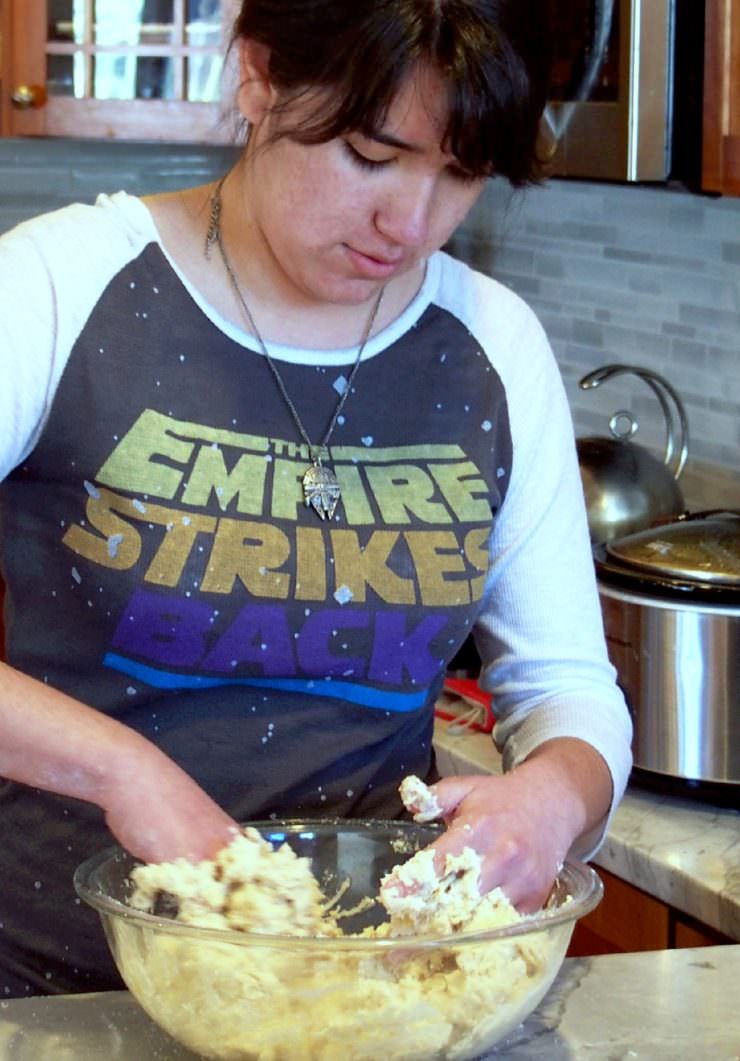 Work small amounts of warm water into the mixture with your hands, adding more water as needed, just long enough to form a sticky dough. Try not to over work the dough or the tortillas will be tough. The recipe calls for a range between 1 1/2 cups and 2 cups of warm water. The actual amount of water will depend on dry ingredient measurements and conditions of the kitchen is which the recipe is prepared. I tend to end up using closer to the lesser amount of water when making homemade flour tortillas in my non-humid, temperature controlled kitchen.
I highly recommend recruiting a helper from this point on to shape the tortillas to make the process go faster. So go on out and find a buddy! It's fun, I promise.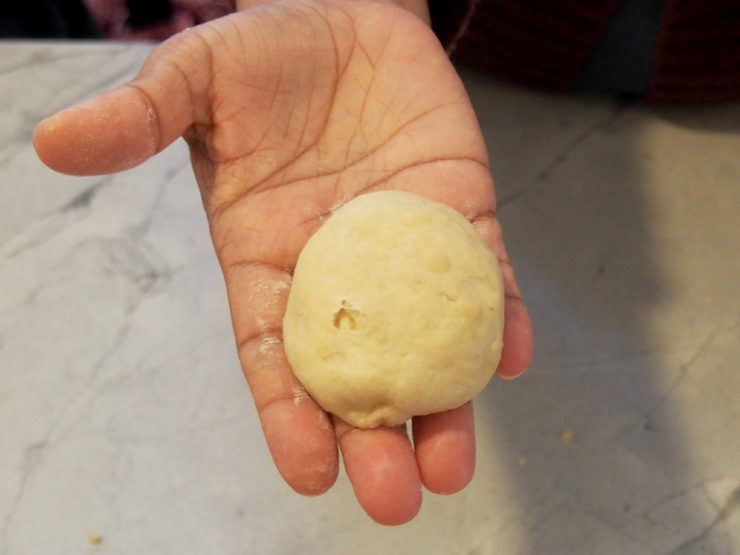 Once the dough comes together, dust flour on the work surface. You'll need at least three clean kitchen towels for this process. Soft flour tortillas depend on keeping the dough from drying out every step of the way.
Break off golf ball sized pieces, coat them in a light layer of flour by pressing them onto the work surface and flipping to the other side to coat. Form the floured dough into balls doing a tuck and turn method as you would with bread dough.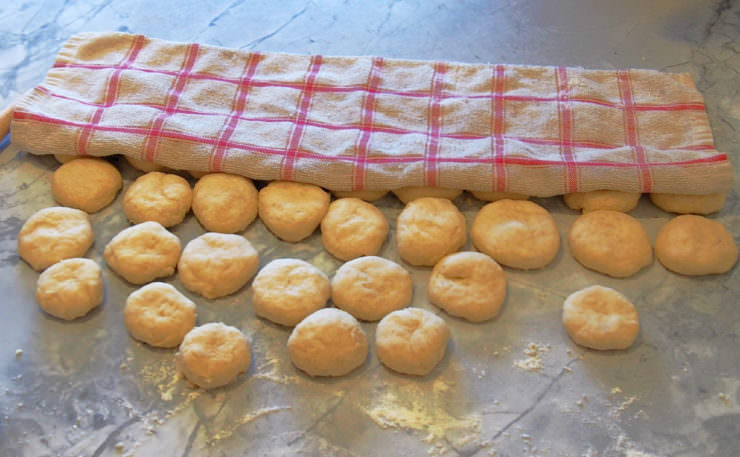 Set the balls aside on the counter and cover them with a clean kitchen towel. Be sure to also cover the bowl of dough with another towel when not actively breaking off pieces to form into balls. Don't let the photo above freak you out. The recipe makes about 18 tortillas as written. We doubled the batch to make 36 tortillas to feed both of our families. The recipe can also be halved, if desired.
Let the dough rest for about 5 minutes before continuing.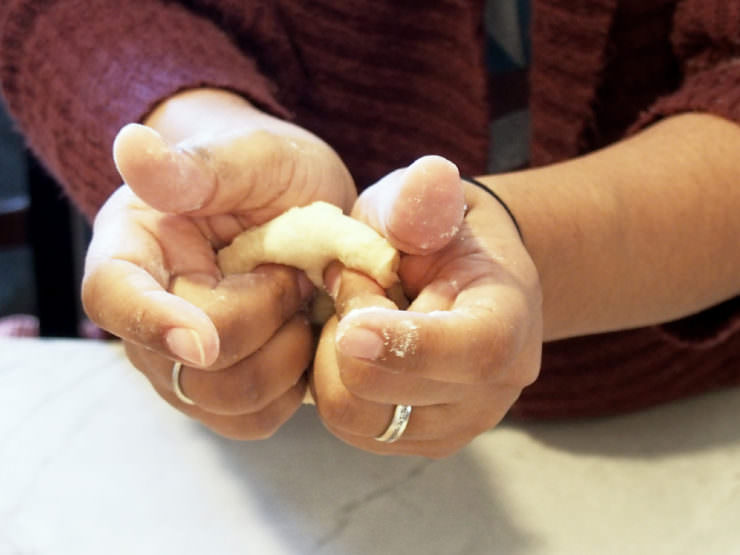 Once all of the dough has been shaped into balls, begin to flatten them out by grasping a ball of dough between both palms and your middle through pinky fingers on both hands. Angela calls this grip "making guns" because your thumbs and index fingers are pointing outward like guns. Press the dough against your palms with your fingers to make a flat disk about 2 inches in diameter. Place the disks back under the towel and continue with the rest of the dough.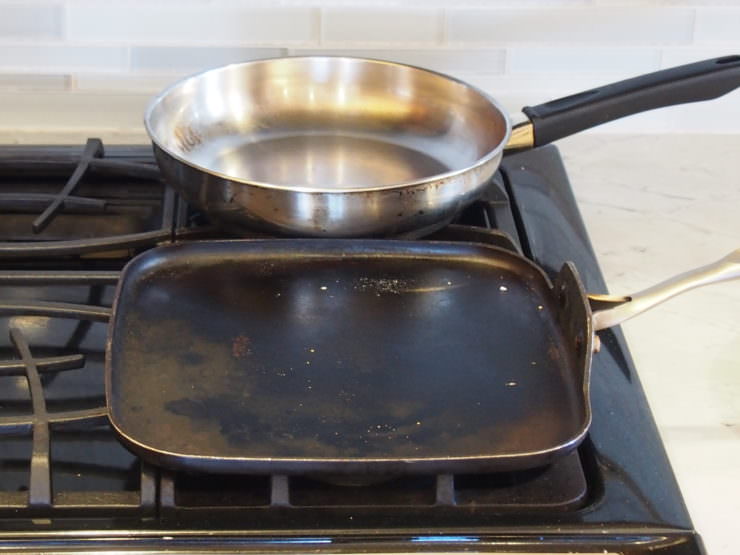 Once all of the dough balls have been flattened into disks, set several skillets or griddles over medium-high heat.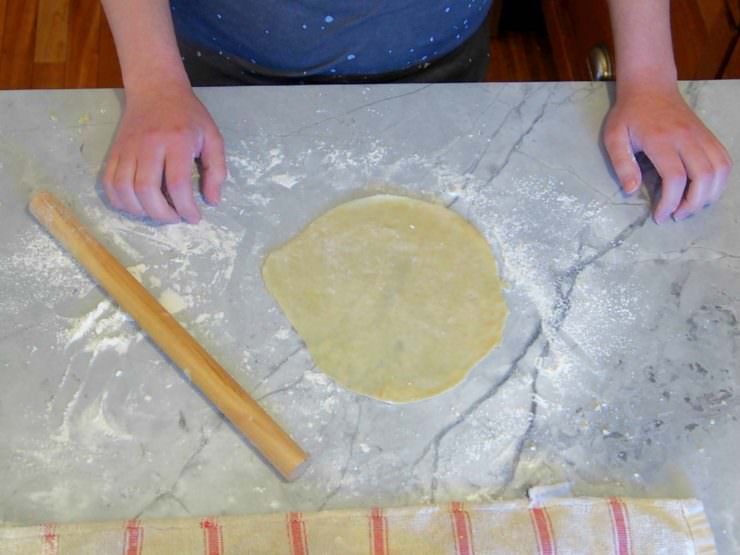 Roll out each disk as thin as possible without tearing. Don't be shy on using a little muscle in this step. The tortillas should be rolled thin enough as to be able to see the shadow of your hand through the flattened dough. Notice how you can see the grain in the granite under the tortillas in the photo? That's what you're aiming for.
Also notice that Tana isn't using a standard rolling pin to roll the dough. Her family prefers to use wooden dowels to roll the tortillas. Angela bought a long wooden dowel with a 1-inch circumference, had her husband cut it into 10-inch lengths, and sanded the ends to avoid splinters. She gave me one of her dowels the first time that we made tortillas together, and I have to say that this pie girl prefers the dowel to a rolling pin when it comes to tortillas! The dowel seems to give greater leverage when rolling the dough into tortillas. The dowel also becomes seasoned and more non-stick with use, just like a wooden rolling pin.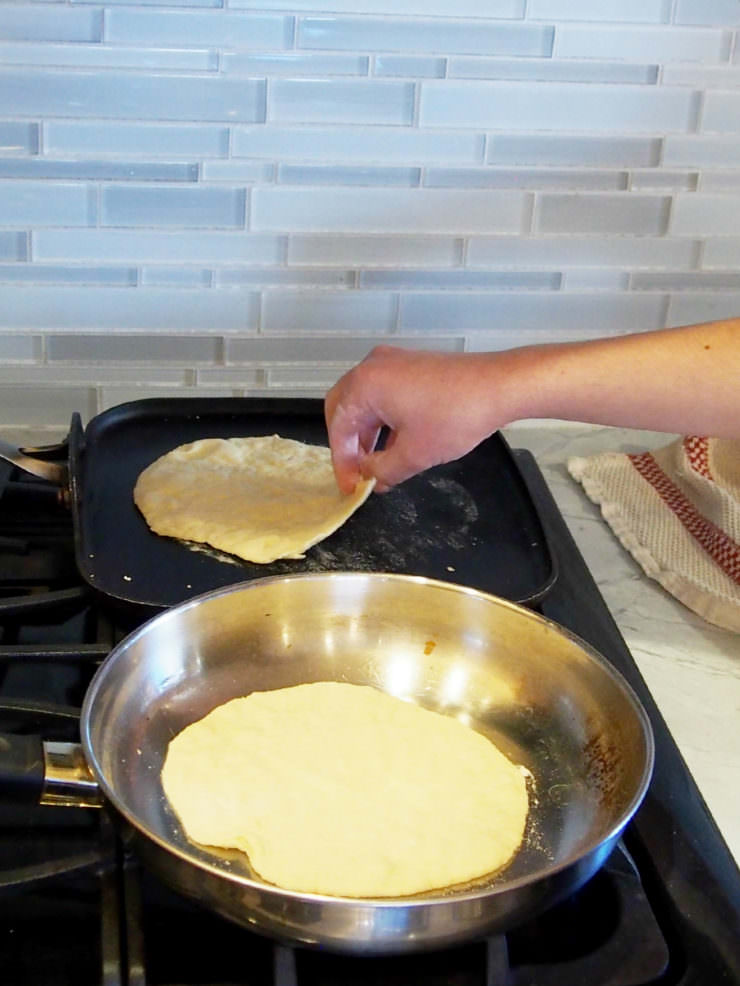 As the tortillas are rolled flat, place them on the hot skillets to toast. Warm the tortillas for about a minute or until the underside begins to brown in bit in spots. The tortilla should literally have a few brown spots, with the majority still being white. Flip the tortilla and continue toasting for about 30 seconds until the other side begins to brown in spots. Place warmed tortillas on a ceramic plate. Cover the tortillas with a kitchen towel while rolling and toasting the other tortillas in batches. Both the ceramic plate and towel will hold the heat of the tortillas, thus softening the edges and making them pliable.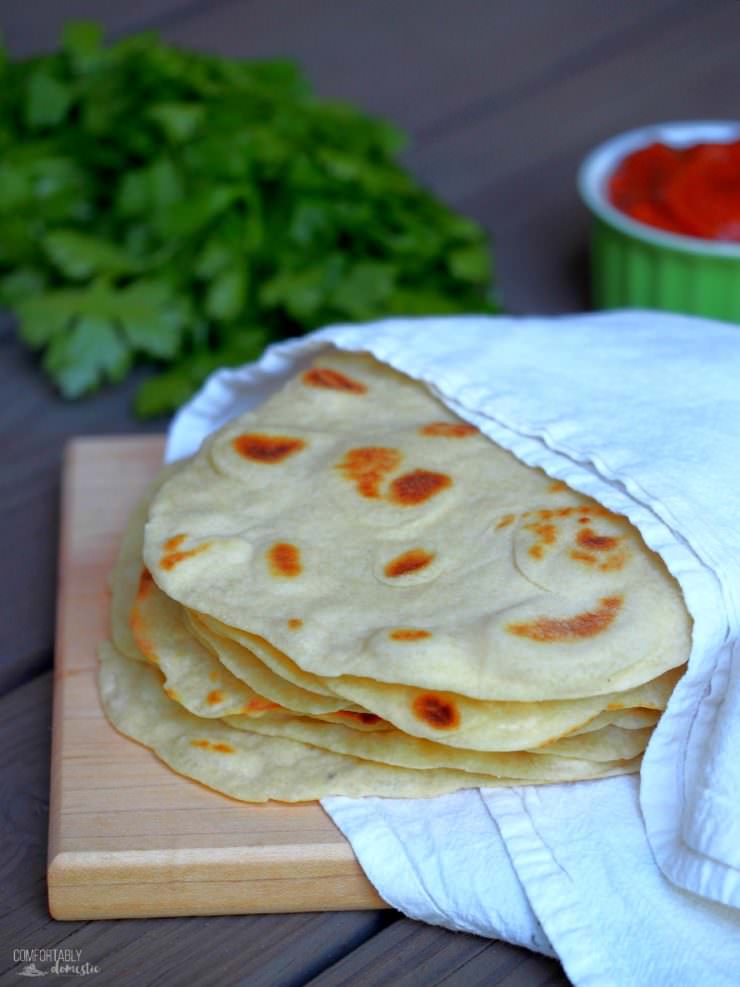 Once all of the tortillas have been toasted, flip the stack of warm tortillas end over end until the last tortilla made is now on the bottom of the pile, with the first tortilla made resting on top. Cover the tortillas with a towel and serve warm.
Homemade flour tortillas are so incredibly soft and delicious that you'll wonder how you ever lived without them in your life. The best part of the recipe is that you don't have to have hidden tortilla making super powers to make really great homemade flour tortillas at home.

Kirsten Kubert
Yields 18
Homemade Flour Tortillas
Homemade flour tortillas are so incredibly soft and delicious that you'll wonder how you ever lived without them in your life.
30 minPrep Time
30 minCook Time
1 hrTotal Time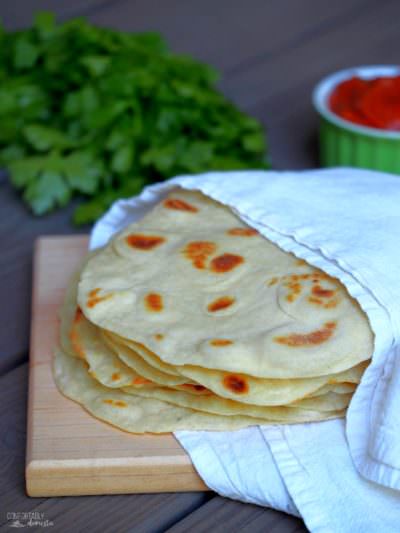 Ingredients
For the Tortillas:
6 C. all purpose flour
2 Tbs. baking powder
2 tsp. salt
1 C. canola oil
1 1/2 to 2 C. warm (almost hot) water
Also Required:
Large griddle or multiple large skillets
1-inch diameter wooden dowel or rolling pin
Large ceramic dinner plate (not plastic or melamine)
Several clean kitchen towels
Instructions
Whisk the flour, baking powder, and salt together in a large bowl. Make a large well in the center. Pour the canola oil into the center of the dry ingredients. Work the oil into the flour by tossing the flour into the oil, scooping up clumps of flour through the oil, rubbing the clumps and oil together between your fingers to create smaller clumps. Continue the process until all of the oil is worked into the flour mixture, with the clumps being the size of small pebbles or smaller—the mixture should resemble coarse cornmeal with a few larger clumps. (The process of working the oil into the tortilla dough is similar to that of cutting butter into flour to make pie dough, and should look much the same at this stage.)
Gradually add enough warm water, working it in with your hands, until the mixture starts to adhere together when squeezed. The flour mixture should be damp (not wet,) and slightly crumbly. Turn the dough onto a lightly floured work surface and knead it until it forms a cohesive mass. Shape the dough into a large ball. Cover the dough with a clean towel to keep it from drying out.
Pinch off golf ball sized (around 2 oz. each) pieces of dough and roll them into balls; with the exception of the piece of dough that you are currently working with, keep the dough covered with the towel at all times. The dough should yield about 18 smaller balls.
Heat the griddle or skillets over medium-high heat. Set the ceramic plate and another clean kitchen towel next to the stove top.
Sprinkle the work surface with a little more flour. Working with one of the small balls of dough at a time, gently stretch it while rotating it in a circle to create a small flat disk. Roll the disk into a very thin tortilla that is about 6 inches in diameter. The tortilla should be thin enough to see a shadow of your hand underneath when held up to the light, but not so thin as to tear. I prefer to roll out 2 to 3 tortillas at a time before toasting them. If rolling multiple tortillas before toasting them, be sure to keep the dough and any rolled tortillas covered while you work.
Toast the tortilla for about a minute on the hot skillet until it just begins to brown. Flip the tortilla over and toast for an additional 30 seconds or so until it begins to brown on the other side. The idea is to toast the tortilla until it bubbles and a few golden brown spots appear underneath. Once toasted on both sides, stack the warm tortillas on a ceramic plate and cover them with a towel. Repeat the process until all of the tortillas are toasted.
Once all of the tortillas have been toasted, flip the entire stack end over end so that the last tortilla made is now on the bottom of the stack and the first tortilla made is on top of the stack. Cover the stack of tortillas with the towel again. Serve fresh flour tortillas while warm.
Notes
Keeping the dough covered with a towel every step of the way is the key to keeping both the dough and the finished tortillas soft and supple.

If the dough balls refuse to roll flat without immediately and significantly retracting, then cover the dough and allow it to rest for about 5 minutes before trying again. Rolling will require a fair amount of effort to get the tortillas as thin as they need to be. I've found that a large wooden dowel cut to the size of a rolling pin works well for rolling the tortillas as I am able to gain greater leverage than with a standard rolling pin. Dowels are very inexpensive. Most hardware stores will cut them to size. Simply sand the ends avoid splinters.

Toasting the tortillas beyond just barely browned will cause the exterior to crisp, making those tortillas less malleable and better suited for tostadas than tacos, etc.

Working with a partner to finish the tortillas is both fun and a time saver, as one person can roll out the tortillas while the other toasts them on the stove.
6.8
http://comfortablydomestic.com/2016/05/homemade-flour-tortillas/
Comfortably Domestic - 2016