Chicken Greek Salad rests tender chicken atop such traditional ingredients as crisp greens, pickled beets, tomato, cucumber, olives, red onion, plenty of feta cheese, and a healthy drizzle of restaurant style Greek dressing.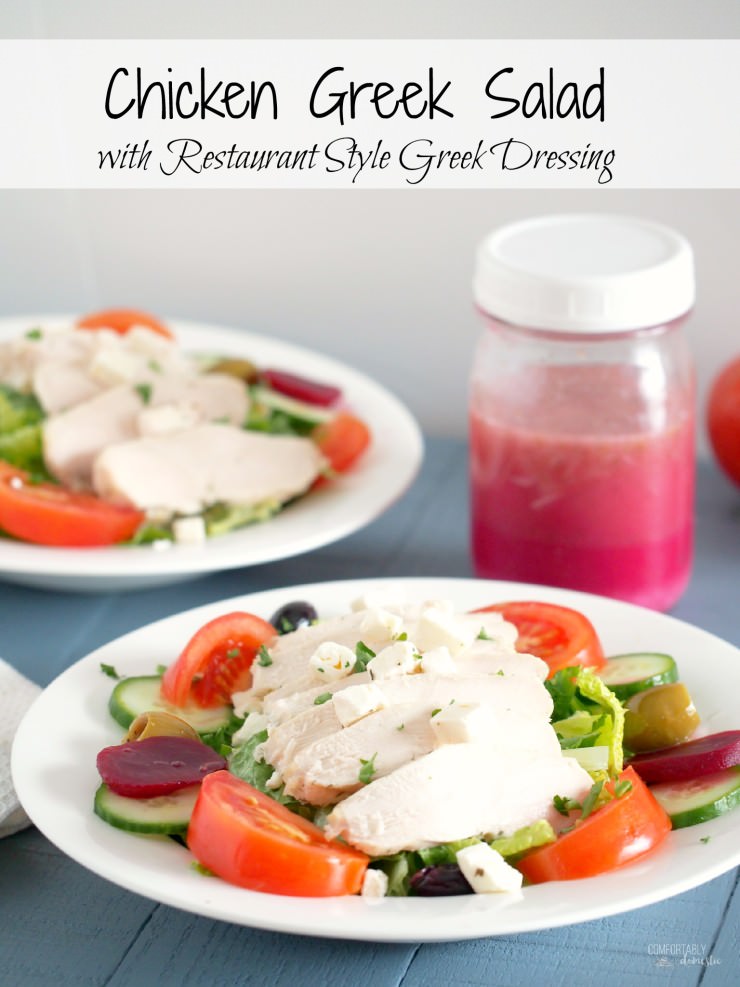 Whenever I'm feeling especially needful of a good vegetable purge to the system, dinner salads are an obvious choice. Not only do I get more than my fair share of vegetables, but also a good balance of protein from lean meats and cheese for a meal that comes together in a flash. Chicken Greek Salad is one of my favorite dinner salads, and has been for as long as I can remember. I love nothing more than piling chilled romaine on a plate with the traditional beets, olives, cucumbers, tomato, and heaping handful of feta cheese before topping the whole affair with warm seasoned chicken. Add a healthy drizzle of homemade restaurant style Greek dressing, and I'm a happy lady. The homemade dressing recipe is as close as possible to the dressing served at my favorite Greek restaurant. In my eyes, Chicken Greek Salad is the perfect dinner salad.
Lactose is a naturally occurring sugar found in dairy products that may be difficult for some to digest–especially as we get…ahem!…older. Knowing that I'm a devout dairy lover, I've been approached by several readers with lactose sensitivities (not allergies) about non-dairy substitutions for my recipes. My short answer is that a non-dairy substitute may not be necessary. I have several friends with lactose sensitivities that don't have to ditch dairy products completely because there are many dairy choices on the market that are either lactose free or low enough in lactose to be tolerable when other forms of dairy may not.
For example, lactose free milk is readily available at many markets, so having a glass on hand in which to dunk warm chocolate chip cookies is a convenient reality. Many hard cheeses such as aged cheddar, colby, parmesan, and swiss have low levels of lactose and can therefore be comfortable in moderation. A lot of the lactose is drained off with the whey in the cheese making process. Most of the remaining lactose is converted to lactic acid as the cheese ripens (ages/ferments), leaving only trace amounts of lactose behind. Basically, the harder and longer the cheese is aged (18 months+), the lower the lactose level should be. Since lactose is a sugar, look for hard cheese with trace amounts of lactose and having less than 5g of sugar per serving. The lower the sugar, the lower the lactose.
Processed cheese foods and spreads contain higher amounts of lactose because they are usually melted to stop the aging process, and then combined with other ingredients (often milk or whey) to achieve that creamy consistency.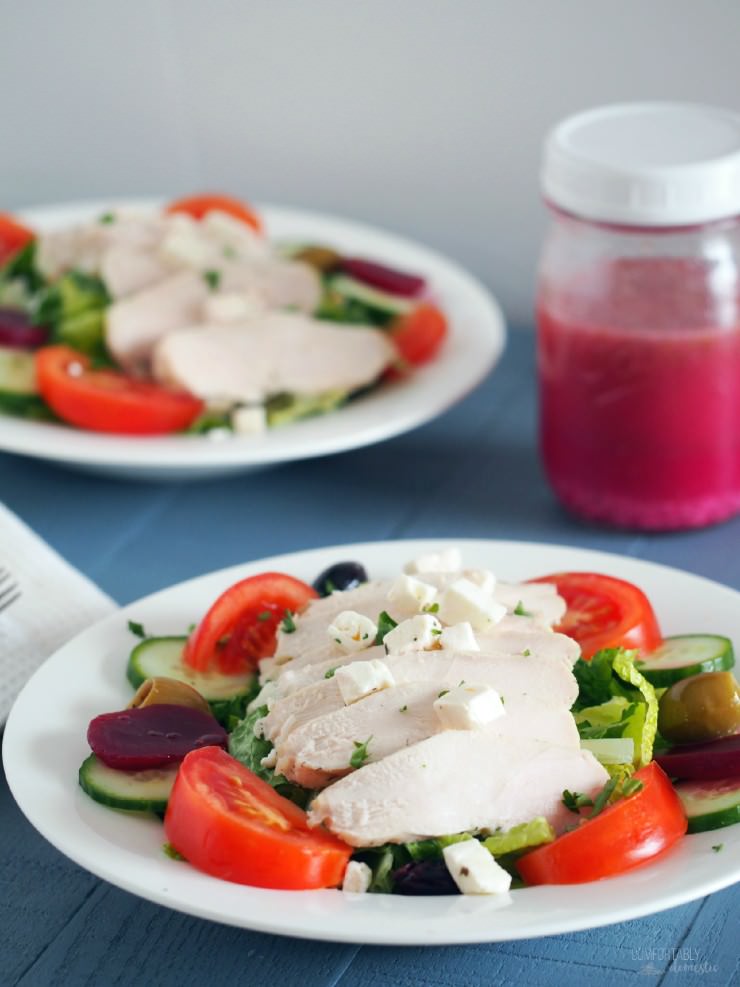 That said, I'm certainly not advocating diving face first into a vat of queso dip with chorizo if you lactose intolerant. Rather, I'm simply pointing out that a sprinkle of crumbly cheddar over roasted black bean tacos may be just fine and quite enjoyable for those with a lactose sensitivity.
I made these Chicken Greek Salads with a lower lactose aged feta containing 0g of sugar. The feta is harder and far more crumbly than the convenient tubs of pre-crumbled feta, with a satisfying "bite" in flavor from the longer fermentation process. I personally like the fact that the cheese has an added kick to stand up to the seasoned chicken an sweeter dressing. Another tasty salad option is using the pre-crumbled feta that comes mixed with garlic and spices. The convenient crumbles make is so easy to sprinkle a little cheese over a salad just prior to serving, but the lactose levels will be higher in the softer variety.

Kirsten Kubert
Yields 4
Chicken Greek Salad
Chicken Greek Salad rests tender chicken atop such traditional ingredients as crisp greens, pickled beets, tomato, cucumber, olives, red onion, plenty of feta cheese, and a healthy drizzle of restaurant style Greek dressing.
20 minPrep Time
20 minTotal Time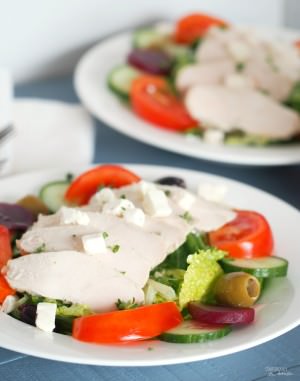 Ingredients
For the Salad:
1 lb. seasoned cooked chicken , thinly sliced
1 large Romaine lettuce heart (6 cups), rinsed and chopped
1 small (tomatoes (1 cup), cut into wedges
1 C. thinly sliced seedless cucumber
1/2 C. pickled beet slices, drained with juice reserved
1/2 C. marinated Greek olives, pitted
1/4 C. shaved red onion
1/2 C. crumbled cow's milk feta cheese, or more to taste
For the Greek Dressing:
1/2 C. light olive oil
1/4 C. pickled beet juice (from the jar of pickled beets used in the salad)
2 Tbs. freshly squeezed lemon juice
1 clove garlic, peeled and minced
1/2 tsp. dried oregano
1/2 tsp. black pepper
1/4 tsp. kosher salt
1/4 C. crumbled cow's milk feta, optional
Instructions
Place the dressing ingredients into a jar with tight fitting lid. Securely affix the lid and vigorously shake the jar to emulsify the dressing. Set the dressing aside while preparing the salad.
Divide the lettuce between four large dinner plates. Also divide the tomato wedges, cucumber slices, beets, olives, red onion between the four plates, arranging as desired. Top each salad with 4 ounces of the cooked chicken slices. Scatter 1 tablespoon of feta cheese (or more, to taste) over the chicken.
Shake the dressing again, and then drizzle salads with 1 to 2 tablespoons of the dressing just prior to serving.
7.6.4
95
http://comfortablydomestic.com/2016/02/chicken-greek-salad/
Comfortably Domestic - 2016

I am honored to be a Dairy Ambassador for Milk Means More – United Dairy Industry of Michigan. I'm committed to developing recipes using Michigan dairy products. All opinions are my own. Milk Means More represents the dedicated, hard working Michigan dairy farmers that are passionate about providing fresh, wholesome milk, cheese, and yogurt for you and your family. Hug a farmer, y'all!
For dairy nutrition facts, community involvement partnerships, and more great recipes, visit Milk Means More on Twitter, Facebook, YouTube and Pinterest. 

Be sure to follow my Salad Recipes board on Pinterest for more fresh ideas!
Follow Kirsten | Comfortably Domestic's board ***Salad Recipes*** on Pinterest.