White chocolate raspberry brownie ice cream is white chocolate ice cream, swirled with tangy raspberry ribbons and chunks of fudge brownies. A decadent and delicious frozen treat!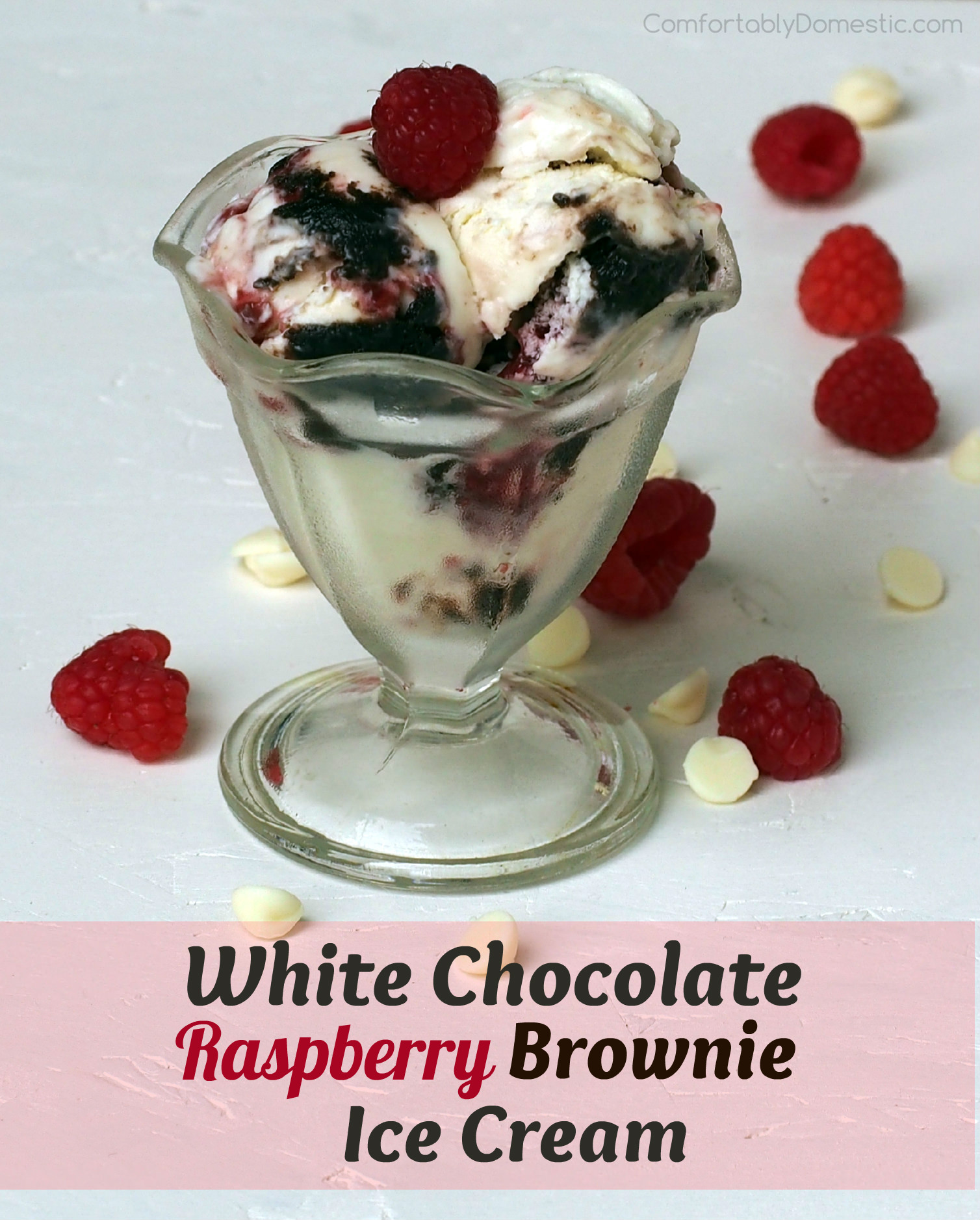 Happy National Ice Cream Month, Friends! Once again, I'll be celebrating by sharing a fresh, new ice cream recipe every week in the month of July. To help share the ice cream love, my friends at Milk Means More will pitch in with an ice cream related giveaway! Look for the giveaway details soon on the Comfortably Domestic Fan Page on Facebook.
Now, let's get down to ice cream. Ice cream is my absolute, Number 1, Top Guilty Pleasure Food. Yes, I love ice cream even more than cherry hand pies or chocolate chai sugar cookies, and that's really saying something. I could eat ice cream every day and be perfectly happy. To be perfectly honest, ice cream, pie, and cookies are my main sources of inspiration and motivation to run and stay active.  More calories burned directly equates to more calories that I can consume without the slightest bit of guilt or extra jiggles.
My jiggles have enough friends.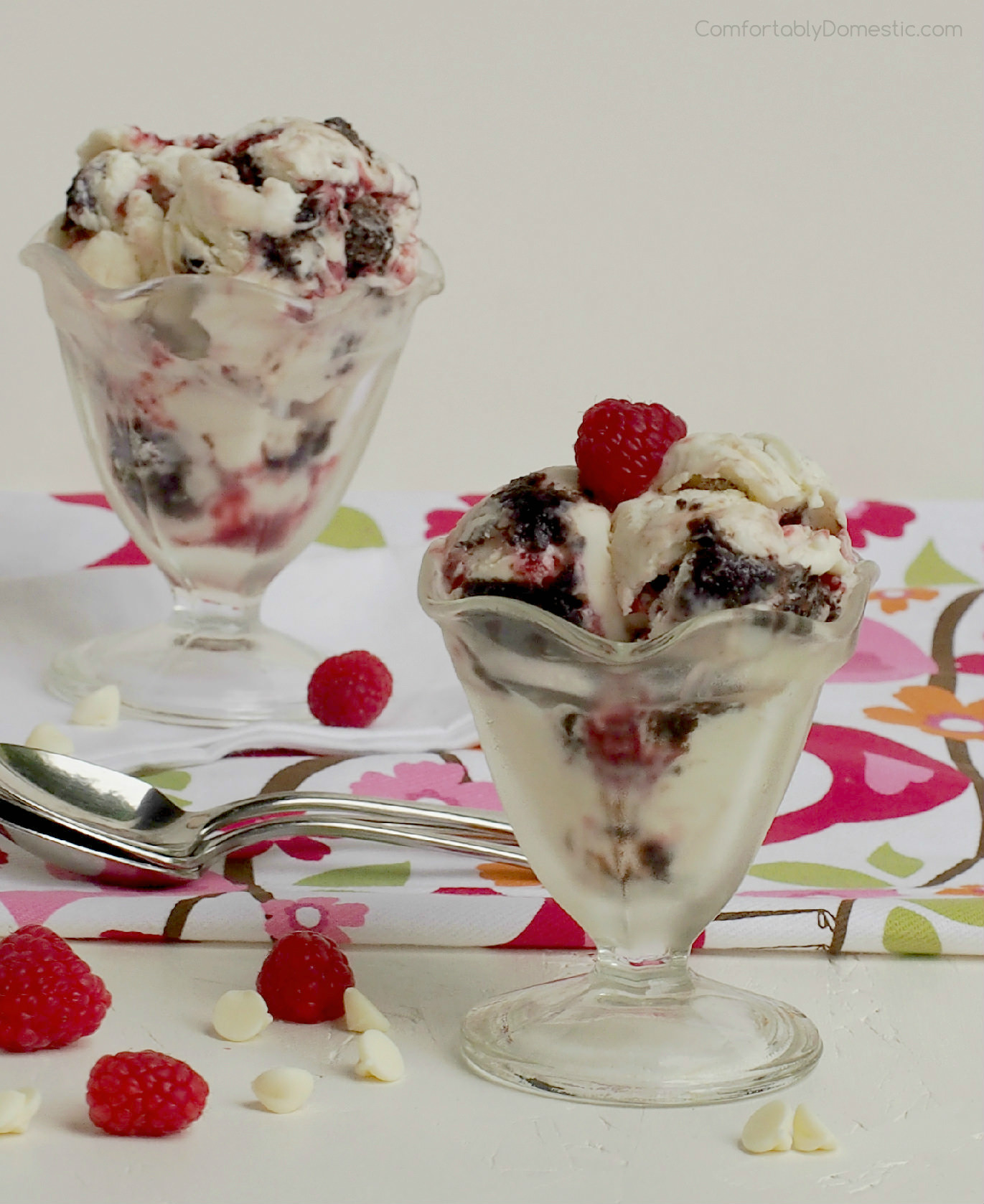 Of course, any amount of jiggles are totally worth every last bite of this White Chocolate Raspberry Brownie Ice Cream.
I've been toying with the idea of making a white chocolate ice cream base for quite awhile. While I'm not a giant fan of white chocolate on its own, I've found the when blended into recipes like buttercream frosting, white chocolate imparts a smooth and mellow undercurrent of flavor that isn't at all brash. While the white chocolate ice cream base was good, I knew that it needed a little added excitement to make it noteworthy.
Being that I'm practically a legitimate berry farmer now, I needed only to look in my own yard for inspiration stemming from my blooming raspberry bushes. Couple that with a fierce brownie craving, and White Chocolate Raspberry Brownie Ice Cream was born.
Hoooo-leeee COW, y'all! The velvety smooth white chocolate ice cream blends so well with the sweet tang of raspberry and satisfying bites of fudge brownies. I'm not too proud to say that what started as a tiny sample bite soon turned into me snarfing down a bowl while hunched over the kitchen sink, frantically hoping the my groans of sheer joy didn't alert the rest of the family to my whereabouts. It was definitely not one of my prouder moments, but there's no room for pride when it comes to homemade ice cream.
The only thing I have room for when it comes to really great ice cream is another scoop. Well, that and the extra burpees required to work it all of later. #worthit
I hope you love this white chocolate raspberry ice cream recipe!
♥♥♥
Kirsten Kubert

Yields 1.5 quarts

White Chocolate Raspberry Brownie Ice Cream

Creamy white chocolate flavored ice cream swirled with tangy raspberry ribbons and chunks of fudge brownies.

4 hr, 15 Prep Time

10 minCook Time

4 hr, 25 Total Time

Ingredients

2 C. heavy whipping cream
1 ½ C. 2% milk
3 Tbs. cornstarch
3 Tbs. granulated sugar
8 oz. white baking chocolate, finely chopped
½ tsp. vanilla extract
1/8 tsp. salt
½ C. red raspberry preserves, divided
6 oz. (172 g) fudge brownies (about three 2-inch squares), cut into ¼-inch cubes and divided

Instructions

Prepare the ice cream maker according to manufacturer's guidelines. (For example, my Cuisinart uses a removable freezer bowl that must be frozen overnight prior to use.)
Whisk the cornstarch into the milk until dissolved and smooth. Pour the milk mixture and the heavy whipping cream into a large saucepan. Add the cornstarch mixture to the pan, along with the sugar, salt, and vanilla extract.
Cook and slowly stir the ice cream base over medium heat until the sugar has completely melted and the mixture thickens. The ice cream base should be thick enough to coat the back of a spoon, but not so thick as to resemble pudding or custard. Remove from the heat. Add the chopped white chocolate to the pan, stirring until completely melted and smooth.
Transfer the ice cream base to a glass bowl. Cover the bowl with plastic wrap, ensuring that the wrap touches the entire surface of the base to avoid a "skin" from forming. Chill the base in the refrigerator until it has completely cooled. (About 2 hours.)
Once the base has been chilled through, transfer it to the ice cream maker and process it according to manufacturer's guidelines. (My Cuisinart ice cream maker requires the base be churned in the frozen freezer bowl for between 16 to 20 minutes for soft serve.)
Spoon half of the ice cream into an airtight freezer container, leveling it with the back of the spoon. Stir the red raspberry preserves well with another spoon, and then drizzle half of the preserves over the ice cream in the freezer container. Sprinkle half of the fudge brownie pieces over the layer of preserves. Spoon the remaining ice cream over top, leveling it with the back of the spoon. Drizzle the remaining preserves, and scatter the remaining brownies over all. Scrape the small amount of ice cream that is still adhered to the side of the ice cream freezer bowl, layering it over everything in the freezer container. Place the lid on the container and freeze until firm. (About 2 hours for "scoopable" ice cream or 4 hours for firm.)

7.6.4

126

http://comfortablydomestic.com/2015/07/white-chocolate-raspberry-brownie-ice-cream/

Comfortably Domestic - 2016
♥♥♥
I am honored to be a Dairy Ambassador for Milk Means More – United Dairy Industry of Michigan. I'm committed to developing recipes using Michigan dairy products. All opinions are my own. Milk Means More represents the dedicated, hard working Michigan dairy farmers that are passionate about providing fresh, wholesome milk cheese, and yogurt for you and your family. Hug a farmer, y'all!
For dairy nutrition facts, community involvement partnerships, and more great recipes, visit Milk Means More on Twitter, Facebook, YouTube and Pinterest.
♥♥♥