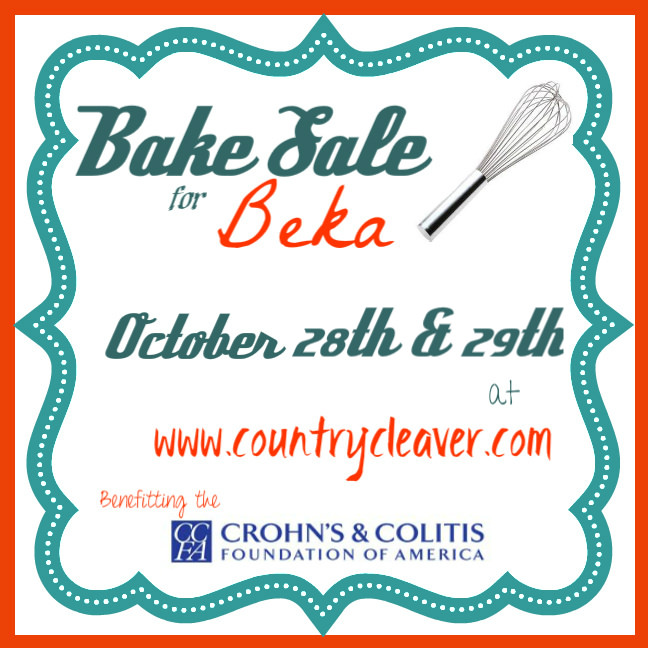 You know that expression "Any friend of yours is a friend of mine?" Well, that expression certainly applies when it comes to my BBFF Megan's friend Beka. Beka is Megan's real-life best friend who I automatically adore because, well…she's Megan's best friend.
But more than that, I love Beka because she's funny, sarcastic, and shares my love of nerdly pursuits, science fiction, and All Things Alton Brown. Beka also happens to suffer from Chron's disease. Crohn's disease and Colitis are both auto-immune diseases which affect the intestines and colon. What happens is that the body begins to see itself as a threat and attacks itself–this results in inflammation of the intestines, and symptoms including: ulcerations, diarrhea, abdominal pain, fatigue, and malnutrition. None of which is any fun at all.
Recently, Beka discovered that running helps to surpress the symptoms of her disease, so she is going to tackle 13.1 miles as part of the Team Challenge Half Marathon to raise money for the Chron's and Colitis Foundation of America (CCFA).
Megan decided to help her bestie reach her personal $3600 goal by hosting a Bake Sale for Beka, in which twenty-five bloggers are donating some radically delicious sweet and savory treats. Also rad are the corporate sponsored items up for bid, such as a one month supply of Kerry Gold USA butter & cheeses, a huge basket of infused olive oils, marinades, and snacks from Star Fine Foods, six quarts of yogurt from Chobani, a gorgeous 4 1/2 quart dutch oven from LeCruset, and so much more!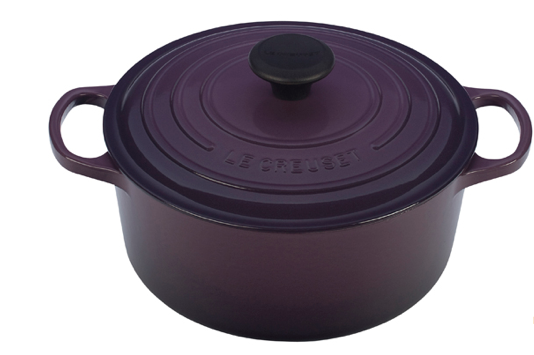 You bid on awesome baked goods, candy, or quality kitchen products, and when you win, you get the items shipped right to your own front door. All items are up for bid for two days only, October 28-29, 2012, on CountryCleaver.com.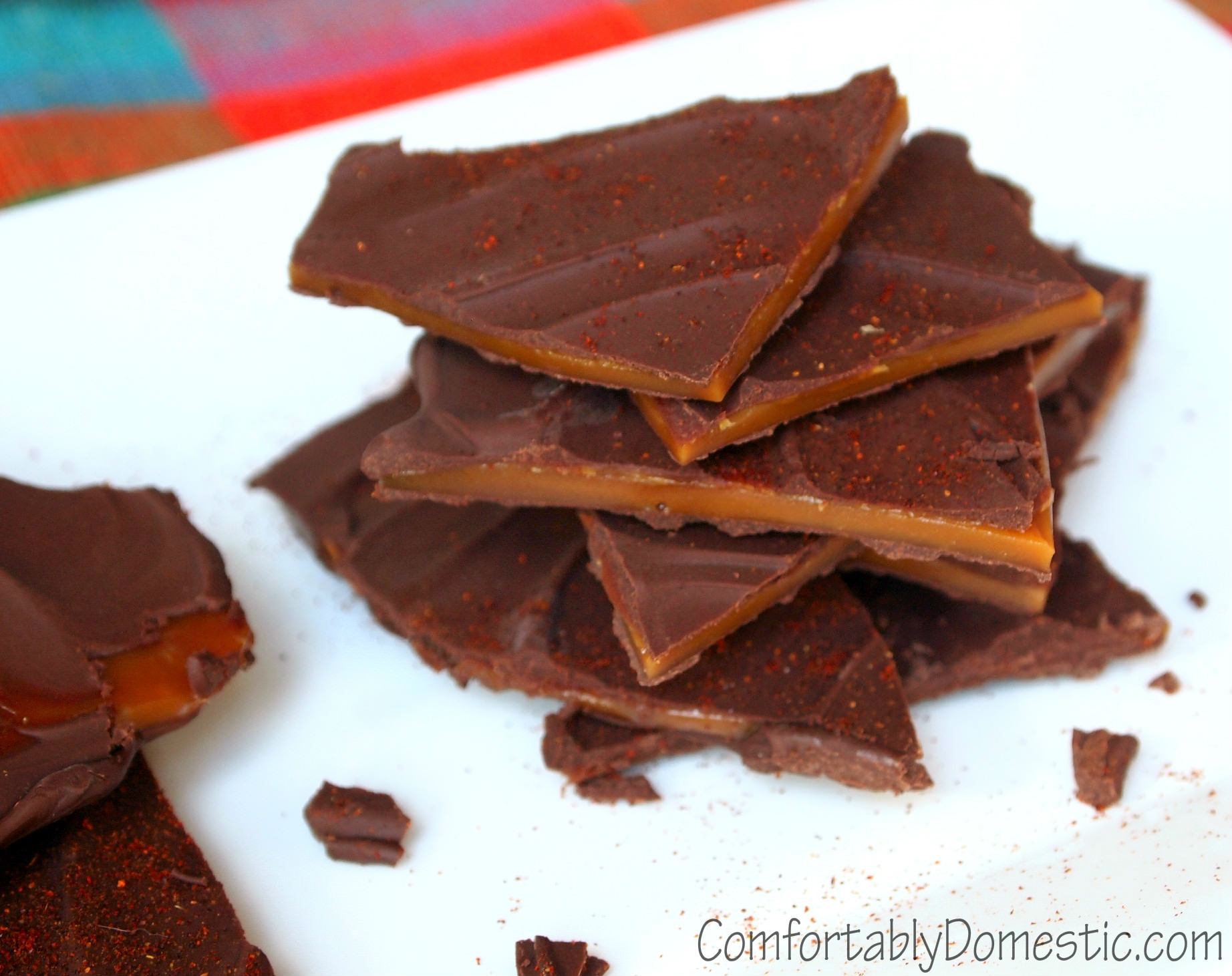 For my little part in Bake Sale for Beka, I'm donating half a pound of Dark Chocolate Chipotle Butter Toffee, which I will cheerfully ship to the winning bidder. Believe me when I tell you that this butter toffee will change your life! I'm a huge fan.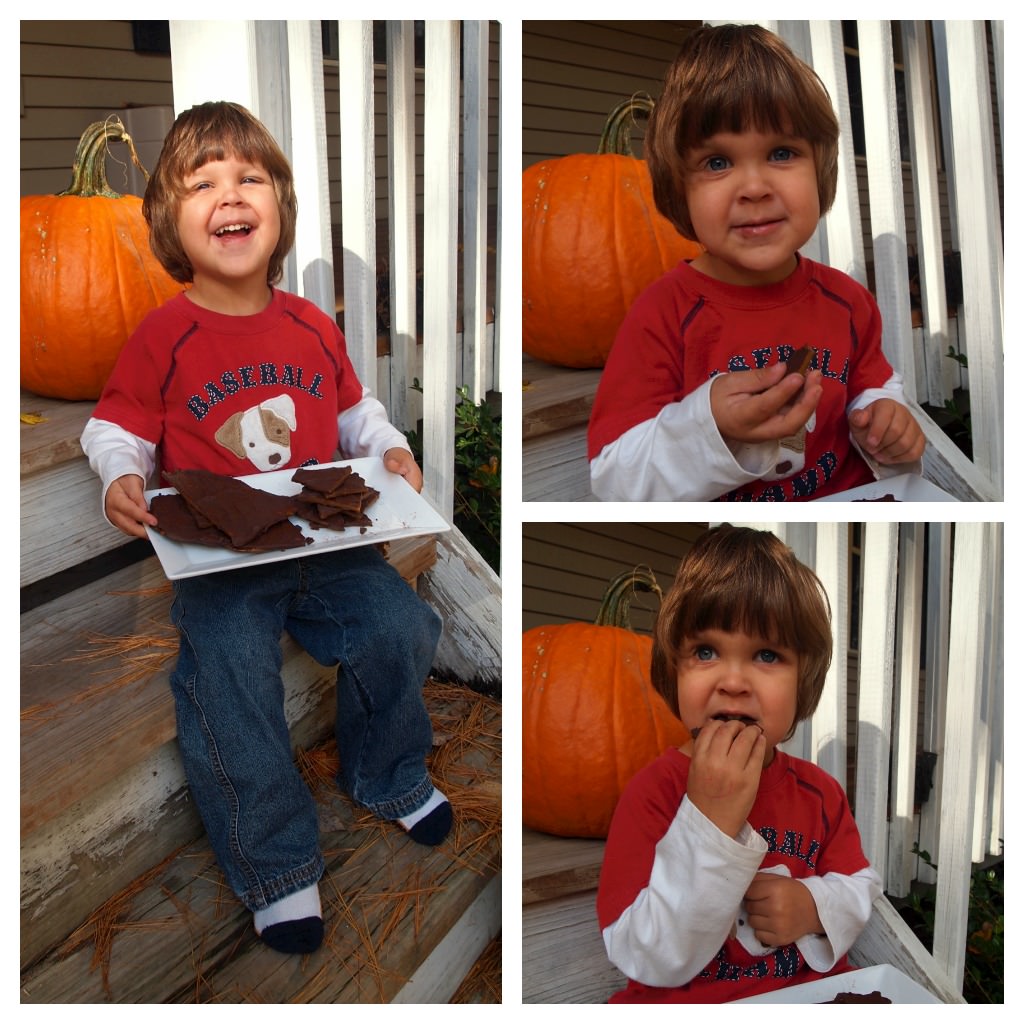 The Baby is such a big fan of Dark Chocolate Chipotle Butter Toffee that he hijacked my photo shoot and started munching away. Then I put down the camera and joined him. Between the two of us, that toffee didn't stand a chance. I'll be whipping up a fresh batch for the winning bidder, and trying to ship it before I inhale the Baby eats it and I have to repeat the whole process all over again.
So if you're feeling a little generous and love delicious homemade treats, head over to Country Cleaver's Bake Sale for Beka to browse all of the fabulous offerings, and please consider bidding to raise money to find a cure for Chron's disease.