Roasted Strawberry Rhubarb Ice Cream bakes juicy, roasted strawberries and tangy rhubarb in the oven, caramelizing and drawing sweetness to the forefront. When blended with a simple vanilla pudding and frozen in an ice cream maker, this sweet frozen treat becomes a taste of summer.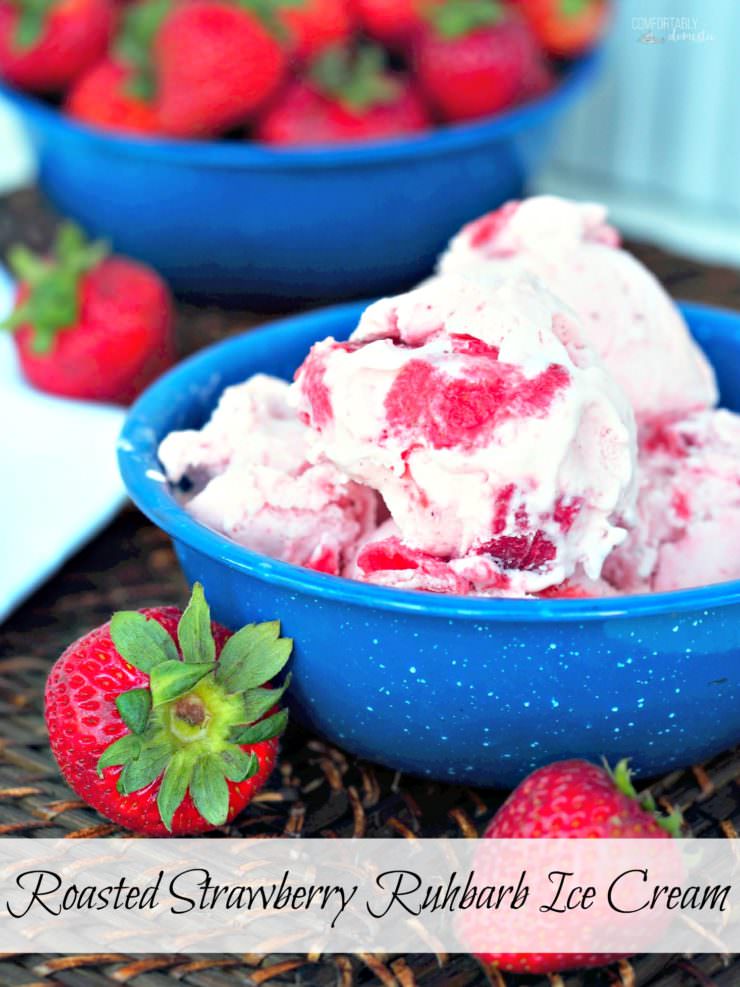 One of my favorite childhood memories centers around the year that we planted a huge garden in the backyard. When I say huge, what I really mean is that the garden took over about half of our postage stamp sized backyard. I distinctly remember that summer for two reasons: 1) I cried when we removed the tetanus breeding ground that was the rusty swing set that came with the house, and 2) the hours spent turning over the soil and weeding around the intentional plantings gave me my first glimpse into where food comes from.
I remember eagerly keeping watch over what seemed like miles of tomatoes, asparagus, zucchini, and summer squash to ensure that the vegetables were growing properly and free from the free-loading rabbits that liked to stop by for a nibble. Being a "latch-key kid" also meant that I was responsible for making my own lunches each day. Tending the garden that summer gave me a variety of fresh veggies  and sun-ripened berries to munch on instead of the usual grilled cheese and tomato soup that I was so fond of at the time.
My mom also dedicated a fair amount of the garden to growing fresh rhubarb to make jam and pies. I'm pretty confident that I'd never eaten fresh rhubarb up until that summer. The kid in me was highly suspicious of anything that even remotely resembled Swiss chard or collard greens. However, I distinctly remember chomping on a stalk of rhubarb on a dare thrown down by a neighbor pal, and my palate was forever changed. I loved that tangy burst of juice in each bite! It was like drinking fresh lemonade straight from the ground, only better!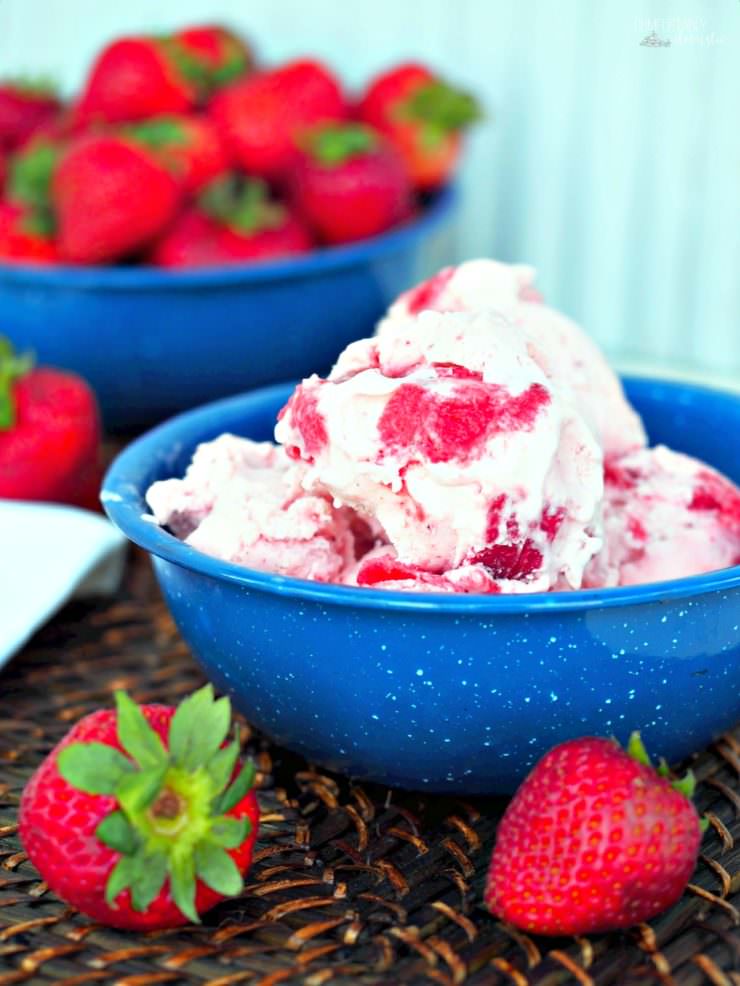 My resulting rhubarb habit meant that we didn't have enough left to harvest to make much of anything. Sorry, Mom! We had to rely on the kindness of friends to meet our rhubarb needs that year, which is exactly what I did this year. My dream of planting a giant garden this year was put on hold in order to tackle a certain son's bizarre medical emergency and a myriad of outdoor DIY projects, but those are stories for another time.
While I love the almost-bitter pucker of biting into a stalk of rhubarb, not all of my boys agree. In fact, Son #4 compared the experience of eating raw rhubarb to that of eating "sour dirt." That kid sure has a way with words.
While strawberry rhubarb pie is one of my favorites, I wanted to do something a little different with the classic combination, so I blended it into a creamy frozen treat for National Ice Cream Month. For this application, I roasted strawberries with the rhubarb to temper the bitter edge, while also caramelizing the sugars in both the fruit and vegetable. Then, it was added to my go-to vanilla ice cream base.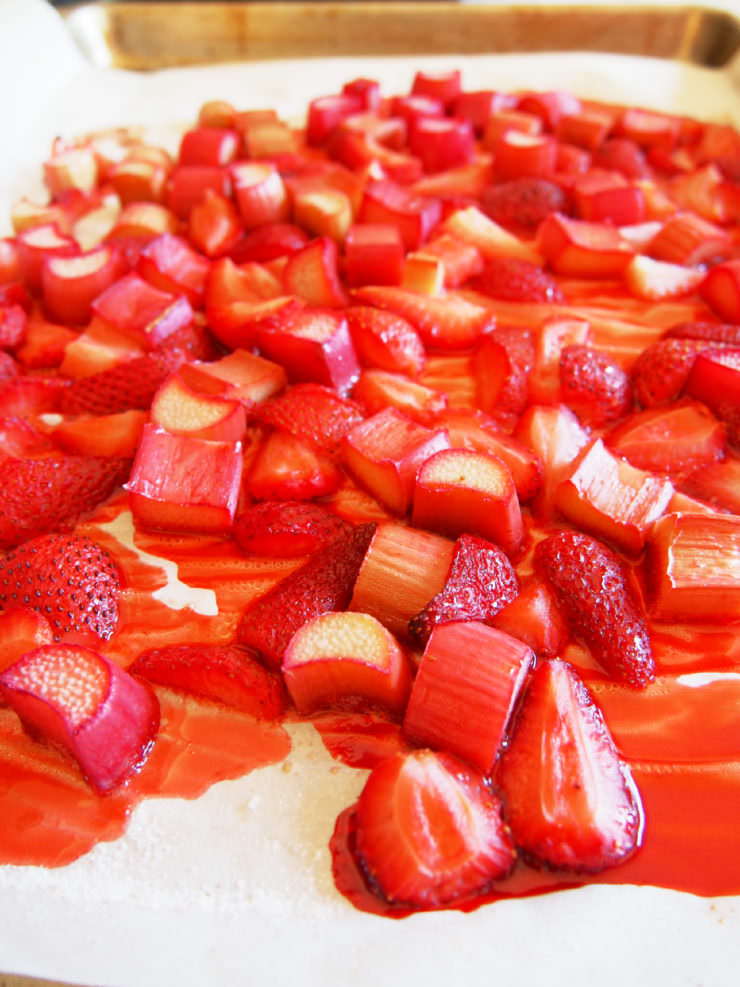 The sweet-tangy combination is so addictive that it was all I could do not to eat all of the roasted strawberry-rhubarb goodness with a spoon when it was still warm from the oven. You have been warned! If you're feeling especially lazy, you could just spoon the warm fruit over really great vanilla ice cream, but if you can resist, let it cool and make this ice cream. The resulting scoops of creamy, sweet, and tangy roasted strawberry rhubarb ice cream are well worth the wait!
Roasted Strawberry Rhubarb Ice Cream might just become a new summer dessert addiction.

Kirsten Kubert
Yields 2
Roasted Strawberry Rhubarb Ice Cream
Roasted Strawberry Rhubarb Ice Cream roasts ripe, juicy strawberries and tangy rhubarb in the oven to caramelize and draw the sweetness to the forefront when blended with a simple vanilla pudding and frozen in an ice cream maker.
4 hrPrep Time
25 minCook Time
4 hr, 25 Total Time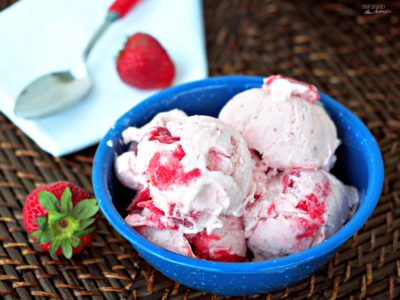 Ingredients
For the Ice Cream Base:
2 C. heavy whipping cream
2 C. 2% milk, divided
3 Tbs. cornstarch
3/4 C. granulated sugar
1/8 tsp. salt
1 tsp. vanilla extract
For the Fruit:
2 C. thinly sliced rhubarb (stalk only)
1 lb. (3 C.) fresh strawberries, hulled and quartered
1/3 C. granulated sugar
Instructions
Prepare the ice cream maker according to manufacturer's guidelines. (For example, my Cuisinart uses a removable freezer bowl that must be frozen overnight prior to use.)
Pour the heavy whipping cream, 1 1/2 cups of the milk, and vanilla extract into a large saucepan. Stir the cornstarch into the remaining half cup of milk until smooth. Add the cornstarch mixture to the pan, along with the sugar, salt, and vanilla extract.
Cook and slowly stir the ice cream base over medium heat until the sugar has completely melted and the mixture thickens. The ice cream base should be thick enough to coat the back of a spoon, but not so thick as to resemble pudding or custard. Remove from the heat.
Transfer the ice cream base to a glass bowl. Cover the bowl with plastic wrap, ensuring that the wrap touches the entire surface of the base to avoid a "skin" from forming. Chill the base in the refrigerator until it has completely cooled and chilled through. (About 2 hours.)
While the pudding is cooling, stir the strawberries, rhubarb, and sugar together in a bowl; allow the fruit to stand to release the juices (macerate) in the sugar while the oven heats.
Preheat the oven to 400 degrees F. Line a rimmed half sheet pan with parchment paper. Spread the macerated fruit in an even layer on the prepared baking sheet. Roast the fruit for 25 minutes or until the juices thicken slightly and the fruit is soft. Remove fruit from the oven and allow it to cool completely. Reserve half of the fruit mixture.
Once both the pudding and fruit are completely cool, puree half of the fruit mixture with all of the pudding in a blender or food processor until smooth. Transfer the mixture to a prepared ice cream maker and process it according to manufacturer's guidelines. (My Cuisinart brand ice cream maker requires the base be churned in the frozen freezer bowl for between 16 to 20 minutes for soft serve.)
Layer the soft ice cream with the reserved fruit mixture in an airtight freezer container. Freeze until firm. (About 2 hours for "scoopable" ice cream or 4 hours for firm.)
7.6.4
121
http://comfortablydomestic.com/2016/07/roasted-strawberry-rhubarb-ice-cream/
Comfortably Domestic - 2016

I am honored to be a Dairy Ambassador for Milk Means More – United Dairy Industry of Michigan. I'm committed to developing recipes using Michigan dairy products. All opinions are my own. Milk Means More represents the dedicated, hard working Michigan dairy farmers that are passionate about providing fresh, wholesome milk, cheese, and yogurt for you and your family. Hug a farmer, y'all!
For dairy nutrition facts, community involvement partnerships and more great recipes, visit Milk Means More on Twitter, Facebook, YouTube and Pinterest.