Baked Chicken Parmesan takes on a lighter spin, using economical chicken thighs coated in seasoned bread crumbs, a drizzle of butter, and then baked until crisp. The crunchy, juicy chicken is finished with a touch marinara and parmesan cheese for that classic, comforting flavor with fewer calories than the original.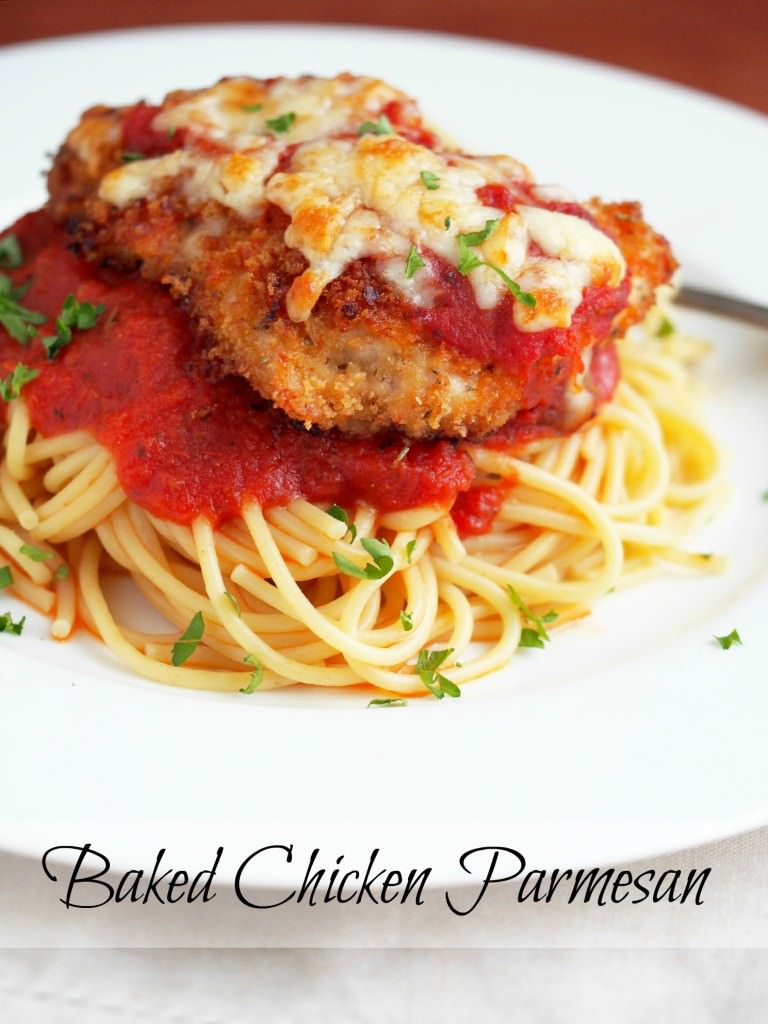 How are the healthy eating resolutions going? Yeah, me too. The first week of a new eating regime is hard. The second and third weeks are a little easier. By the time the fourth week rolls around, I want to eat all the comfort foods known to man. It's a predictable cycle. Sure, I don't shy away from really great fried chicken every once in a awhile but if I don't want my jeans to scream in protest, I'd better stick to healthier options with all the flavor and crunch, but fewer calories, like these baked coconut chicken tenders.
So here we are in week four of healthier eating, and I've held up fairly well. My body is no longer protesting the dramatic increase of vegetables at every meal, I've gotten back into a regular exercise routine, and I've even managed to be satisfied after eating one soft batch oatmeal scotchie cookie instead of grabbing my usual three. Little victories abound!
Unfortunately, that nagging fried chicken craving has refused to be abated. I don't know what is it about cravings intensifying whenever I'm trying to be good, but the struggle is real. Let's face facts…I bake nearly every day. Avoiding that kind of temptation is next to impossible to avoid around here. Couple that with the facts that I wouldn't be pleasant to be around if I were forced to give up cookies, pie, or cheese. Balance is the key! I've learned that if I don't balance my diet by giving into a craving now and again, then I go completely off the rails and eat All the Things. Afterwards, I feel awful and can easily slip into a few days of self loathing for falling off the healthy eating wagon. But you know what else I've learned? As long as I make good food choices at least 80% of the time, that other 20% isn't the end of the world. In fact, that 20% of indulgence tends to keep me more focused the rest of the time because I'm not obsessing about what I can't have because nothing is completely off limits.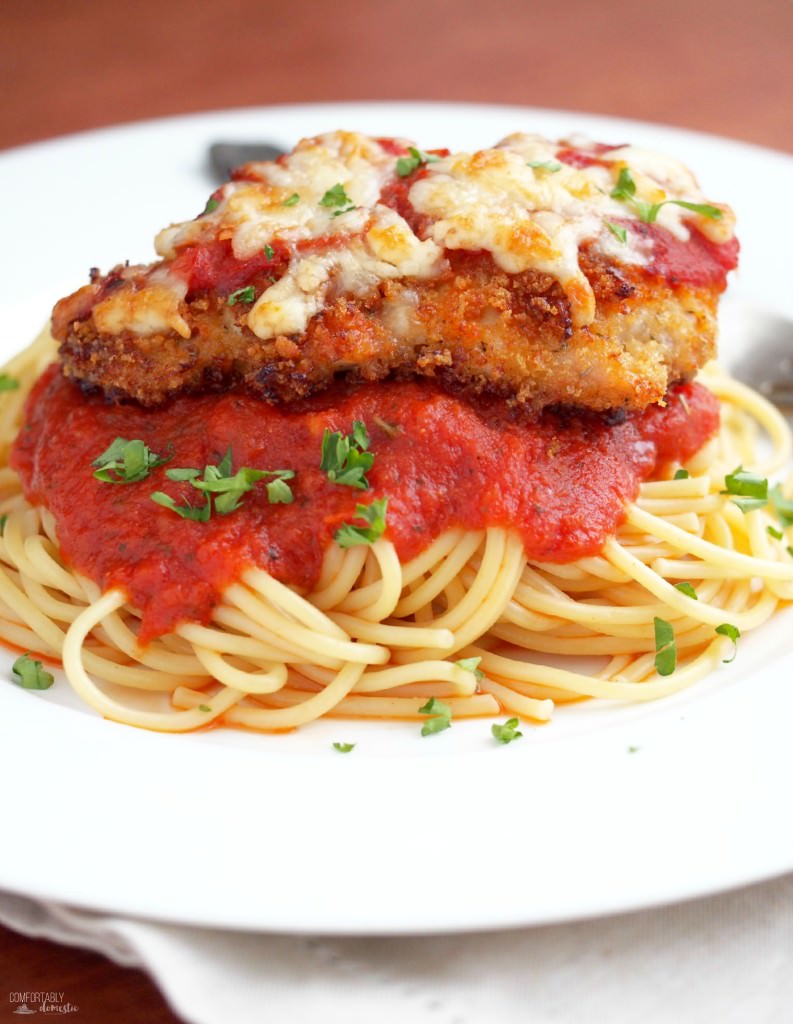 After weeks of eating garden salads with every meal, I was craving something that I could really sink my teeth into; something that would give me that pleasantly full feeling. I decided that a lighter version of chicken parmesan would do the trick. Baked Chicken Parmesan is lightly breaded, seasoned chicken that's baked to be crunchy on the outside and tender on the inside, then topped with a little zip of marinara and sprinkle of parmesan cheese. I was able to get this comforting dinner on the table in 30 minutes by using boneless, skinless chicken thighs, which are not only more economical that chicken breasts, but they don't require being pounded flat before breading because the thighs are generally an even thickness to start. Less work and less money for more flavor is a winning combination. I made the entire meal pictured here for a total of $5.98 for six servings. That's less than $1 per serving!
Baked Chicken Parmesan can be served over marinara sauced pasta for hearty, satisfying meal. To lower the amount of total carbohydrates, simply serve it alongside a salad and steamed vegetables and stay on the straight path to eating well while still satisfying a craving for comfort food.

Kirsten Kubert
Yields 6
Baked Chicken Parmesan
Baked Chicken Parmesan takes a lighter spin, using economical chicken thighs coated in seasoned bread crumbs, drizzled with butter, and then baked until crisp. The crunchy, juicy chicken is finished with a touch marinara and parmesan cheese for that classic, comforting flavor with fewer calories.
10 minPrep Time
20 minCook Time
30 minTotal Time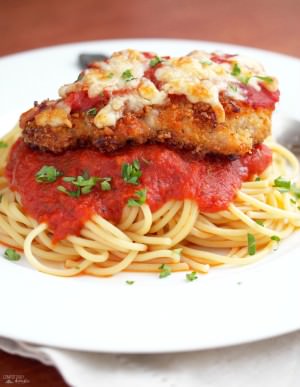 Ingredients
For the Chicken—
1 1/2 lbs. (6 pieces) boneless, skinless chicken thighs
2/3 C. whole wheat Panko style breadcrumbs
1 tsp. Mrs. Dash Italian seasoning medley (or another blend that includes garlic)
3/4 C. finely grated parmesan cheese, divided
5 Tbs. unsalted butter, melted
For Serving—
1 lb. thick spaghetti, prepared according to package directions
3 C. (24 oz.) prepared tomato & basil pasta sauce, warmed
Instructions
Preheat the oven to 400 degrees F. Line a rimmed half sheet pan with parchment paper; set it aside.
Combine the breadcrumbs, Italian seasoning, and 1/4 C. of finely grated parmesan cheese in a shallow dish or pie plate, stirring with a fork until blended. Pour the melted butter in another shallow dish or pie plate.
Working with one chicken thigh at a time, dip each side in the melted butter to coat. Press the butter soaked chicken into the bread crumbs, turning to coat well on both sides. Place the breaded chicken onto the prepared baking sheet. Repeat with the remaining chicken thighs.
Once all of the chicken is breaded, drizzle the remaining melted butter over it. Bake for 8 minutes. Turn the chicken over and continue baking for another 7 minutes to crisp the other side. Briefly remove the chicken from the oven. Spoon two tablespoons of pasta sauce over each chicken thigh. Sprinkle the remaining grated parmesan cheese evenly over the chicken. Return the chicken to the oven and continue baking for an additional 5 minutes or until cooked through.
Serve Baked Parmesan Chicken over hot cooked spaghetti topped with additional pasta sauce.
7.6.4
91
http://comfortablydomestic.com/2016/01/baked-chicken-parmesan/
Comfortably Domestic - 2016

I am honored to be a Dairy Ambassador for Milk Means More – United Dairy Industry of Michigan. I'm committed to developing recipes using Michigan dairy products. All opinions are my own. Milk Means More represents the dedicated, hard working Michigan dairy farmers that are passionate about providing fresh, wholesome milk, cheese, and yogurt for you and your family. Hug a farmer, y'all!
For dairy nutrition facts, community involvement partnerships, and more great recipes, visit Milk Means More on Twitter, Facebook, YouTube and Pinterest.