Morning Glory Muffins are bring a little bite of cheerful nutrition to start the day. Lightly sweet muffins with a flavor as bright and sunny as a glorious morning sunrise! This post is sponsored by the United Dairy Industry of Michigan. All thoughts are my own.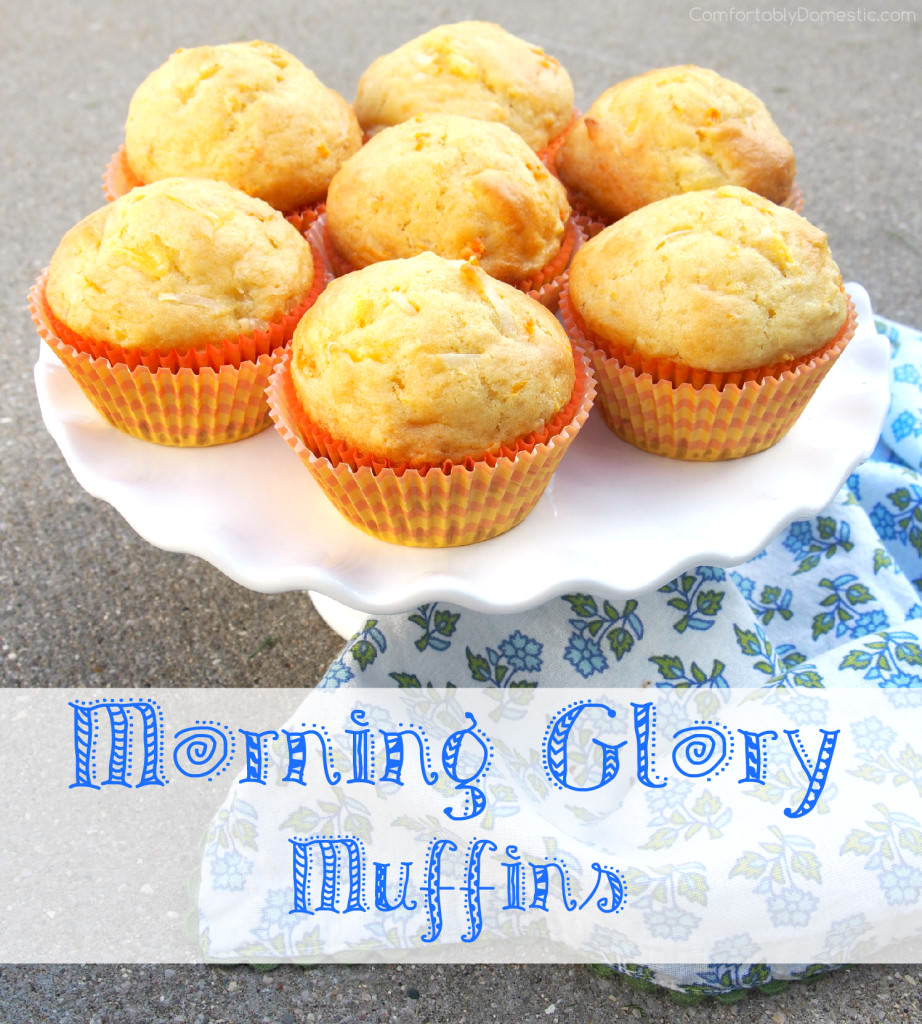 Hello, sweet Friends! How I've missed you! The last month has been beyond eventful around the Comfortably Domestic house…or shall I say houses? In the past three weeks, Bacon Slayer underwent knee surgery for a torn meniscus that he sustained during a pick-up soccer scrimmage of parents versus our Varsity Boys team. In true form, he continued to play for an hour to finish the game, giving no indication that anything was amiss. This is the same man that broke his hand in the the first inning of a double header in softball and continued to play short stop in both games. The man has an unbelievable pain threshold.
Anyway, my love had surgery, we accepted an offer on our house, twenty-seven gallons of paint later, I finished painting our new house, packed all of our worldly possessions into boxes, moved them into our new house, started our homeschool year with the Sons, and then I went on a press trip that I'll be telling you more about next week. Sprinkle in a few dozen soccer games and practices for Son #1, practices for Son #3's team (of which I am the coach,) and unpacking a few hundred boxes of stuff later, and here we are! Never a dull moment around here.
Sometimes I exhaust me. 
Suffice it to say, the past month has been one in which the only way to survive it all was to circle the wagons and concentrate on what is truly important–family.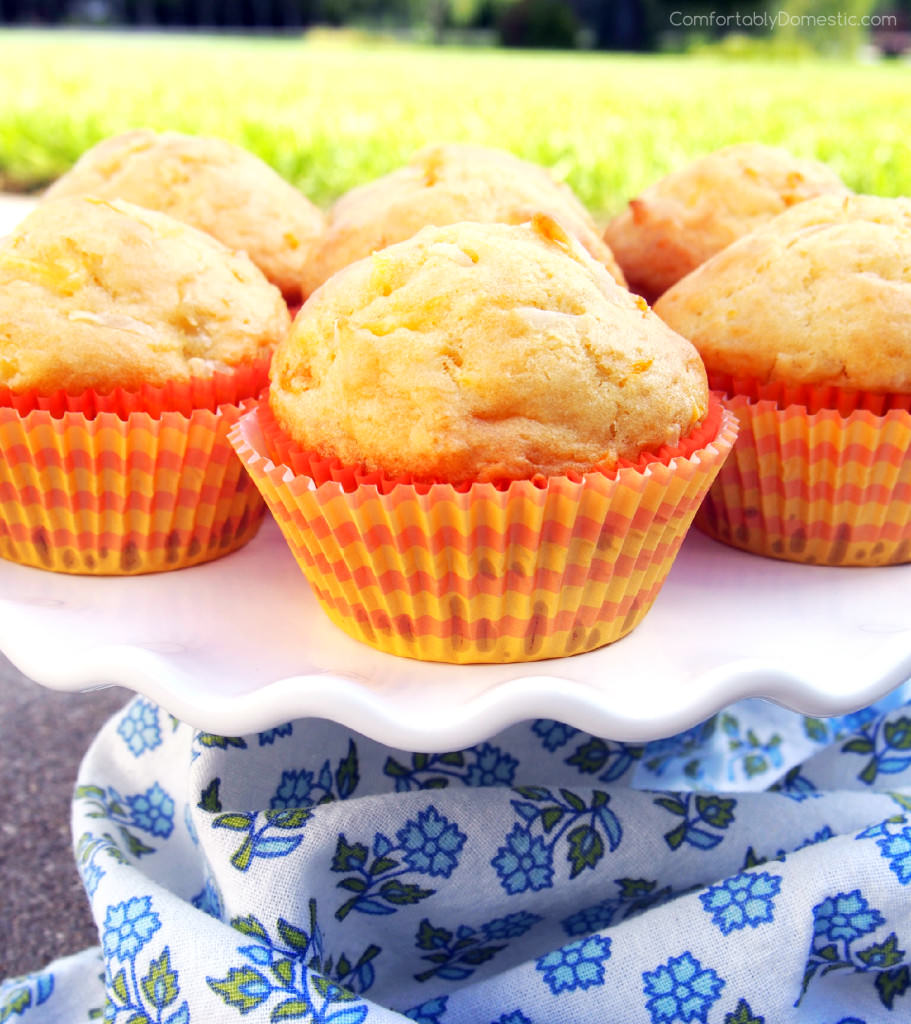 Oh, and these Morning Glory Muffins helped keep us from starving in the process.
Morning Glory Muffins are lightly sweet, stuffed full of such nutritious add-ins as vanilla yogurt, carrots, coconut, and bits of pineapple.  I've been baking Morning Glory Muffins twice a week for the past month so that we always have a healthy snack or light meal to sustain us. All the protein, vitamins and healthy fats provide the energy needed to keep soldiering on through the day.
The bright flavors of a Morning Glory Muffin always put a smile on my face.
They're just so stinkin' cheerful!

Kirsten Kubert
Yields 14
Morning Glory Muffins
Lightly sweet muffins with a flavor as bright and sunny as a glorious morning sunrise; Morning Glory Muffins are bring a little bite of cheerful nutrition to start the day.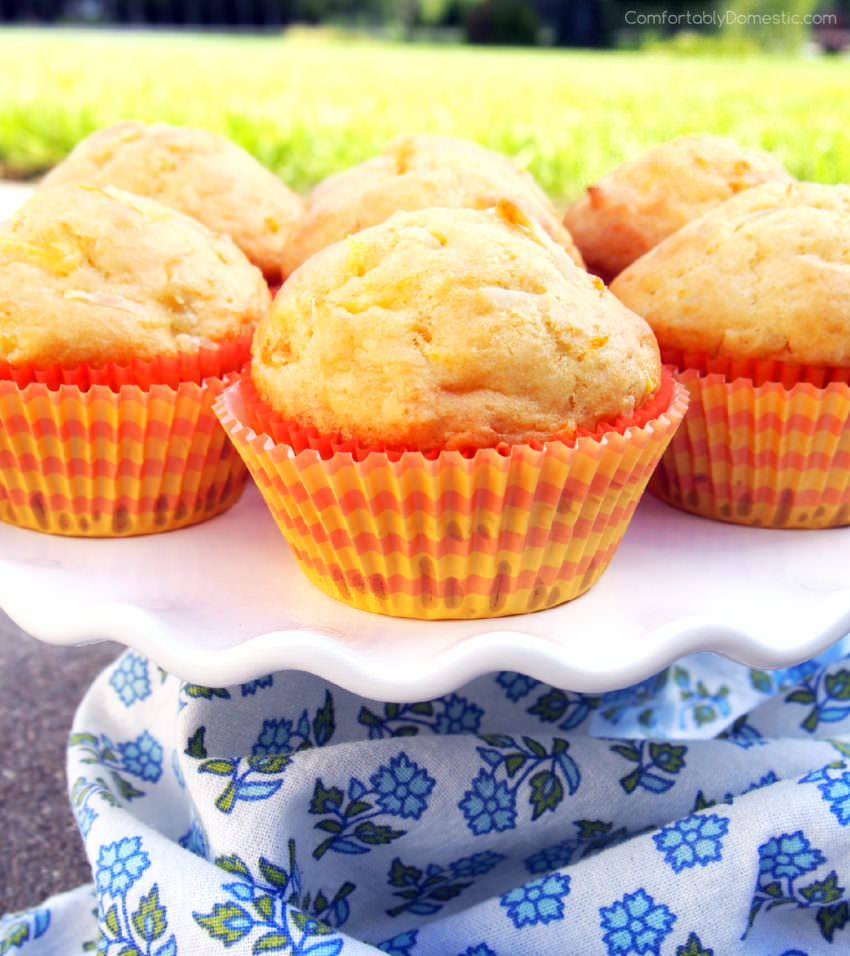 Ingredients
2 1/4 C. all-purpose flour
2 tsp. baking powder
1 tsp. baking soda
1/2 C. canola oil
1/3 C. granulated sugar
6 oz. vanilla yogurt
2 eggs
8 oz. can crushed pineapple, drained
1/2 C. (about 1 medium) finely shredded carrots
1/3 C. sweetened shredded coconut
Instructions
Preheat the oven to 375 degrees F. Line the wells of a muffin pan(s) with paper liners or spray the interior with baking spray; set the prepared pan(s) aside.
Whisk the flour, baking powder, and baking soda together in a small bowl to combine. Make a well in the center of the dry ingredients. Set the bowl aside while attending to the wet ingredients.
In a medium bowl, whisk the canola oil, granulated sugar, vanilla yogurt, and eggs together until the eggs are fully incorporated into the mixture. Pour the mixture into the well of the dry ingredients, scraping the sides of the bowl to transfer all of the wet ingredients to the larger bowl. Use a rubber scraper or wooden spoon to gently stir the wet ingredients into the dry, until just combined; batter should be smooth but not overworked. Fold the pineapple, carrots, and coconut into the batter.
Portion the batter into the prepared muffin pan(s), filling each well 2/3 of the way full. Bake at 375 for 15 to 18 minutes, or until muffins come to a golden crown and are set in the centers. Immediately turn the muffins out onto wire cooling racks.
Serve warm with butter or allow muffins to cool completely. Muffins may be stored refrigerated in an airtight container for up to 5 days.
Notes
Recipe Notes: This muffin recipe was developed using low fat vanilla yogurt made with real sugar. Using "lite" yogurt, fat free, or yogurt made with sugar substitutes in the recipe will dramatically change the flavor and texture of the muffins.
7.6.4
66
http://comfortablydomestic.com/2015/09/morning-glory-muffins/
Comfortably Domestic - 2016

I am honored to be a Dairy Ambassador for Milk Means More – United Dairy Industry of Michigan. I'm committed to developing recipes using Michigan dairy products. All opinions are my own. Milk Means More represents the dedicated, hard working Michigan dairy farmers that are passionate about providing fresh, wholesome milk, cheese, and yogurt for you and your family. Hug a farmer, y'all!
For dairy nutrition facts, community involvement partnerships, and more great recipes, visit Milk Means More on Twitter, Facebook, YouTube and Pinterest.