Honey Roasted Peach Smoothies have a touch of butter and honey to bring out the nutty sweetness. Blended with yogurt and milk for a simply delicious smoothie. This post is sponsored by the United Dairy Industry of Michigan. All thoughts are my own.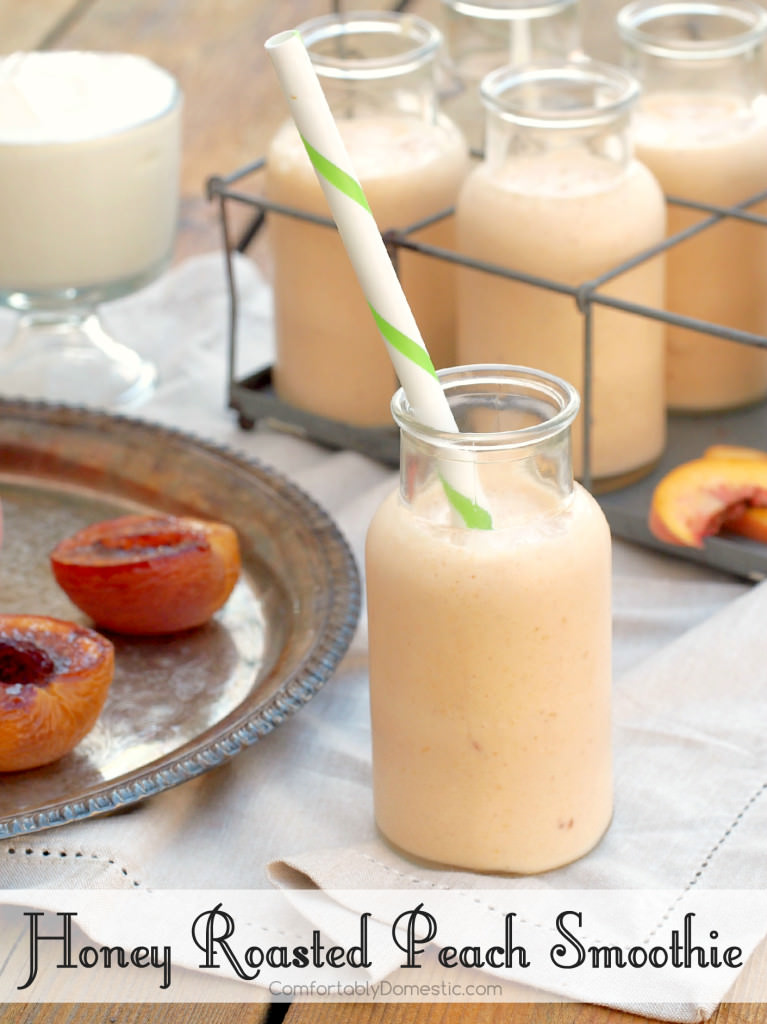 It's no secret that I love fruit in just about any form. I eat fresh, seasonal fruit by the pound all summer, frozen fruit smoothies all winter, and y'all know that cherry hand pies are my spirit animal food. Fruit is my jam.
If you've ever grilled pineapple for chicken kabobs, then you already know that applying a hot flame caramelizes the outside of the fruit, giving it a smoky-syrupy taste while leaving the texture largely unchanged. Knowing that fact, I wondered what subjecting fruit to a prolonged, even heat might do? Sure, I've roasted figs because they're an easy, accompaniment to really great cheese, but the flavor gets caught up in the other strong flavors paired alongside. I wanted to make something in which the roasted fruit didn't have to compete for attention.
Roasting fruit in the oven gives the heat more time to break down the natural sugars, resulting in deep caramelization. A drizzle of honey enhances the process, and a touch of salted butter browns in then oven, resulting in a sweeter, almost nutty flavor.
I applied the technique to ripe peaches, and the end result was like whoa. Where have roasted peaches been all my life? The peachy flavor is so much more intense after basking in the oven.
Seriously, you need to try honey roasted peach smoothies!
Roasted peaches are great on their own, a delightful add-in to morning oatmeal, and over-the-top delicious served warm with a scoop of vanilla ice cream–all of which we tried in the same week. By far our favorite application was in smoothie form.
Honey Roasted Peach Smoothies are a simple, satisfying blend of roasted peaches, milk, yogurt, and ice cubes.
The result is a cool, frothy sipper that allows caramelized peach flavor to shine through. I highly recommend them as a morning pick-me-up or healthy dessert option when you're feeling a little fruity.

Kirsten Kubert
Yields 4
Honey Roasted Peach Smoothies
Roasted ripe peaches drizzled with a touch of butter and honey to bring out the nutty sweetness before being blended with yogurt and milk for a simply delicious smoothie.
15 minPrep Time
25 minCook Time
40 minTotal Time
Ingredients
4 very ripe peaches
1/2 Tablespoon salted butter
2 Tablespoons honey
1 cup milk
1 cup vanilla yogurt
1 cup small ice cubes
Instructions
Preheat the oven to 375 degrees F. Line a half sheet pan with non-stick aluminum foil.
In a small bowl, melt the butter with the honey in the microwave for 30 seconds on 50% power; stir. Vertically slice the peaches in half. Remove the pits. Place the peach halves cut side up onto the prepared pan. Drizzle the cut sides of the peaches with melted honey butter. Roast the peaches in the oven for 15 minutes. Flip the peaches over so that the cut sides are lying flat on the pan. Continue roasting the peaches for an additional 10 minutes or until flesh is soft, and caramelized.
Transfer the peaches to a ceramic plate, cut side up. Refrigerate the roasted peaches for 10 minutes to cool. While the peaches are cooling, fill a blender carafe with the milk, vanilla yogurt, and ice.
Once the peaches have cooled down significantly, gently pinch the center of the peel side, pulling outward to remove the skin. Place the skinless roasted peaches into the blender carafe. Blend the smoothie mixture on high speed for 10-15 seconds or until peaches are pureed and ice is crushed.
Serve immediately.
7.6.4
67
http://comfortablydomestic.com/2015/09/honey-roasted-peach-smoothies/
Comfortably Domestic - 2016

I am honored to be a Dairy Ambassador for Milk Means More – United Dairy Industry of Michigan. I'm committed to developing recipes using Michigan dairy products. All opinions are my own. Milk Means More represents the dedicated, hard working Michigan dairy farmers that are passionate about providing fresh, wholesome milk, cheese, and yogurt for you and your family. Hug a farmer, y'all!
For dairy nutrition facts, community involvement partnerships, and more great recipes, visit Milk Means More on Twitter, Facebook, YouTube and Pinterest.