Black bean cakes, crispy exterior, with a silky smooth interior, artfully mingle with fire roasted red pepper and jalapeno cream.
I am honored to be a Dairy Ambassador for Milk Means More – United Dairy Industry of Michigan. I'm committed to developing recipes using Michigan dairy products, and opinions are my own. Milk Means More represents dedicated, hard working, Michigan dairy farmers. Those farmers are passionate about providing fresh, wholesome, milk, cheese, and yogurt for you and your family. Hug a farmer, y'all!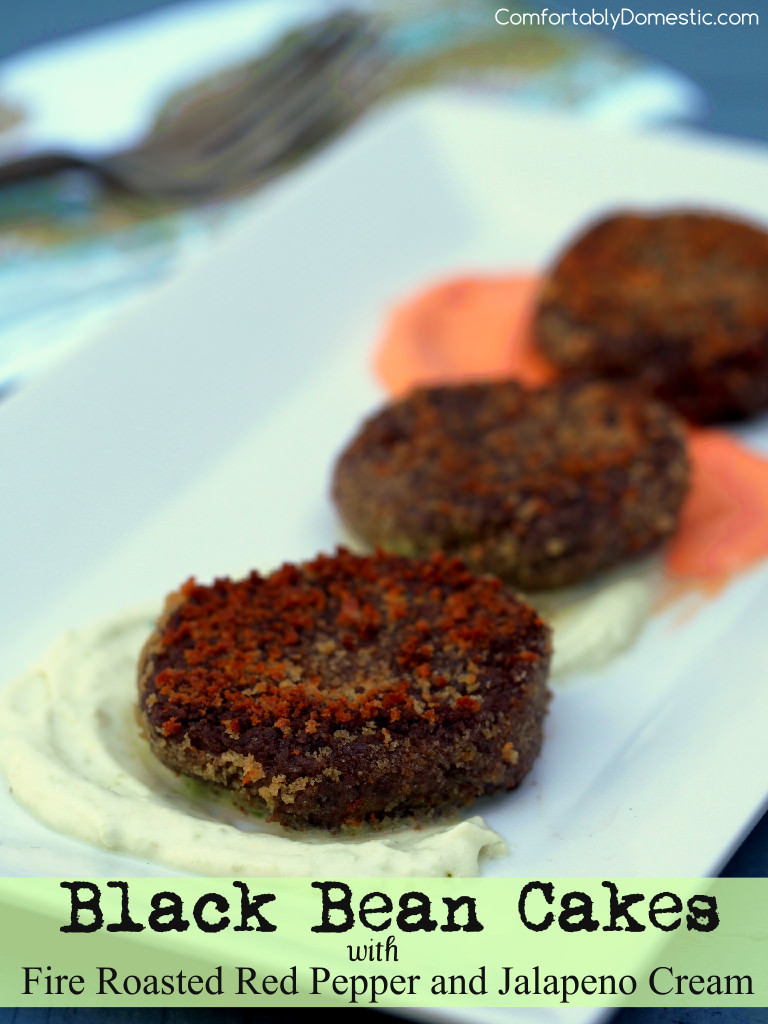 Long before we ever decided to move to the 45th Parallel, we were what I like to call Reverse Snow Birds because the only time that Bacon Slayer and I traveled to our prospective future hometown was to ski and otherwise frolic in the snow. Those of you that have either visited the northwest corner of the mitten, or have seen the national Pure Michigan tourism campaign might find this a bit odd. I mean, really. Who thinks to move to an area most widely known for small town festivals, quaint little shops, seemingly billions of acres of orchards, and crystal clear blue water without ever experiencing a summer there?
We do. Because we're certifiable weirdos.
Our first experience on the 45th was during the whirlwind 36 hours of house hunting. Thankfully, my Aunt Marie was in from Denmark. She came with my parents to entertain our (then) three sons at the beach, while we walked through all 17 houses on our list of potential abodes. It was exhausting. Marie took one look at us after our return and decided that Bacon Slayer and I should go to dinner. Alone!
At that point, I started to get more than a little anxious about the move. I mean, our house was sold. Bacon Slayer had a new job. This whole crazy-pants idea was a done deal! What were we doing moving 5 hours north, where we knew virtually no one? How were we supposed to know which was house was in the right neighborhood, and which ones weren't the right fit? Would we ever find a restaurant like the one 3 houses away from our (now) former house, where we could get a bite to eat and feel like family?
We were far too tired to be adventurous, and clueless about the food culture in the area. So, we played it safe and wandered into a Latin-fusion place just down the road from the hotel. Upon being greeted with a steaming basket of freshly fried tortilla chips and house made salsa, I was immediately smitten.
Since my brain was wound tighter than a ball of rubber bands, I could freely admit that my steady diet of venti chai lattes and iced lemon loaf was doing me no favors at that point. Wanting something light that was packed with protein so that I could think, I opted for their black bean cakes appetizer, served with a fire roasted pepper cream sauce. I knew I'd get plenty of energy from the carbs, and the cream sauce would balance out the proteins in the beans so that I could think clearly.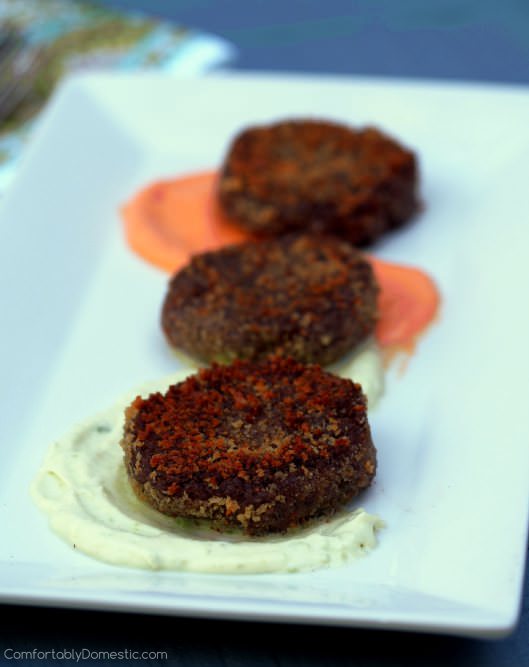 Food Dork Trivia Alert: While beans contain protein, they are missing key amino acids necessary for your body to metabolize them into fuel. Adults can synthesize 13 of the necessary 22 amino acids within the body, but must obtain the other 9 from food. These 9 essential amino acids are only found in foods regarded as "complete proteins," from largely animal-based sources, such as dairy products. Consuming sufficient complete protein is essential for brain function, to regulate blood sugar, and maintain muscle strength.
I certainly needed the strength!
One bite of those perfectly spiced black bean cakes and I knew that no matter which house we chose, we had found our new neighborhood restaurant.
Interestingly enough, we ended up buying a house less than three miles away from that restaurant. Now I'm not going to say that we chose our house based on the proximity to those black bean cakes, but the location has certainly been convenient over the years.
Now we're thinking of moving again. This time, in search of the wide open acreage that felt too isolating when we first moved north. So, I knew that I had to perfect making black bean cakes at home.
♥♥♥
Kirsten Kubert
Yields 6
Black Bean Cakes with Fire Roasted Red Pepper and Jalapeno Cream
Black Bean Cakes with Fire Roasted Red Pepper and Jalapeño Cream are crisp outside with a warm, silky interior, perfectly complimented by spicy cream sauce.
1 hrPrep Time
15 minCook Time
1 hr, 15 Total Time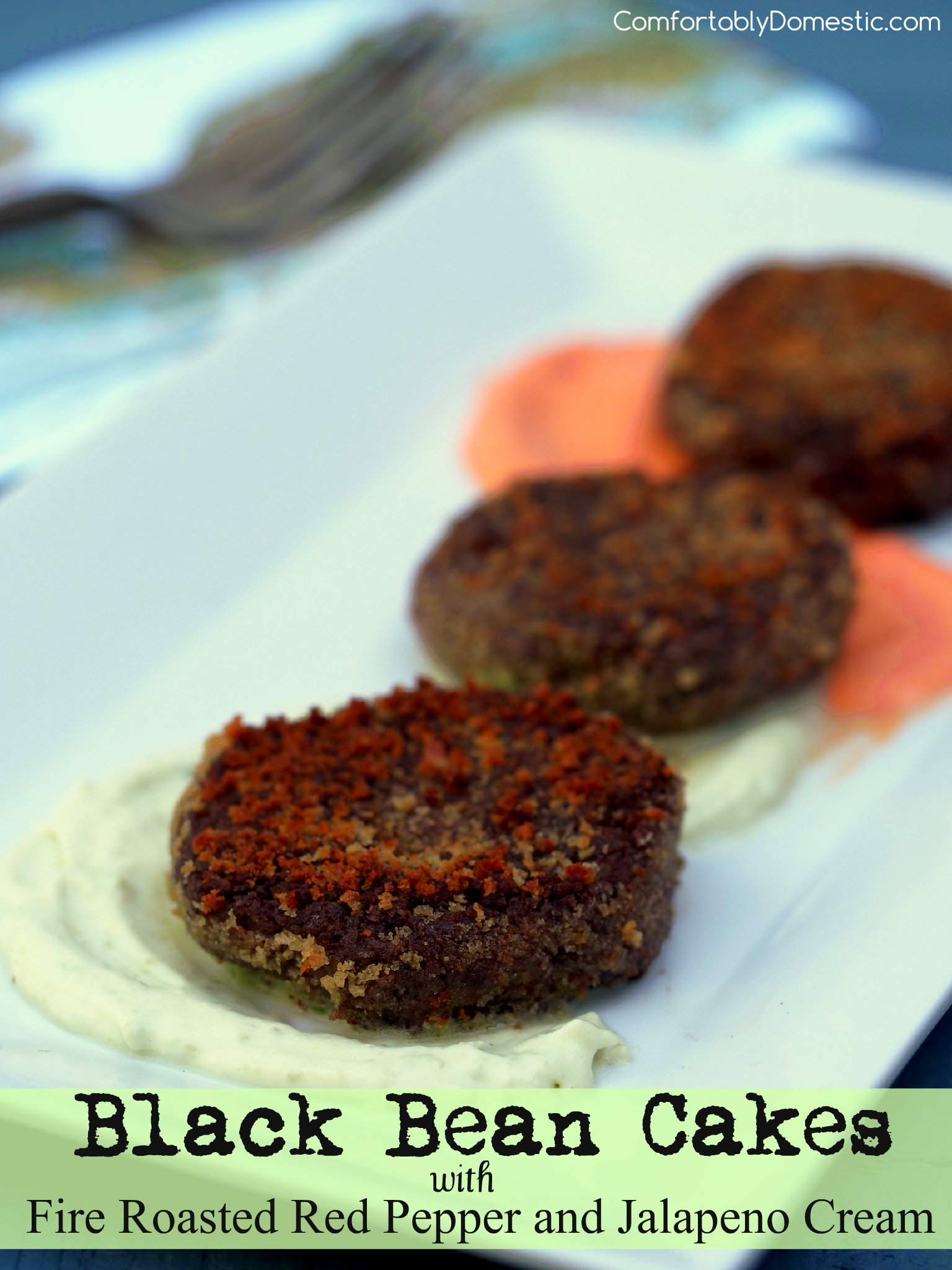 Ingredients
For the Red Pepper Cream:

1 small red bell pepper
1 cup heavy whipping cream
1 Tablespoon water
1/2 teaspoon Worcestershire sauce
1/4 teaspoon kosher salt
1/8 teaspoon cayenne pepper

For the Jalapeno Cream:

2 small jalapeno peppers
1 cup heavy whipping cream
1 Tablespoon water
1/2 teaspoon kosher salt

For the Black Bean Cakes:

2 3/4 cups (two 15 oz. cans) canned black beans, rinsed and drained
1 Tablespoon cumin
1/2 teaspoon kosher salt
1/8 teaspoon cayenne pepper
1 Tablespoon chopped fresh oregano
1/2 cup minced yellow onion
1 Tablespoon (2 cloves) minced garlic
1 Tablespoon Worcestershire sauce
1 large egg
3/4 cup fine breadcrumbs
3/4 cup Panko style breadcrumbs (to coat)
3 to 4 Tablespoons unsalted butter, divided
1 to 2 Tablespoons light olive oil, divided
Instructions
Begin by preparing the fire roasted red pepper and jalapeno cream sauces. Roast the red pepper and jalapeno peppers over an open flame until blistered and charred, turning frequently. Place the fire roasted peppers into a small brown paper bag, folding the top over twice to seal in the heat. Let the peppers rest in the bag for 5 minutes. After resting, wipe the exterior of each pepper with a crumpled sheet of paper towel to remove most of the blackened bits of char. Remove the stem and seed of the red pepper, and dice enough to equal ½ cup. Set the diced red pepper aside. Remove the stems only on the jalapeno peppers. Dice the jalapenos, seeds included, to equal ¼ cup.
Puree the diced fire roasted red peppers, heavy whipping cream, water, Worcestershire sauce, salt, and cayenne pepper with a blender. Transfer the roasted red pepper cream to a lidded container and refrigerate until serving. Wash out the blender carafe. Next, puree the jalapeno peppers, heavy whipping cream, water, and salt with the blender. Transfer the jalapeno cream to a lidded container and refrigerate until serving.
Prepare the black bean cakes by placing the rinsed and drained canned black beans into the large work bowl of a food processor. Add the cumin, salt, cayenne, oregano, onion, garlic, Worcestershire, egg, and fine breadcrumbs. Pulse the mixture until smooth but stiff. Use a medium scoop to portion the mixture into twenty 2-ounce balls. Pour the Panko style breadcrumbs into a shallow pie plate. Lightly press each ball of the black bean mixture onto the Panko to thinly coat on both sides. Set the Panko crusted black bean cakes onto a clean plate and continue with the remaining mixture.
Once the black bean cakes have been assembled, heat half of the butter and half of the olive oil in a large skillet set over medium-high heat. Working in batches so as not to crowd the pan, sauté the black bean cakes until browned on both sides--about 3 minutes total--adding more butter and olive oil to the skillet, as necessary.
Serve 2 to 3 black bean cakes over a tablespoon each of the fire roasted red pepper and jalapeno creams.
Notes
Both the roasted red pepper and jalapeno cream sauces may be made several hours to one day ahead. The sauces should be thick, but easily dribble off of a spoon.
7.6.4
128
http://comfortablydomestic.com/2015/06/black-bean-cakes/
Comfortably Domestic - 2016
Grilled Pineapple and Avocado Salsa makes an excellent companion to this dish. The black bean mixture may also be divided into six equal portions and formed into black bean burgers. Increase sauté time to between 3 to 4 minutes per side to brown the exterior. Serve the burgers on a toasted whole grain bun with the red pepper and jalapeno cream sauces spooned on top.
♥♥♥
For dairy nutrition facts, community involvement partnerships, and more great recipes, visit Milk Means More on Twitter, Facebook, YouTube and Pinterest.
♥♥♥