Chicken salad is made lighter with a flavorful yogurt dressing that includes fresh lemon juice, garlic, and dill to enrobe the juicy chicken, crunchy seasonal vegetables, and sweet dried cherries.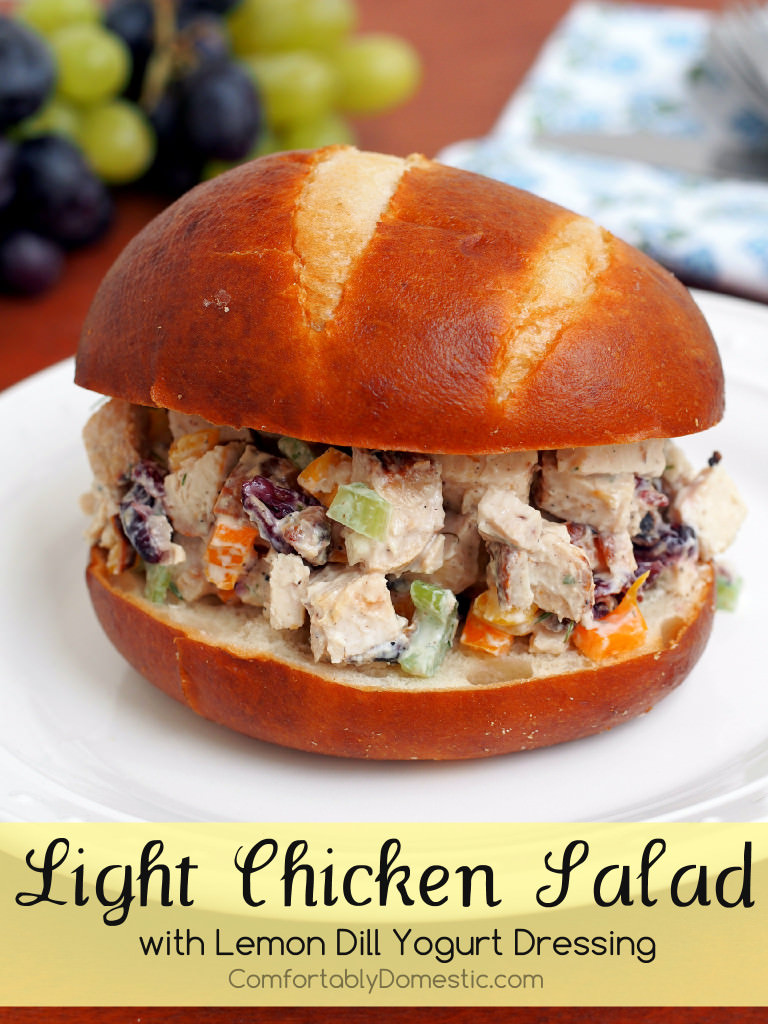 There is so much good stuff going on here that I hardly know where to begin. Shall I start with the weather? The weather is always a good place to start. Northern Michigan has been on the receiving end of some seriously beautiful weather lately., with temperatures in the 80's for consecutive days. Bright sunny skies with just a enough clouds to gaze upon make an easy sport of lounging on a picnic blanket and naming the shapes floating by.
I just adore picnic weather. Spring breezes seem to usher in cravings for fresh flavors and lighter fare right along with the warmer temperatures. As much as I try to balance out all of the really great cookies in my life with lighter meals, I'm often ravenously hungry less than an hour after eating light. I'm a comfort food girl at heart. I love butter in All the Things. I need a good amount of protein at every meal in order to stay sated.
For that reason, I've taken to working more yogurt into my comfort food recipes to lighten them up without sacrificing flavor. I especially like pairing yogurt with lean meats and vegetables for optimal nutrition. A six ounce serving of yogurt contains around 15g of protein, which is about same amount in 2-3 oz. of lean meat.
An average serving of Light Chicken Salad, with dressing, has about 30g of the suggested 46g to 56g of protein. Factor in crunchy vegetables, dried fruit, and whole grain bun, and that's a lot of staying power in one light meal. The lemon, fresh dill, and garlic in the dressing is reminiscent of a tzatziki sauce and packs a tasty punch without being heavy. The tender grilled chicken mixed with sweet bell peppers, crisp celery, and sweet dried cherries perfectly compliments the flavorful sauce.
Want to further lighten it up? Scoop Light Chicken Salad with Lemon Dill Yogurt Dressing into half a cantaloupe or on a simple lettuce leaf to save a few more calories.
Make. Devour. Feel healthy and satisfied.
Enjoy this Light Chicken Salad with Lemon Dill Yogurt Dressing recipe!
♥♥♥
Kirsten Kubert
Yields 6
Light Chicken Salad with Lemon Dill Yogurt Dressing
Classic chicken salad is made lighter with a flavorful yogurt dressing that includes fresh lemon juice, garlic, and dill. With juicy chicken, crunchy seasonal vegetables, and sweet dried cherries.
2 hr, 25 Prep Time
2 hr, 25 Total Time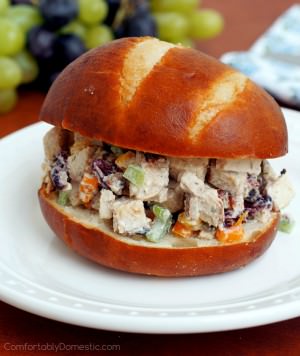 Ingredients
For the Dressing

1 ¼ C. plain yogurt (preferably Greek style)
1 clove garlic, peeled and minced
2 Tbs. (½ small lemon) freshly squeezed lemon juice
2 tsp. minced fresh dill
¼ tsp. kosher salt
1/8 tsp. black pepper

For the Chicken Salad

4 C. (2 lbs.) chopped cooked chicken (preferably grilled)
¾ C. (3 stalks) finely chopped celery
½ C. (3 miniature) finely chopped sweet bell pepper
2/3 C. sweetened, dried tart cherries
1 Tbs. grated red onion

For Serving (choose one)

6 (or 8) whole grain sandwich rolls
3 (or 4) small cantaloupe melons, halved with seeds removed
6 (or 8) large lettuce leaves
Instructions
Whisk the yogurt, garlic, lemon juice, dill, salt, and pepper together in a small bowl to combine; set the dressing aside while preparing the chicken salad.
Place the chicken, celery, sweet bell pepper, dried cherries, and grated onion into a large bowl. Pour the dressing over the salad ingredients, stirring well to evenly coat. Cover the bowl with plastic wrap, and chill the chicken salad for two hours to give the flavors time to blend together.
Scoop ½ cup of chicken salad per serving onto a sandwich roll, lettuce leaf, or into the cavity of a halved cantaloupe melon to serve.
Leftover chicken salad may be stored in an airtight container in the refrigerator for two to three days.
Notes
Prep Time: 25 minutes (plus 2 hours chill time)
7.6.4
139
http://comfortablydomestic.com/2015/05/chicken-salad-yogurt-dressing/
Comfortably Domestic - 2016
♥♥♥
I am honored to be a Dairy Ambassador for Milk Means More – United Dairy Industry of Michigan. I'm committed to developing recipes using Michigan dairy products. All opinions are my own. Milk Means More represents dedicated, hard working Michigan dairy farmers. They're passionate about providing fresh, wholesome milk, cheese, and yogurt to your family. Hug a farmer, y'all!
For dairy nutrition facts, community involvement partnerships, and great recipes, visit Milk Means More. Find them on Twitter, Facebook, YouTube and Pinterest.
♥♥♥