Savory oats are an infinitely satisfying way to start the day! Vibrant spinach, roasted sweet potatoes, and a farm fresh egg rest atop a bed of healthy oats for a delicious breakfast.
This post is sponsored by Milk Means More – United Dairy Industry of Michigan. All thoughts are mine.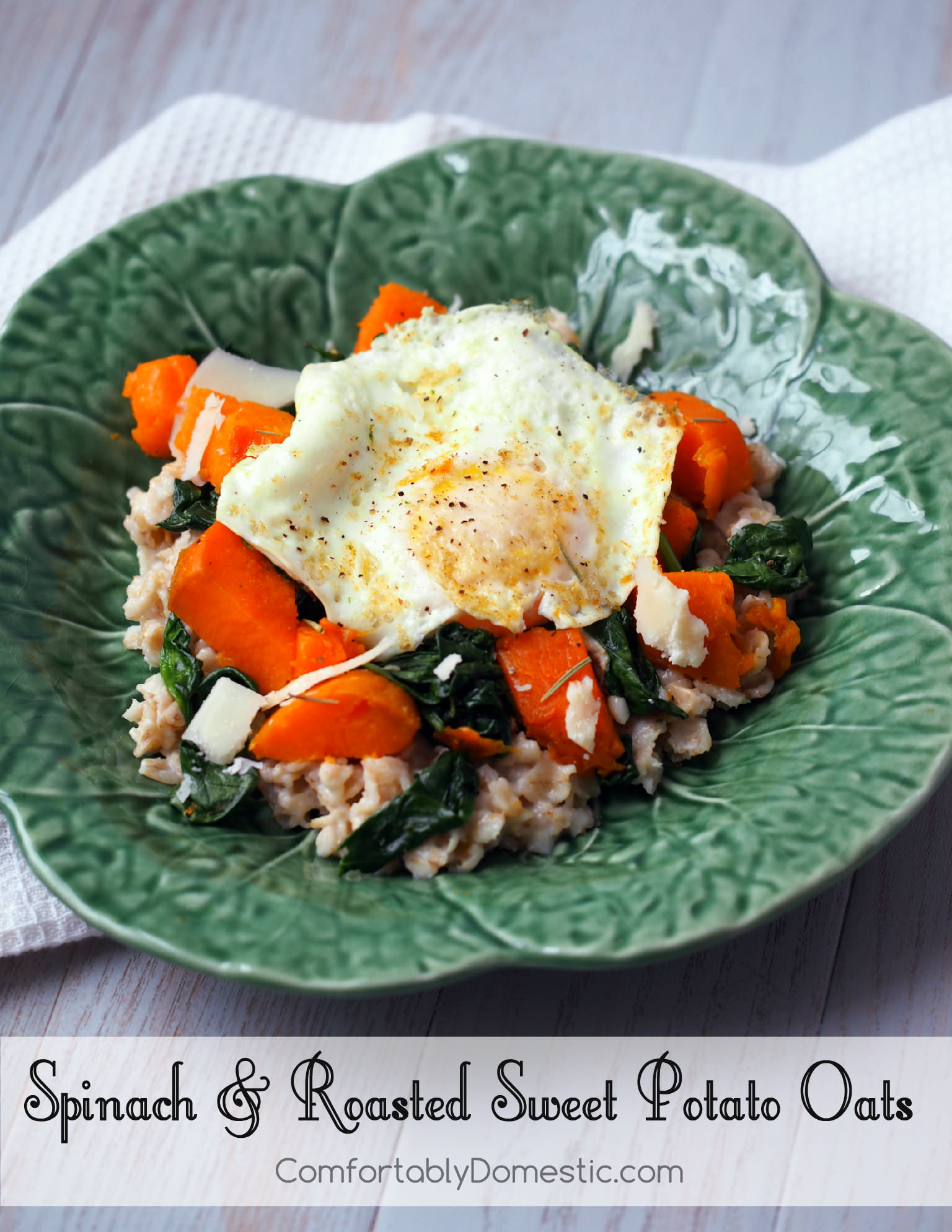 Balancing out all of the butter in my life is a definite challenge. I'm one of those weirdos that refuses to ever go on a diet. I'd much rather move a little more, try to make (mostly) good food choices, and never turn down a cherry chipotle hot fudge sundae. Ever. All things in moderation works well for me, most of the time. However, I've been known to go off on a serious pie bender, curl up in a blanket burrito on the couch, and systematically work my way through a season of White Collar from the Netflix queue rather than using that time to run.
It happens. 
My penance for days weeks of such debauchery is a drawer full of jeans that fit like sausage casings and a side of self loathing. Ain't nobody that wants to be around me when that happens. Thankfully, I have the best friends ever, whom have no problem calling me out when I need to hear it most.
I find that I make the best food choices throughout the day if I start with a protein rich meal containing dairy products. My friend Kat, the ever-sage running enthusiast, came up with a quick spinach and sweet potato hash that she eats almost every morning with a soft fried egg on top. My girls and I soon followed suit, dubbing the meal The Kat. I took The Kat a step further by adding a pinch of rosemary, savory oats made with milk, and a touch of Parmesan cheese.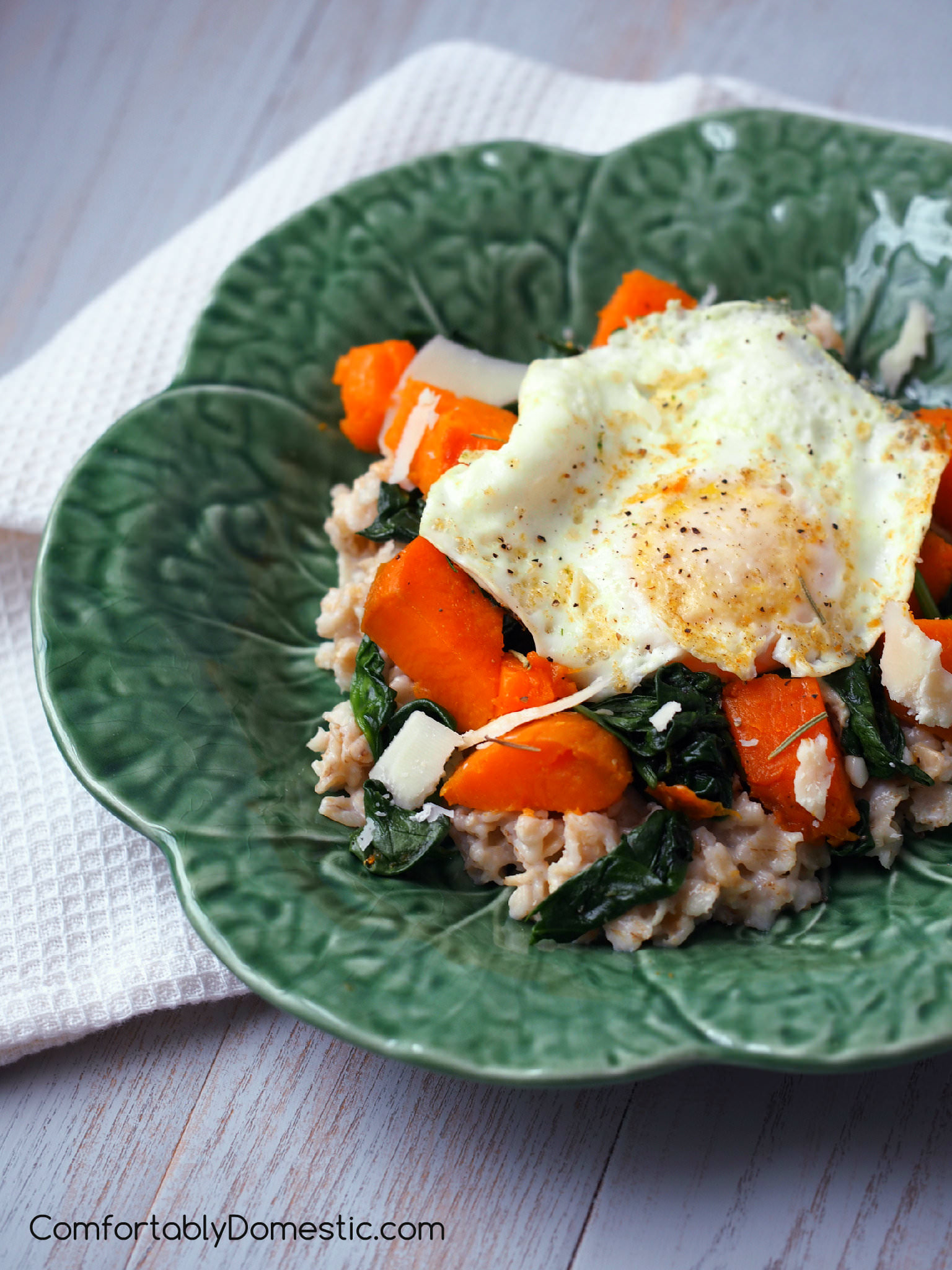 The resulting spinach sweet potato savory oats is a nutrient dense meal, setting the tone for me to continue healthy choices throughout the day.
All that protein from the milk and egg, the antioxidants in the spinach and sweet potatoes, along with the staying power of the whole grain oats are a great combination of balanced fuel that's not only delicious, but helps with my weight management as well. I feel so good about myself when I start the day with these savory oats. I mean, it's practically like eating a huge salad before ever leaving the house!
After a day or two of Spinach Sweet Potato Oats for breakfast, I'm totally absolved of any guilt that might otherwise be associated with enjoying an everything-but-the-kitchen-sink cookie (or three) from time to time.  It's all about balance, Friends!
My Impression: I love eating these savory oats for breakfast. When I plan ahead and prep the hash on the weekend, I can have a hearty, healthy breakfast ready to serve in the 5 minutes that it takes to make the savory oats and an egg.
Family Impression: Son #1 even set aside his aversion toward "hot greens" to give it a try. He and Bacon Slayer enjoyed the hash over the savory oats, but still claim Huevos Rancheros Oats to be their favorite. Sons 2-4 were sure that I was trying to poison them with the wilted spinach, while sons 2 & 4 picked around the hash to get at their oats. Son #2 ate the cheese. When 5 of 6 in the family eat most of a meal, it's a winner!
Try some Savory Spinach Roasted Sweet Potato Oats and let me know what you think!
♥♥♥
Kirsten Kubert

Yields 2

Spinach Sweet Potato Oats

Vibrant spinach, roasted sweet potatoes, and a farm fresh egg resting atop a bed of oats are a healthy and satisfying way to start the day.

10 minPrep Time

10 minCook Time

20 minTotal Time

Ingredients

For the Oats:

1 C. 2% milk
¾ C. water
1 C. old fashioned rolled oats (not instant or quick cooking)
1/8 tsp. salt

For the Spinach Sweet Potato Hash:

1 C. (1 small) baked sweet potato, peeled and cubed
2 C. (2 oz.) fresh baby spinach, packed
1 tsp. canola oil
½ tsp. dried rosemary, crushed
¼ tsp. kosher salt (or more, to taste)
1/8 tsp. black pepper (or more, to taste)
¼ C. Parmesan cheese, shaved with a vegetable peeler
2 to 4 large eggs (depending on appetite)

Instructions

Pour the milk, water, and salt into a medium saucepan. Heat the liquids to boiling over medium-high heat. Stir in the oats. Reduce the heat to medium-low and simmer the oats, stirring occasionally, for 4 minutes. Remove the oats from the heat, and place a lid on the saucepan. Set aside while preparing the spinach and sweet potato hash.
In a non-stick skillet set over medium heat, warm the spinach until it releases some water and begins to wilt; about 2 minutes. Stir the cubed sweet potatoes and rosemary in with the spinach; continue to stir over the heat for an additional 2 minutes or until the potatoes are warmed through. Move the hash mixture to one side of the pan. Drizzle the oil in the other half of the pan and cook the eggs as desired. Salt and pepper the hash and eggs, to taste.
Divide the oats evenly between two bowls. Spoon the hash and eggs over the oats. Serve immediately with shaved Parmesan cheese.

Notes

Cook's Notes: I like to bake a couple of small sweet potatoes on Sunday afternoon, and then peel and chop them for the week. I also wilt a half pound of baby spinach to toss with the sweet potatoes to store in the refrigerator. That way, the hash is ready ahead of time to portion and reheat to top the oats. 

7.6.4

200

http://comfortablydomestic.com/2015/02/spinach-and-sweet-potato-oats/

Comfortably Domestic - 2016
♥♥♥
I am fortunate to be a dairy ambassador for Milk Means More – United Dairy Industry of Michigan. I'm committed to developing recipes using Michigan dairy products. All opinions are my own. Milk Means More represents the dedicated, hard working Michigan dairy farmers that are passionate about providing fresh, wholesome milk, cheese and yogurt for you and your family. Hug a farmer, y'all!
For dairy nutrition facts, community involvement partnerships, and more great recipes, visit Milk Means More on Twitter, Facebook, YouTube and Pinterest.