Strawberry colada frozen yogurt is a refreshing treat on a warm summer day. Ripe, juicy strawberries mingle with tangy pineapple and sweet coconut for a dreamy, creamy homemade frozen dessert. This post is sponsored by the United Dairy Industry of Michigan.
When I set out to create an exciting new ice cream flavor each week in July for National Ice Cream Month, I was a little apprehensive as to how such a commitment might affect my waistline. I don't suffer flashes of vanity that often, but the warmer weather and its requisite shedding of more forgiving clothing layers brings about a certain amount notice as to how things are fitting around my midsection. It's not narcissistic to want to wear shorts that don't feel like a tourniquet due to my ice cream habit.  Oh, yes! I have an ice cream habit.
I'd love to say that the heat of July inspires me to eat more frosty treats for the chilling refreshment of it all, but that would only be partially true. Truth be told, I loves me some ice cream all year long. In fact, I often finish most days with a creamy scoop of ice cream–I consider it a sort of frozen nightcap. As long as I'm being honest, I should also probably mention that depending the day I've had, the nightly "scoop" may come in the form of a soup spoon being plunged directly from the carton into my mouth.
It happens.
Thankfully, what I lack in willpower I more than make up for in common sense. I try to balance the indulgences by living an active lifestyle, and lightening up my favorite foods without sacrificing taste. For me, that includes using high quality Michigan dairy products in my recipes so that I can ensure optimum flavor and nutrition.
Strawberry Colada Frozen Yogurt is the perfect balance between creamy indulgence and healthy summer refreshment.
Sweet, ripe strawberries are easily morphed into a three ingredient simple fruit sauce. The strawberry sauce is cooled then blended with vanilla yogurt and churned in an ice cream maker to a soft-serve consistency. Juicy pineapple tidbits are folded into the mix, which is then layered with tender, sweet coconut and frozen firm enough to scoop.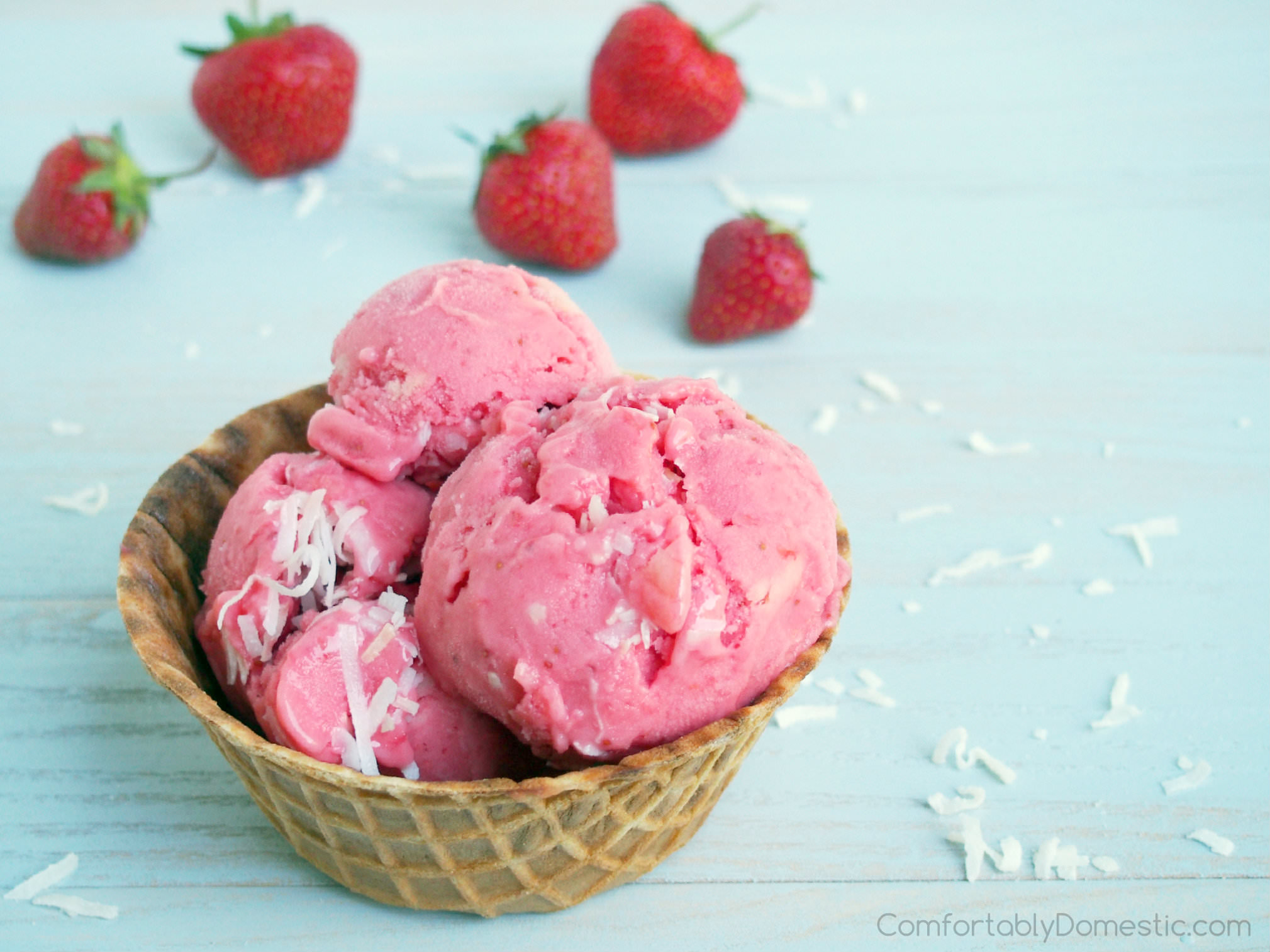 Strawberry Colada Frozen Yogurt is one frozen treat that will satisfy the ice cream cravings without having an adverse effect on the waistline!
So, leave the guilt in the closet where it belongs! Scoop away, Friends!
 ♥♥♥
Kirsten Kubert
Yields 1.5 quarts
Strawberry Colada Frozen Yogurt
Ripe, juicy strawberries mingle with tangy pineapple and sweet coconut for a dreamy frozen yogurt that's as refreshing as a cool breeze on a warm summer day.
2 hr, 20 Prep Time
5 minCook Time
2 hr, 25 Total Time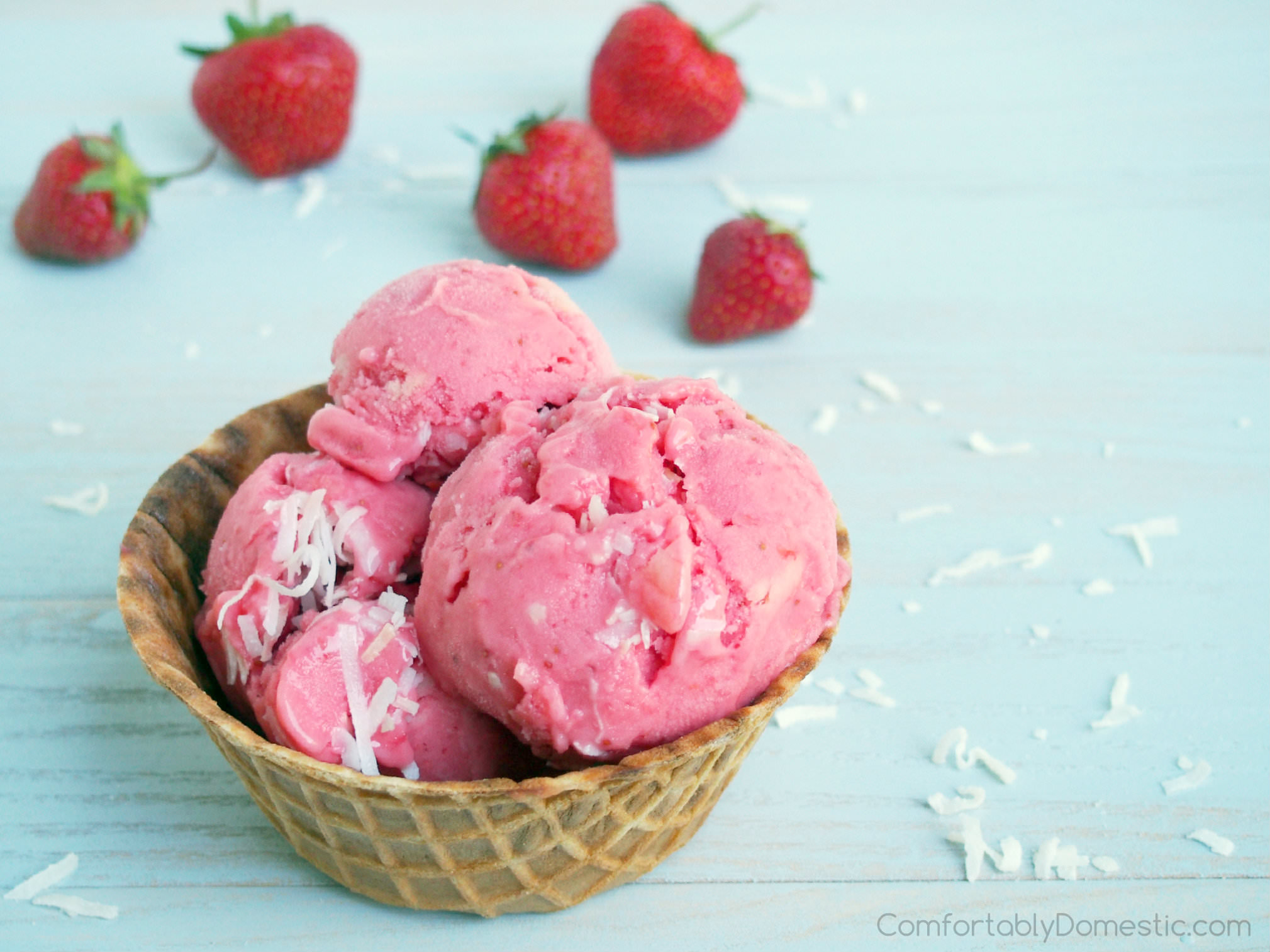 Ingredients
3 C. ripe strawberries, rinsed, hulled, and quartered
¾ C. granulated sugar
2 Tbs. cornstarch
1 ¼ C. vanilla yogurt, Greek or regular style
½ C. pineapple tidbits, diced
½ C. sweetened coconut flakes, divided
Instructions
Prepare the ice cream maker according to manufacturer's guidelines. (For example, my Cuisinart Ice Cream/Frozen Yogurt Maker uses a removable freezer bowl that must be frozen overnight prior to use.)
Place the rinsed, hulled, and quartered strawberries into a large saucepan; briefly set it the pan aside. In a small bowl, stir the granulated sugar and cornstarch together with a fork to combine. Pour the sugar mixture over the strawberries, folding the berries over to coat. Cook the strawberries over medium heat, stirring continuously, just until the sugar melts and thickens. (About 5 minutes.) Transfer the strawberry sauce to a glass bowl, setting it in the refrigerator for 2 hours, or until completely cooled.
Once the strawberry sauce has been thoroughly chilled, stir it into the vanilla yogurt to combine. Transfer the mixture to the ice cream maker and process it according to manufacturer's guidelines. (My Cuisinart ice cream maker requires the base be churned in the frozen freezer bowl for between 16 to 20 minutes for soft serve.)
Fold the pineapple into the frozen yogurt. Spoon half of the frozen yogurt into an airtight freezer container. Sprinkle half of the coconut flakes over the yogurt. Repeat the layers by spooning the remaining frozen yogurt over the first coconut layer, and topping with the remaining coconut.
Freeze until firm. (About 2 hours for "scoopable" frozen yogurt or 4 hours for very firm frozen yogurt.)
7.6.4
303
http://comfortablydomestic.com/2014/07/strawberry-colada-froyo/
Comfortably Domestic - 2016
♥♥♥
I'd like to take a moment to thank the Milk Means More – United Dairy Industry of Michigan for sponsoring this post! I was compensated for developing a recipe using Michigan dairy products. All opinions are my own. UDIM represents Michigan's hardworking dairy farm families who provide fresh, wholesome milk, cheese and yogurt to you and your family. That's hard work, y'all! Hug a dairy farmer today! 
For more great dairy recipes, you should follow Milk Means More on Pinterest. For current, science-based information about nutrition, animal care/well-being, dairy farm family stories, and on-farm practices related to dairy products and the dairy industry, you may want to follow Milk Means More on Facebook. Milk Means More is managed by United Dairy Industry of Michigan (UDIM).