Tangy, buttery biscuit dough wraps around savory sausage for deliciously simple and attractive appetizer.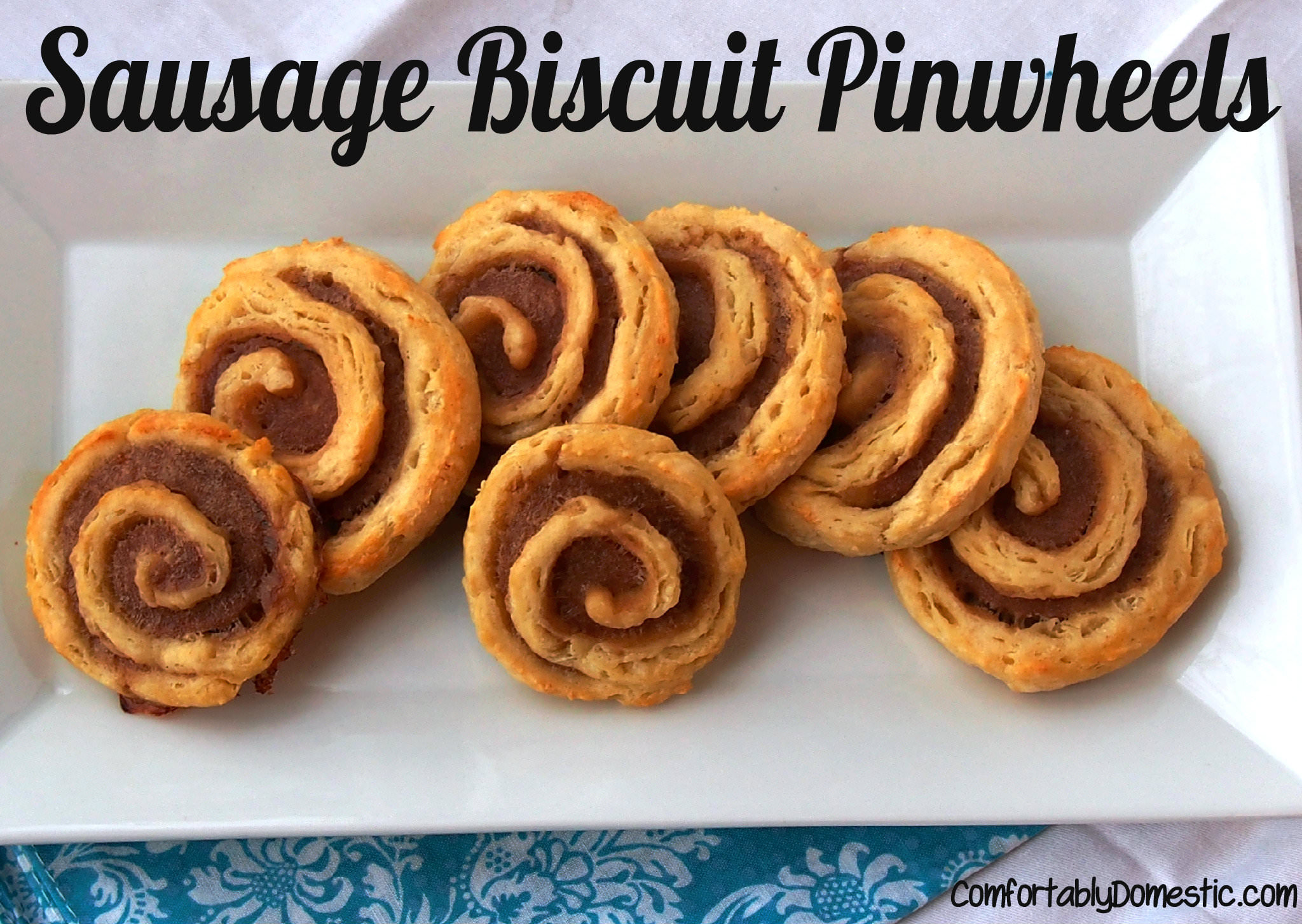 With the Super Bowl coming happening this week, I want to share a few of my favorite snacks to serve at parties. I don't have any real investment in either of the teams involved, but as a More-the-Merrier kind of girl, I wouldn't miss an opportunity to invite friends over for any reason. When I'm expecting serve a crowd, I like to make a bunch of fuss-free snacks that are hearty enough to make a meal, but not so involved that I'm in the kitchen all night cooking and miss all of the fun. Serving easy snacks that I can make well before my guests arrive is my mission!
When entertaining, I think serving the the right food sets the stage to let everyone involved know that Fun is in the House! Nothing is more fun than our Super Bowl tradition of serving Appetizers for Dinner. I like being able to serve up a variety of flavors so that there is something for everyone. No one will leaves my house hungry! My boys like eating a bunch of snacky foods as a meal because they feel like they're getting away with something. I guess in a way they are, because when we're all grazing and laughing with our friends, I'm not counting how many pieces of broccoli they've eaten, or hounding them to finish drinking their milk.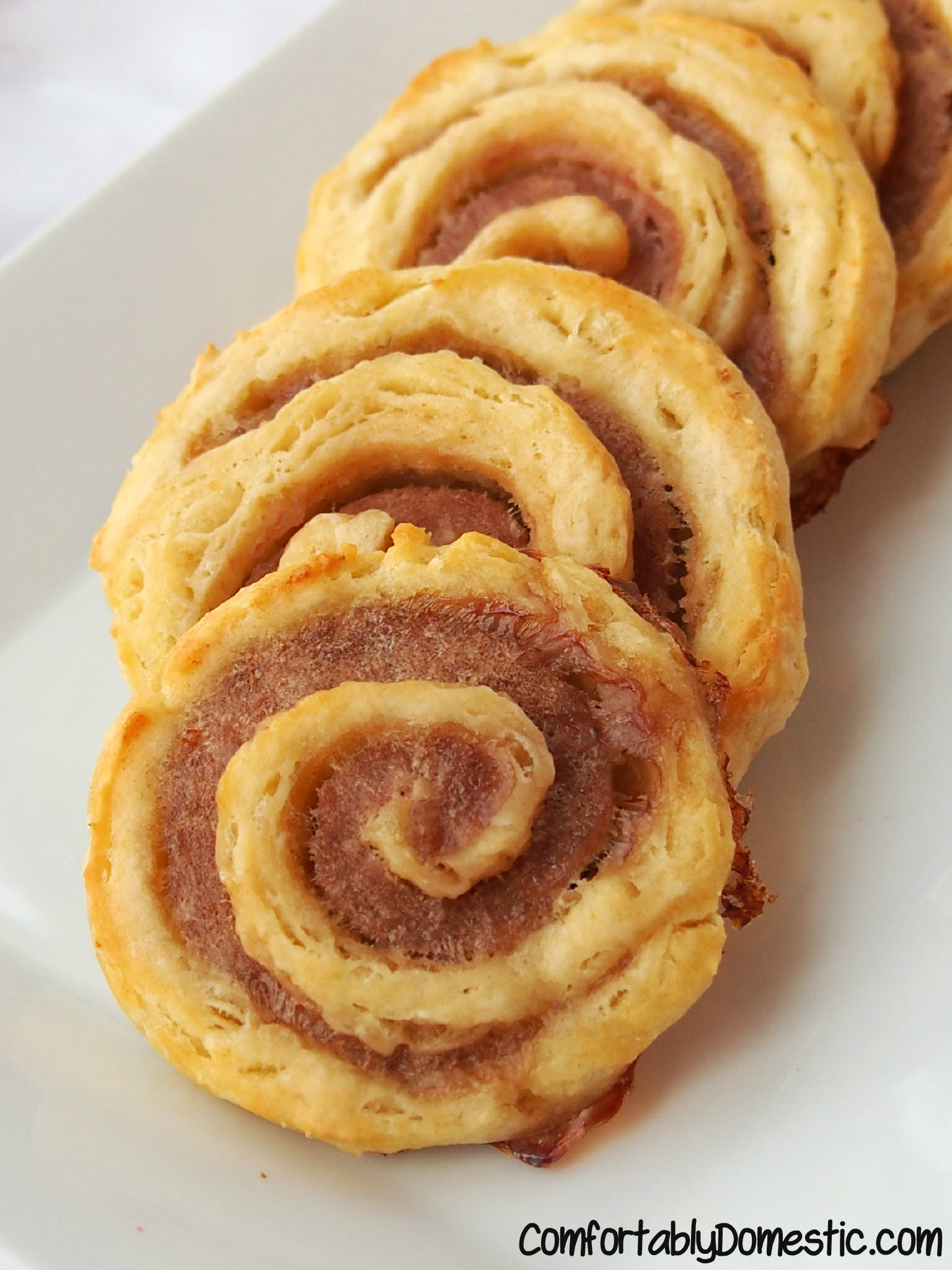 I can't even think of hosting any sort of friendly gathering without serving Sausage Biscuit Pinwheels. My Aunt Jane started the sausage pinwheel craze in our family about a decade ago when she brought them a holiday gathering for us to snack on. She left the pinwheels on a small table next to the front door while she hung up her coat, and by the time she went back to grab them to put on the buffet table, every last one of them had been eaten!
Now that's a good appetizer!
The buttery biscuit wrapped around savory sausage is so simple, and yet unbelievably satisfying. My family members and I took turns clamoring for the recipe before before the day was done. Jane insisted that she found the recipe on either the back of a box of Bisquick or printed on the roll of Bob Evans pork sausage. I never found it on either location, but thankfully she did eventually share the recipe. Our attempts were close, but for some reason our pinwheels didn't taste quite as good as Jane's did.
As for me, I'm all for biscuit mix in a pinch, but I just knew that the pinwheels would be even better made with the real deal.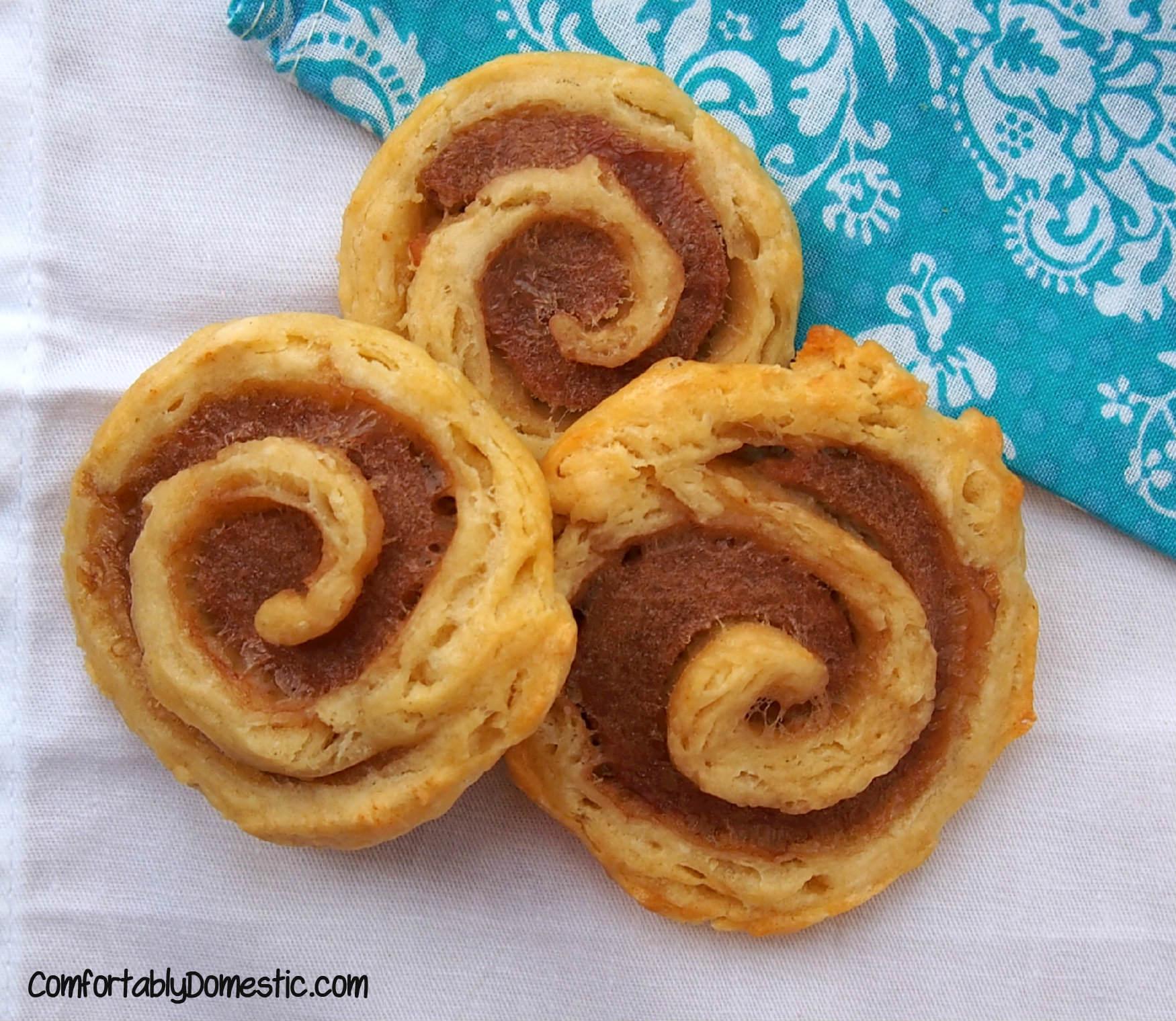 My Sausage Biscuit Pinwheel recipe is reasonable facsimile of Jane's original Bisquick/Bob Evans recipe. Rather than using a mix, I go ahead and mix my own flour with leavening, and then bind it all together with buttermilk and melted butter. I usually opt for a lean turkey breakfast sausage over pork, although I'm quite certain that Jane would roll her eyes at the thought of choosing fowl over swine for any reason.
Either way, I hope that you try making these pinwheels for yourself. Serve them to a crowd and watch how fast they disappear!
♥♥♥
Sausage Pinwheels
http://comfortablydomestic.com
Yield 48 Pinwheels*
Tangy, buttery biscuit dough wraps around savory sausage for deliciously simple and attractive appetizer.
Prep Time: 1 hour 40 minutes, Cook time: 15 minutes, Total Time 1 hour 55 minutes
2 ¼ C. all-purpose flour
2 tsp. baking powder
¼ tsp. baking soda
½ tsp. seasoned salt (such as Lawrey's brand)
1 C. buttermilk, at room temperature
¼ C. unsalted butter, melted and slightly cooled
1 lb. ground turkey (or pork) breakfast sausage, at room temperature
Whisk the flour, baking powder, baking soda, and seasoned salt in a large bowl to combine. Make a well in the center. Pour the buttermilk into the well, along with the melted butter, stirring until just combined, to form a sticky dough.
Turn the dough onto a lightly floured surface, and knead 5 times. Let dough rest for 5 minutes. Place the dough onto a half sheet pan lined with a silicone baking mat or parchment paper. Roll the dough into a 8-inch by 14-inch rectangle. The dough should be ¼-inch thick or less. Refrigerate the dough on the prepared pan to firm it up a bit—about 30 minutes or so.
Once the dough is firm and fully chilled, evenly spread the sausage over it, leaving a ¼-inch margin free of sausage all around. I find that the easiest way to accomplish an even layer of sausage without tearing the dough is to break off chunks, distributing them fairly evenly across the dough, and smoothing the chunks with my fingers to cover the dough.
Starting at a long end of the rectangle, tightly roll the dough into a spiral–cinnamon roll style– pinching the edges to seal. Wrap the spiral of dough tightly with plastic wrap and freeze it on a level surface for 1 hour.
Once the spiral is frozen, preheat the oven to 400 degrees F.  Unwrap the spiral. Use a serrated bread knife to thinly slice the spiral into 1/8-inch thick pinwheels. Place the pinwheels, 2 inches apart, onto rimmed baking sheets that have been lined silicone baking mats or parchment paper.  Bake the pinwheels for 12-15 minutes, or until sausage is thoroughly cooked and biscuits are a light golden brown.
Serve warm, or allow pinwheels to cool to room temperature before serving.
*NOTES: Sausage Pinwheels freeze beautifully! Once assembled and wrapped, the dough spiral may be frozen, unbaked, for several weeks. I often slice the frozen spiral in half, rewrap one of the halves to pop back in the freezer for another time, and continue to slice and bake the other half for immediate consumption. Also note that since oven temperatures can vary, it's a good idea to test-bake a few pinwheels to gauge the amount of time needed to fully cook the sausage, while keeping the biscuit part a light golden color.